(Hypebot) While the holy grail of playlist placement for many artists may be the curated front page playlists, the ones which they should be going after are the personalized algorithmically generated playlists like Release Radar and Discover Weekly.
The question above (about which Spotify playlist is MOST important) is a bit of a trick.
The answer is: the personalized playlists that Spotify customizes and updates weekly for every individual user.
These are "algorithmic playlists" such as:
Release Radar
Discover Weekly
Artists are focusing on the wrong playlists.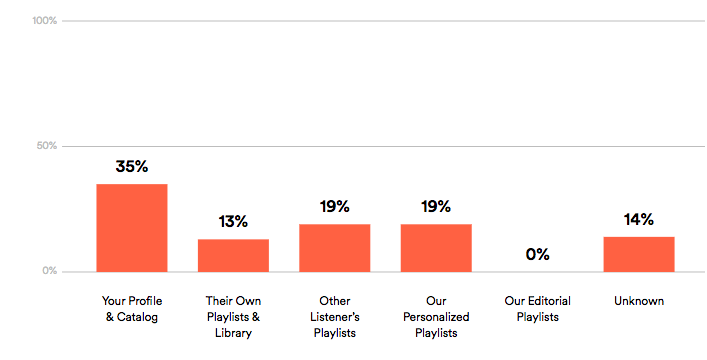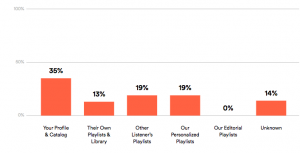 Last year, Bryan Johnson, director of artists and management at Spotify UK, said that Release Radar alone is driving more streams than any of Spotify's in-house playlists, and certainly far more than any curated playlist that isn't managed by Spotify's editorial team. Yet musicians are spending all their time and energy seeking placements on bigger curated playlists.
Yes, of course those are great. But the less sexy algorithmic playlists will most likely take your new music further.
Curated playlists get all the attention, but algorithmic playlists drive the streams
I was really happy and appreciative to see my most recent single "Collapsing Star" picking up some streams on two cool playlists with fairly sizeable follower-counts, IndieMono's Top Alternative (31k+ followers) and WHPH's Fresh Picks (5k+).
But guess what drove more cumulative streams? Yep, Release Radar.
What can artists do to increase their chances of appearing in algorithmic playlists?
Build your Spotify following – Your followers on Spotify are the ones most likely to see your new music appear in their Release Radar playlist or in their weekly Release Radar email from Spotify. So get your fans to follow you on the streaming platform!
Focus on good engagement-to-activity ratios – Forget about how many or how few streams you have overall; that's a completely unhelpful "vanity metric." What is more important to Spotify is how many of your actual listeners are doing something with your music (adding your songs to their playlists, listening to an entire song without skipping, saving to their song queue, sharing on social, etc.)
Release music more frequently – The more frequently you release music, the more opportunities you have to actually appear in these algorithmic playlists, which helps you build streaming activity rather than spiking the activity and then plateauing or falling off between (infrequent) releases.