NASHVILLE, TN (CelebrityAccess) – Independent Nashville venue, 3rd & Lindsey is placating relocation according to a report by Nate Rau at Axios. 3rd and Lindsley owner Ron Brice says he's looking for a new space for the club. A redevelopment concept submitted to the Metro Planning Department proposes to replace the club and other tenants with a massive apartment complex.
The venue, which opened in 1991 is looking for a new location as Nashville's live music industry is in a state of flux, as independently owned venues fight for a place within Nashville's landscape. In the last year, Exit/In sold, and its operators were likely to be forced out. Mercy Lounge also announced its desire for a new location. Douglas Corner Cafe closed permanently after 33 years.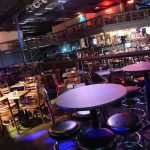 Brice tells Axios, "I currently have a deal working for a killer space in WeHo (Wedgewood-Houston), also in planning, that is supposed to time out for us."
Nashville Helping Nashville, a benefit concert to aid independent venues via the Music Venue Alliance Nashville, is set for May 28. Gates for the benefit show open at 2 pm. The day of music is set to include performances by the Joey Fletcher Band, DeeOhGee, and Creature Comfort, with other acts TBA. Those artists will be announced on April 1.
The event will host Nashville's local independent radio stations via "Radio Row." This year it will be joined by the new "Record Store Row," allowing for conversation between music businesses, fans, and community members. Grimey's Records, Third Man Records, The Groove Records, and others are slated to be on hand.