LOS ANGELES, CA (CelebrityAccess) – Hollywood's "Biggest Night" – the 95th Annual Academy Awards – took place Sunday night (March 12) at the Dolby Theatre. No "slapgate" to speak of this year but there is still plenty to talk about.
Hosted by talk show host and comedian Jimmy Kimmel, the night belonged to the seven-time nominated multiverse hopping hit movie Everything Everywhere All at Once and the stars who were in it.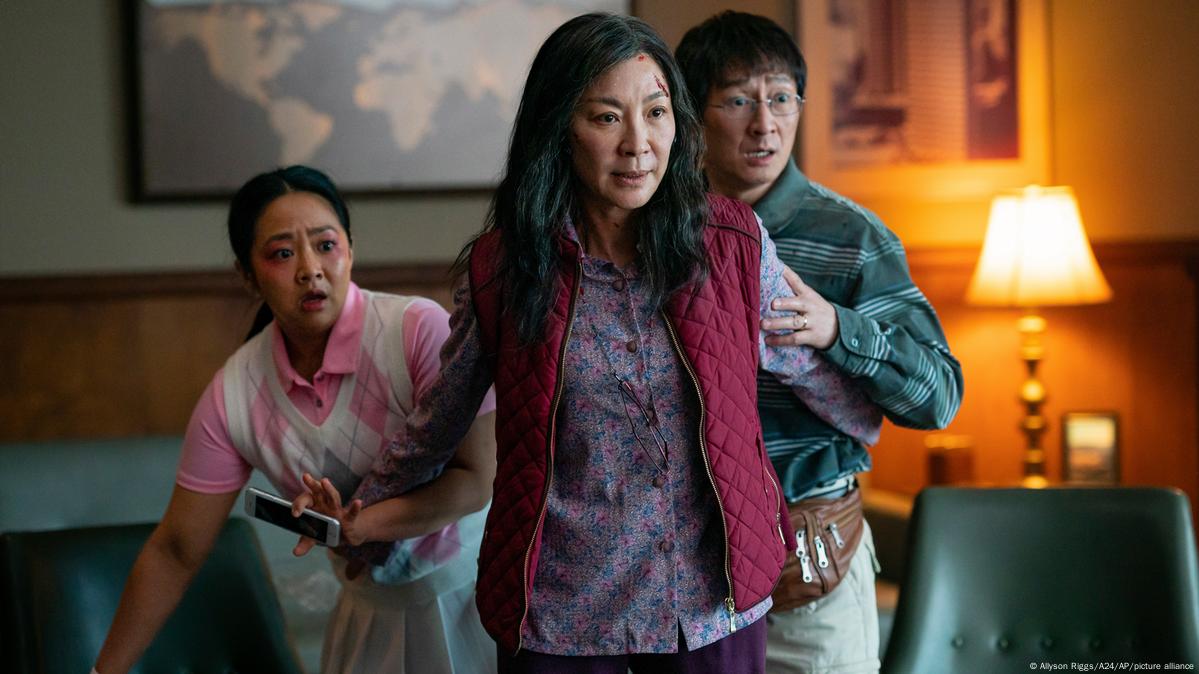 Kimmel opened the show and as usual – some jokes hit the mark and some zingers just felt … flat. He roasted Brad Pitt and his movie Babylon for bombing at the box office, Nicole Kidman for her AMC Theatre commercial, and the academy for not having a single woman nominated in the Best Director category. He also touched on slapgate, "We have strict policies in place. If anyone in this theater commits an act of violence at any point during the show, you will be awarded the Oscar for Best Actor and permitted to give a 19-minute long speech."
Michelle Yeoh – In the 95-year history of the Oscars, an Asian actor has never won the Best Actress category … until last night. Yeoh won for her lead performance as a laundromat owner trying to save her daughter in Everything Everywhere. "For all the little boys and girls who look like me watching tonight, this is a beacon of hope and possibilities, Yeoh said. "This is proof that dreams – dream big, and dreams do come true."
She ended her speech by throwing some shade at CNN host Don Lemon. Lemon has been widely criticized for comments he made in February saying, "A woman is considered to be in their prime in her 20s and 30s and maybe 40s."
Yeoh, holding her Oscar statue close – ended her speech with, "And ladies, don't let anybody tell you you're ever past your prime. Never give up." MIC DROP.
Ke Huy Quan – In the first Oscar of the night and to no one's surprise, Quan took home the Oscar for Best Supporting Actor for his performance in Everything Everywhere. The actor didn't disappoint in his speech. "Mom, I just won an Oscar! My journey started on a boat. I spent a year in a refugee camp. And somehow, I ended up here on Hollywood's biggest stage. They say stories like these only happen in the movies. I cannot believe it's happening to me. This – this is the American dream."
Indeed it is as he joins Yeoh in making history. Yeoh is the first Malaysian-born performer and Quan is the first Vietnamese-born performer to win an Oscar.
Brendan Fraser – Fraser took home the award for Best Supporting Actor for his heartbreaking role as an overweight gay father trying to reconnect with his daughter in The Whale. He is the sixth straight actor to win an Oscar for playing a gay character, following William Hurt (Kiss of the Spider Woman), Tom Hanks (Philadelphia), Philip Seymour Hoffman (Capote), Sean Penn (Milk), and Rami Malek (Bohemian Rhapsody).
He was emotional at the podium, thanking the studio and filmmakers for making such a "bold" film and "offering him a lifeline" in his career. He specifically pointed out Hong Chau, his castmate in the movie, saying "only whales can swim in the depth of her talent." He thanked his manager, his sons, and his wife.
Jamie Lee Curtis – Curtis took home the statue for her turn in Everywhere Everything winning Best Supporting Actress – to everyone's surprise. I swore I heard an audible gasp from the audience when Curtis was called the winner over actress Angela Bassett (Black Panther: Wakanda Forever). In another emotional speech, Curtis talked about both of her Oscar-nominated parents and thanked the fans who supported her genre of movies which includes the Halloween horror movie franchise and A Fish Called Wanda.
"EH BOM BAY" – in this writer's opinion, Queen Ramonda of Wakanda was robbed and I am not the only one who feels that way. Twitter exploded with the same sentiment and people did not hold back. Some examples include:
M. Patterson: "Angela Bassett was absolutely stunning in Black Panther: Wakanda Forever. That performance was worthy of an Oscar and incredibly worthy of being the first Marvel Cinematic Universe (MCU) performance to win an Oscar."
sal: "Can't believe Stephanie Hsu, who played a depressed immigrant daughter traveling throughout the universe to find a version of her mother who loved her, lost to an IRS agent."
brax: "Jamie Lee Curtis won over Angela Bassett and Stephanie Hsu so I blocked Activia."
On the flip side, movie fans everywhere also had some choice words for Ms. Bassett as her reaction to Curtis winning didn't sit well with viewers. She smiled somewhat but didn't clap or stand up as Curtis took to the stage to accept the award.
gvymvndo: "Angela Bassett sat there bitter af – like damn, if they didn't vote for her now, they definitely won't in the future."
M. Ellen: "Angela Basset; A fine actress but not a gracious loser. Can't believe she refused to even clap! Isn't it supposed to be about the craft and not the trophy?"
bb: "Expected a lot more class from her."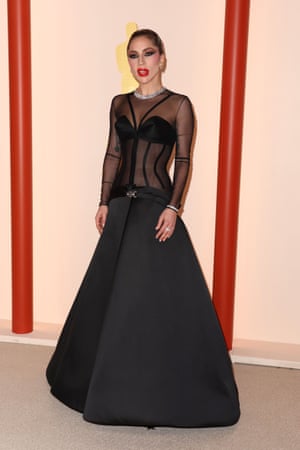 Other Highlights:
"Naatu Naatu" made history as the first song from an Indian film (RRR) to be nominated and take home the award. The performance was reminiscent of a Broadway production and showed off some Michael Flatley-style legwork.
Rihanna, in all her pregnancy glory, took to the stage with a full orchestra and black-robed backup singers – surrounded by Wakanda Forever set decorations. The song, written as a tribute to the late Chadwick Boseman was full of emotion and the hitmaker handled the song with grace and humility.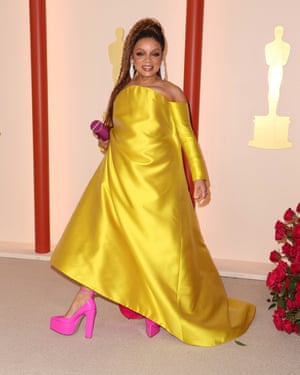 The stripped-down, makeup-free powerhouse known as Lady Gaga had the best performance of the night for her song "Hold My Hand" from Top Gun: Maverick. Dressed to the "nines" in scuffed Converse, black ripped jeans, black t-shirt, and braided hair, all it takes for this woman to command an audience is a microphone and her most valued instrument – that voice. "We need a lot of love to walk through this life and we all need a hero sometimes," Gaga said, her voice shaking. "There are heroes all around us in unassuming places. You might find you can be your own hero, even if you feel broken inside."
Ruth Carter became the first black woman to win two Oscars, picking up her latest statuette for Best Costume Design for Black Panther: Wakanda Forever.
It's notable to mention that Best Picture Nominees Elvis, Spielberg's The Fabelmans, Banshees of Inisherin, and Tar were effectively shut out, despite 30 nominations between them.
After 3 hours and 36 minutes, the awards show came to an end with Kimmel joking, "Sorry we went a little long."
Congrats to all the winners.
Here is the full list of winners:
Best picture: "Everything Everywhere All at Once"
Best actress: Michelle Yeoh, "Everything Everywhere All at Once"
Best actor: Brendan Fraser, "The Whale"
Best director: Daniel Kwan and Daniel Scheinert, "Everything Everywhere All at Once"
Best original song: M.M. Keeravaani and Chandrabose, "Naatu Naatu" from "RRR"
Best documentary feature: "Navalny"
Best adapted screenplay: Sarah Polley, "Women Talking"
Best original screenplay: Daniel Kwan and Daniel Scheinert, "Everything Everywhere All at Once"
Best costume design: Ruth Carter, "Black Panther: Wakanda Forever"
Best international feature: "All Quiet on the Western Front" (Germany)
Best supporting actor: Ke Huy Quan, "Everything Everywhere All at Once"
Best animated feature: "Guillermo Del Toro's Pinocchio"
Best visual effects: Joe Letteri, Richard Baneham, Eric Saindon and Daniel Barrett, "Avatar: The Way of Water"
Best cinematography: James Friend, "All Quiet on the Western Front"
Best supporting actress: Jamie Lee Curtis, "Everything Everywhere All at Once"
Best film editing: Paul Rogers, "Everything Everywhere All at Once"
Best score: Volker Bertelmann, "All Quiet on the Western Front"
Best sound: Mark Weingarten, James Mather, Al Nelson, Chris Burdon and Mark Taylor, "Top Gun: Maverick"
Best production design: Christian M. Goldbeck and Ernestine Hipper, "All Quiet on the Western Front"
Best makeup and hairstyling: Adrien Morot, Judy Chin and Annemarie Bradley, "The Whale"
Best documentary (short subject): "The Elephant Whisperers"
Best short (animated): "The Boy, the Mole, the Fox and the Horse"
Best short film (live-action): "An Irish Goodbye"