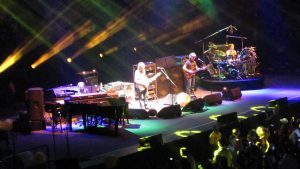 WATKINS GLEN, N.Y. (CelebrityAccess) Torrential rains turned into dirty water, which turned into into a truly last-minute cancellation of Phish's three-day Curveball festival.
The festival was expected to draw more than 30,000 to New York's Finger Lakes village of Watkins Glen. Instead, it was called off Thursday when health officials denied a permit just as Phish was about to go onstage.
Fans had already set up tents on the grounds. Phish and Curveball organizers said they will notify fans on how to obtain refunds. However, these fans are known for traveling tremendous distances to Phish shows.
"Cancellations happen," Jeff Goldenberg, who traveled from Toronto with his wife and baby, told the Associated Press. "But what makes Phish different is that people plan their life around it. They put a lot of time and money and effort into following them everywhere," Goldenberg said. "People are really upset."
A mandatory order to boil water was issued for the area Thursday after days of heavy rain and the state Department of Health said tests showed it would be impossible to deliver clean drinking water to the festival grounds.
"We are still in shock," the band said in a statement on its website. "Our families are here, our gear is set, our tents are up. We keep waiting for someone to come over and tell us that there is a solution and that the festival can go on. Unfortunately, it is not possible."
A 14-county state of emergency was in effect yesterday after two days of storms that dropped more than 6 inches of rain in the area.
"While all parties acknowledge the inconvenience of this cancellation to patrons," the health department said, "we have a responsibility to act in the best interest of public health and safety for all."