LAS VEGAS (CelebrityAccess) – Grammy Award winner, multiple Native American Music Award winner, and 2022 Native American Music Awards Hall of Fame Inductee, Micki Free has announced a residency at Backstage Bar & Grill in downtown Sin City.
The residency kicks off Monday (March 6) and continues every first Monday of the month onwards. The residency titled, Micki Free's Vegas Jam … Rock-Funk-Blues … With Special Guests will see the guitar prodigy, Native American flute master, and singer/songwriter perform original songs from his catalog including hits from his latest release, Turquoise Blue (2022).
In addition, he will be playing music covers of songs that have inspired him throughout his career. The residency will also feature surprise drop-in guest appearances from some of Free's friends including Carlos Santana, Billy Gibbons, and more.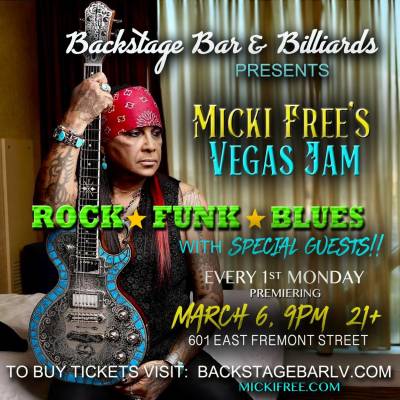 "I'm very excited to start my residency in Las Vegas! It has been a dream of mine ever since coming to see my friends: Carlos Santana, Aerosmith, ZZ TOP, and KISS at theirs," shares Free, who recently moved to Las Vegas. "It's gonna be a killer time to jam with old friends and meet new friends as well. I had no idea the music scene here was so vibrant! So many of my LA friends have lived here for years and are loving it. There's so much to see and do and with 100+ shows each week I don't think I'll be getting bored! Plus the restaurants are over-the-top amazing!"
Free to a management deal with Gene Simmons and Diana Ross that launched his career, joining the legendary R&B group Shalamar. Aft'90sis departure in the early 90's, Free continued his solo career appearing on both the stage and in the studio with iconic artists including Janet Jackson, Little Steven Van Zandt, Aerosmith, Neil Young and Bill Wyman, just to name a few
His most recent album, Turquoise Blue, was released via the Dark Idol Music label. Free's lastest effort features guest musicians including Gary Clark Jr., Steve Stevens, Christone "Kingfish" Ingram, and Cindy Blackman Santana.
Born "mixed" blood Cherokee/Comanche Native American and Irish descent, Free has mastered the Native American flute and has recorded five flute music albums. He has used his platform to advocate for the Native American community and created the Native Music Rocks program, which gives Native American musicians performance opportunities. Additionally, he founded the first Native American record company (Native Music Rocks Records).
Tickets for his upcoming Vegas residency are available now via MickiFree.com and Dice.FM.