This week In the Hot Seat with Larry LeBlanc: Rich Goodstone, partner, Superfly.
For over two decades, Superfly—the once small-time New Orleans-based promoter that started the Bonnaroo Music & Arts Festival, and has played a role in developing Outside Lands, and Clusterfest–has been bringing audiences together through specifically offering unique communal experiences.
As an organization building festival brand and a full-service agency today, the company co-founded by Rich Goodstone, Kerry Black, Rick Farman, and Jonathan Mayers in 1996 is headquartered in New York with offices in Chicago and San Francisco.
In 2002, Superfly burst onto America's live music scene after five years as a New Orleans-based events company when its partners came up with an idea for a new music festival–The Bonnaroo Music & Arts Festival.
Four days and 80 bands later, the first sold-out Bonnaroo Festival, produced in partnership with Ashley Capps' AC Entertainment, and backed by Red Light Management founder Coran Capshaw, brought Superfly into the big leagues.
In 2008, Superfly produced the first Outside Lands festival, one of the biggest events ever in Golden Gate Park.
In 2015, Live Nation acquired a controlling interest in Bonnaroo and its 750-acre site in a deal described as a partnership that gives the founders a certain amount of autonomy.
While Superfly also helps leading brands like Citi, Intel, Dropbox and JEGS to develop strategies for meaningful engagements to audiences via youth-minded cultural events, Goodstone is responsible for driving the development of strategy and creative lifestyle marketing solutions for top-level brands, leveraging Superfly's audience expertise. He also develops and oversees revenue sources for Superfly's festivals focusing on creating partnerships, and multi-channel brand extensions.
How can Superfly be identified?
When we think about what we provide, it is a level of cultural storytelling. How that comes to life is through the live experience, through content, through social, through the influencer work that we do. All of that is part of our purpose statement. It is helping people build brands through culture, using the cultural zeitgeist. We've got a set of core values around positivity, and supporting the community.
That can also be perceived as being a basic personal character trait.
I think what you stand for is your purpose ultimately. If I wanted to put a spin on things that I believe that make it special, it'd be how do we have a more fulfilled life? How do we have a more joyful, and purposeful life? Hopefully, these are the things that we are doing within the framework of our purpose of bringing people together. To allow them to have a more joyful life, a more purposeful life. What are the tools that allow you to have a better life from the experiences that you have? People that you connect with. From the meditation yoga you might do in the morning to the kind of different issues that you support. All of that stuff usually relates to how I am being more joyful with the purpose that I have in this life. I think ultimately that is that we are trying to bring.
Superfly is a full-service agency?
Yeah, rallying around the purpose statement decided the business that is IP (Intellectual Property) focused, but then it is also helping brands through (interfacing with) the audience. So why I think "full-service," we are not building TV commercials, necessarily, but we are helping people think through campaigns; think about what they stand for; who they are. We do a lot of live experience strategy work. (With) brands that are trying to figure out how to monetize. A lot of media brands are saying, "Media is evolving, and right now most of my revenue comes from CPM rates (denoting the price of advertisement impressions on a webpage). and through advertising. These are powerful brands that I own. How do I further develop them, and bring them to life viscerally, bring my brand to life viscerally, and what is the strategy behind that?" We have found ourselves being in a pretty equal position for that type of work.
From the company's start in 1996, it seems that the Superfly partners marked out specific roles for each other. What is each of the partner's role in the company?
I oversee the agency side, and the brand solution side, as well as the revenue streams for all of the festivals, including partnerships. Jon (Mayers) oversees a lot of the business development as it relates to any intellectual property that we might want to create; any projects that we might want to get involved in as well as the creative related to all of our festivals. Kerry (Black) supports him along the lines of creative tied to all of our festivals, and brings vision into this 3-D world…
Does Kerry still handle the graphics production work?
Not the graphics side as much anymore. He's more of a creative in the industry side at this point, supporting Jon who also does conceptualizing of new festivals. From an overall of what is it going to be? What is it going to feel like?
Rick Farman had been handling festival operations.
Rick started with the programming, and he's also done a lot of the business and corporate development. As we started to grow, we realized that we didn't have anyone really good on the operational side of running a company, growing a company; and Rick really took the lead there. We desperately needed someone to operate this company. He still does business development as well, but he's moved away from the programming and the creative side to make sure that we have the structure, ecosystem, and organization to support all of the work that we wanted to do.
Is there any blurring of lines of responsibilities between the partners? Do you each continually consult with each other?
Not really. Certainly, when we were coming up, there was a lot more crossing. As we've gotten more refined, and better at what we do, we have our lanes so we can be efficient. Certainly, I work on some of the IP stuff and help incubate things. Jonathan or Rick are brought in for some agency type and brand partnerships but, all and all, we know what our focuses are, and we give each other the room and the trust to for what we do.
As well, each of you has evolved in your roles.
Yeah, absolutely. It is always a constant evolution in general, and just the desire to be better, and to learn and to grow. We enjoy it all. We enjoy what we do. We enjoy the people that we meet, and the relationships that we build. You have got to enjoy the journey because that's really all there is.
The four partners still get along?
Yeah, remarkably well. It's been a constant evolution from close friendships to business, but we are really, really close. Probably as close as we have ever been.
Superfly recently appointed Alex Cripe as executive VP of Strategy. He worked 6 years at the Redscout agency for such clients as Netflix, Warner Brothers, PepsiCo, and FreeForm. What is his role with Superfly?
He works across the organization and helps us think through business strategies as it relates to new intellectual properties that we want to bring to life. What our vision purpose strategy is behind those events. What we stand for. We have our own purpose-led mission at the Superfly level, but every single thing that we launch is a new brand that feeds off of who we are at our core, but is also unique within itself. We have to define those sorts of things. So, whether it is for our own brands or for the brands that we work with, he is helping us think through the why, and he's asking the questions that build the guard rails for the creative solutions that we provide.
Obviously, the close relationship between its partners has enabled Superfly to develop as a full-service agency.
Yeah, we have been very fortunate. Friends, best friends. Jon and I went to high school together. I met Rick and Kerry at our first festival. Rick and I immediately took a trip to Hawaii together, and we were best friends within three weeks. So there was something special there. There was an energy between the four of us. The organization has really been family, and that just led us to think about purpose. We have really been a purpose-led company. We are still playing with the wording, and consistently evolving, but it really is about building cultural experiences that enrich lives. That build communities. How do we create experiences that bring people together? The way that has come together has really informed our company. It happened through the creation of festivals, through large-scale festivals like Bonnaroo, Outside Lands (teaming with Starr Hill Presents and Another Planet), Clusterfest, and Grandoozy that we are doing in Denver.
[The first-ever Grandoozy comes to Denver on Sept. 14-16, 2018.]
We have in the pipeline a new IP that we are looking at which fits even outside of those worlds (of music and comedy). We are looking at sports and other areas that we believe that we can have the impact. We think that our point of view and the way we approach things can be valuable. What we have realized is that our success came because we understood audiences. We understood the cultural zeitgeist, and we really understood audiences. How those things intertwined, and that is what brands are looking for as well. A natural way to utilize our expertise was to help some of the biggest brands in the world take what we knew. Take what we are good at, and tell the stories around their own brands to reach their audiences. That's how the company came to life. Fortunately, it's been through purpose. I think that really helped us to put lines in what we were going to do with the company. What we are not going to do with the company, and be true to that purpose statement.
Sports would be a natural fit for Superfly in that entertainment and sports are more inter-related than ever today.
Well, I think in general that passions don't live in a silo. If you think about the things that you are passionate about, that you are into, it is not just one thing. To say that entertainment is one thing and sports…certainly, there are different levels of expertise, and while we aren't necessarily going to be a sports agency per se, we think with the live experience that there are opportunities across a number of different areas.
When you think about someone going to an NBA All-Star game or going to the Super Bowl, they are surrounded by other forms of entertainment. People are multi-dimensional. They are taking in a lot of information, and a lot of different experiences. When you think about the cultural zeitgeist—musicians, artists, athletes—they are all part of a very vocal, and very high-profile grouping with the ability to impact people. So whatever level that might be through the words that they say, the way that they play, going onstage and singing songs, all of it is very similar in the fact that it all moves people.
Today, with the greater knowledge and sophistication of brands and marketing agencies, there must be a greater dialogue between you and them regarding live music audiences than there was when Superfly started.
You are right. To this point, nothing was more frustrating than sitting down with a brand who didn't know what they stood for. That was a conversation where you'd be like, "How am I supposed to help you understand how you manifest this culture if you can't describe who you are?" Sometimes, brands will say, "I want this." You'll ask, "Why do you want that?" You have to kind of peel back the onion and, to your point, brands are way more aware now about knowing that they need to understand who they are, and who they want to be, for them to reach their audience.
Some brands will tell you, "Rich, we sell widgets. That's what we do best."
Yeah, and that is part of it. "But what is your mission, and what is your proficiency? Why do you exist?"
And why is that widget important to the audience they are seeking?
That's right. There's a lot of strategic work that goes into this stuff.
You have seen the marketing changes develop over the years. Has it really become more sophisticated?
I think that the strategy part is a little bit more sophisticated. Again, that is part of being better. (British-American author, motivational speaker, and organizational consultant) Simon Sinek (who popularized the concept of "the golden circle" with his 2009 book "Start With Why") has always resonated with me. He has this piece which states that people don't buy what you do or the end product, they buy why you do it. It has always resonated with me. I think that people started to realize that it's a bit hollow if you don't stand for something. If you are not doing something for a particular reason. To me, that's an evolution of humanity. It's not just a marketing thing. It's why are we here? Life is short, and you want to be working with people that you want to be working with. You want to do great work that is meaningful and have an impact on lives. It is how we kind of came to our purpose statement. We want to do something that brings people together. That is going to be special for somebody. We kind of found our calling with what we do.
The branding of Superfly's festivals has been specifically based on authenticity. If you aren't authentic, you will have a hard time branding yourself.
I think that is absolutely true, and I think that is the difference between people who build things to make money versus building things for a particular purpose, and because they are passionate about something. So it has always come very easy for us. It (authenticity) obviously is an overused word, but it is 100% true.
Was there a specific concept of branding Bonnaroo in 2002? That surely wouldn't have been the way you would have looked at it.
No. But I do think that we were always purpose-led. It was certainly about the experience. But if you had asked what does Bonnaroo stand for beyond a really good time as the creative terms states, well the level of depth and rigor we put into that thought of brand wasn't there, but it was always intuitive to us. We were always thinking about it, but just not with the same sort of formality as we do now.
Over the years, fan engagement with music has moved from radio and TV to iPods, to Spotify and Apple, as well as experiencing a cross-section of new bands at festivals. So, as a promoter, your engagement with audiences has changed as well?
Well, yeah it's a long road when you have been doing it for as long as we have, 20 plus year at this point, remembering from even before the iPod generation that people would find also music through radio and other methods. Then the iPod came out, and if you asked what people were listening to they'd say, "I listen to everything. I listen to all types of music." That's been a constant evolution.
For us, when we were younger,  we were always just doing things for ourselves. The constant question was, "What would we like to see? What do we want to do?" That true entrepreneurial spirit of following your passion. We have continued to grow with that. I think that it has been born out of a general curiosity. So, for us, music is similar. People are just going to the ways that are easier for them to absorb and to find new things; whether that will be a Spotify playlist or with a festival. We look at the things that we do as platforms for new discovery. You come to see a headliner but, of course, you are going to see all sorts of amazing up-and-coming music (acts). And it's quite often what you will hear people talking about because it's a surprise thing. They didn't know that they were coming to see somebody and those are the things that people talk the most often about. We have been very fortunate and blessed to be in the business that we are, and be able to utilize these festivals as a soapbox for a lot of things. For music but also for point of view on the world, and other cultural touch points.
What over the years led you to a better understanding of branding and embracing audiences? The fact of the four of you being so young yourselves?
Certainly, when we started we were building things that we knew that we would love. I think the embracing of the audience was just this idea that if we put out to the world what we believe in–and this goes onto the stages, and to where we are focused on wellness and social justice, yoga, and mediation, things that we believe are important to live in a joyful and purposeful life–that other people were going to feel the same thing that we did. As we grew, and as we diversified a little bit, embracing audiences meant a little bit differently. It was a deep obligation to get to know our audience and to understand how they might subtly differ from the curiosity, and the things that we wanted to see as we got a bit older. We brought in younger people to help us make sure that our vision was on point. To get us into more quantitative and qualitative surveying. To make sure we were embracing of the audience. It's all an art and a science.
Did it help understanding audiences because of your ages? You four are only now in your 40s.
We are all in our 40s now, yeah. Rick and Kerry just came onboard.
Agencies used to look to their youngest staff member and ask, "What do kids want?" It used to be that bad.
I agree. One of the reasons that we have been successful is that we are doing things that we believe in, and that we are excited about. It used to be a small company. Now it's 90 or 100 people and every person that comes into the organization continues to advance, and become what Superfly is, and we grow by that. We diversify through that, but it is still core to who we are. To follow the things that we are passionate about because that's what leads to success. There should be a much easier path to success when you are that passionate about it. We are still curious about it (reaching success).
In your 30s, you were not far removed from the demographic you were trying to attract to your live events.
I'm 44 now. At one point, we were thinking that at age 30 we were going to kick each other out of the company. Then we turned 30, and we went, "Wait a minute, this isn't going to make any sense. But what do we do next?" So we ended up staying in the company, but we are working with people in their 20s every single day. They are the future. If we want to be talking to that (music) audience, then those are the people who are going to be closest to it, and they are going to be smart about it. The best way to know our audiences, whether we are building a festival for those in their early 20's, or an event for an older demo in their 30's or buying VIP tickets, we are talking specifically to those audiences; whether in our office or coming to our festivals, to make sure we're smart on what they want. We are thinking about all of those things and constantly trying to make sure that we understand what we are trying to do.
At 30, you might have said, "Nah, this sucks. The audience wouldn't like this." At 50, you might be saying, "Maybe the audience will think this sucks." At 30, you likely knew.
Yeah, to a certain extent, yes. But there's also that 10,000 hours thing too (writer Malcolm Gladwell's principle holding that 10,000 hours of "deliberate practice" are needed to become world-class in any field). It can mean that the things that you can't make a decision on yourself you start to ask other people about as you get older. It's kind of like an athlete. They lose a little bit of athleticism but they get smarter, and the game gets more mental. It is no different as you get older as well. But yes, in the 30s, we were probably leaning a little bit more on ourselves, but we've always asked around. We've always been very much, "What do you think?" And, "How do you feel about that?" It's important to be able to do that to be successful.
We've always have been trying to improve. Always been trying to think about others. I think that empathy is incredibly important now as much as ever. That's always been a part of who we have been. Keeping the ego in check. Understanding that you can learn from anybody. Always taking that into things that we did with festivals. There's no such thing as perfect, but you always have to strive. You always want to get better than what you are, but always be satisfied with where you are as well. There's nothing to get down on because it all happens for a reason, and you still want to get better. It's a healthy balance of having passion and striving with also being satisfied with the moment.
Given that promoting live music is largely centered on relationships, you and your partners came up through the ranks at the same time as a level of agents, managers, artists, promoters, sponsors, and ad agency executives. A very powerful relationship base.
Everything is relationships. On so many different levels. On a personal level for sure. The philosophical meaning of life is something that I have focused on for 25 years, and it's about relationships. Personal, and business-wise. You want to do business with the people that you enjoy because life is short. We hopefully have done a lot of good business, and done well by a lot of people. The reputation, hopefully, proceeds us, and we have been blessed that a lot of amazing mentors have helped us along the way. And you are right. Everybody evolved together. The directors we knew before are now CMOs (chief marketing officers), and the lower level agents are now running agencies. I think it's a testament to the growth of these individuals.
It has been claimed that Superfly left a lot of sponsorship money on the table over the years with Bonnaroo. That you didn't seek out certain sponsorship opportunities because you and your partners felt the brands weren't right for the festival. With its festivals, Superfly still seems to look for sponsors that can be woven into the fabric of each festival. Do you, in fact, have the philosophy that a sponsor has to be able to bring something to the table?
Yeah, 100%. I think again because we were never really concert promoters it wasn't about the economics of what we did. We did it because we wanted to be part of really cool creative things. So when Bonnaroo happened, it really was lightning in the bottle. To sell 80,000 tickets, in two and a half weeks with no advertising.
Not through a ticket agency that first year either. You used Coran Capshaw's direct-to-fan online service MusicToday for the first Bonnaroo. You blew out 10,000 tickets the first week on the site.
I shouldn't say that we didn't do any marketing because we did send one email blast through each other artist's accounts
What artists?
All of the artists performing. They all agreed to send out an email about the festival. People were…the energy was palpable. There are moments when you catch lightning like that. Those moments are few and far between. We were hoping that 30,000 people would come. Just to pull this thing off. It was a huge leap for us from a production design creative perspective. It was just a really exciting moment. So when you talk about partnerships we had done previously, it wasn't like we were trying and make money from brands. It was, "We are doing this for the audience, and this is a way that we can drive revenues, and make better experiences. Let's figure out how we do this in a way that provides value, and is woven into our DNA." But always keeping the audience in mind. Always keeping ourselves at the center of those equations. What do we like to do? So that is why we have never named stages. It is one of those things that like, "How do we justify naming a stage and say  it is adding value to the audience?" Sure, there might be ways to do it, but it hasn't been a format for us.
For decades, the live music concept was to grab whatever sponsors that were easily available. There wasn't much thought of whether the sponsor was a suitable fit other than, perhaps, not taking tobacco money, though that remains evident still in Europe. You have remained quite independent in accepting brand sponsorships.
We always have had guard rails. We also have had a purpose vision strategy. There's a ladder into those things and, quite honestly, you can usually figure out a way to do very cool stuff. It takes creativity. It takes time and effort, and collaboration, but if you are really smart about it, usually you can figure it out. There's a reasoning that you can go after brands that you really want to see out there.
And having Live Nation as a partner hasn't changed that?
Live Nation has been an incredible partner. Working with (Live Nation's president, Media & Sponsorship) Russell Wallach and his team, it has been just an incredible collaboration We have learned a lot from them. Hopefully, they have learned a lot from us as well.  It's what a true partnership can be. They certainly get the vision. By the way, we probably haven't left that much money on the table.
Earlier on with Bonnaroo you absolutely did.
Certainly. But even more so, it never felt like that was what we were doing. It just felt like we were putting everything into the fabric of what we believed.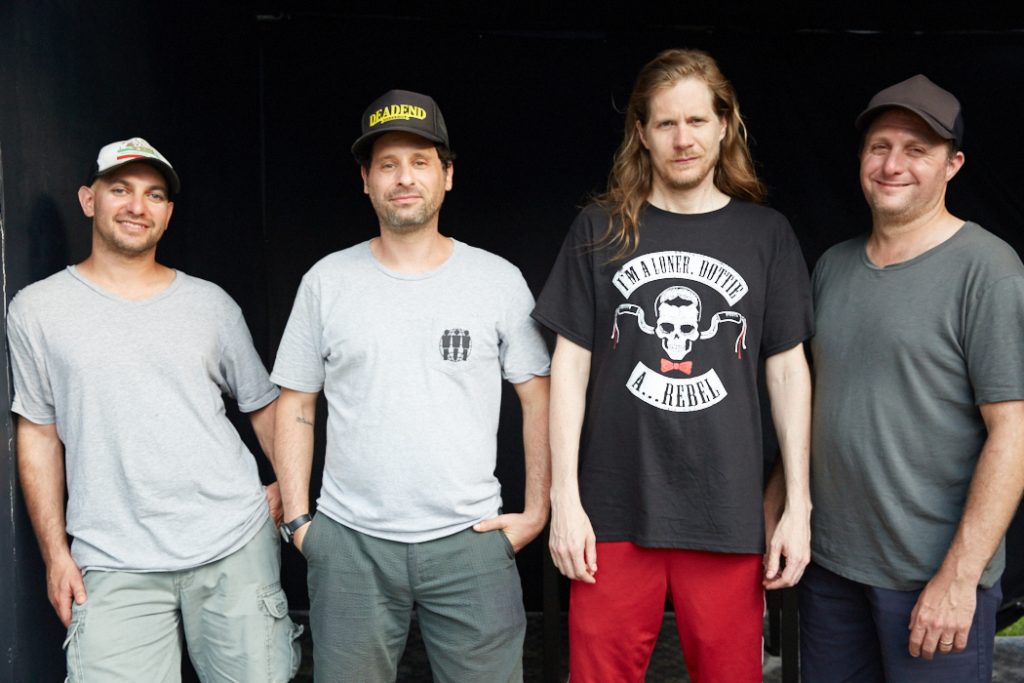 You and your partners recognized with Bonnaroo that people wanted to do other things over a four-day event. As Bonnaroo became one of the most immersive major U.S. music festivals, this provided opportunities to bring in non-traditional festival brands like Nestlé, VitaminWater, Sony, and State Farm. You also sought to design branded experiences that would make a festival better for the audience. Like working with Garnier Fructis in order to establish salons on-site where people could get their hair washed and styled. There's a deeper sponsor pool today because of Bonnaroo, Burning Man and a handful of other festivals.
I wouldn't say for us that there was a spot where we saw things change. I put the brand opportunity in three buckets for engaging the audience. It's entertainment. It's utility, and it's surprise and delight. With any brand that we work with, we are trying to bring value to the audience. Usually, on the permission of the brand, they will fall into one of those areas, just on knowing who they are. Utility always seems to be a great thing, whether it's social impact or it's helping cars that are stuck in the campground or it's providing lockers. There just has always been part of that, and having embraced the fact that what brands provide people in their everyday world is utility. So, we traditionally have tried to help brands think about where they can impact the lives of the people that are within our community—ultimately to drag them toward a purchase. We also get brands who really know who they are, and they come in with an agency, and they say, "This is what we want to do." Then we adapt and figure out how to intertwine that with what we are doing. It's really been that way since we started Bonnaroo. We have always been thinking that way. I think that the brands have probably gotten more sophisticated. But, at first, when we used to get on the phone, and people would go, "How many banners do I get? How many 30 second spots are there." We'd tell them we really want to weave you into the festival in ways that provide value to the audience.
Were those early Bonnaroo years tough in attracting suitable brand partnerships?
We got hung up on a few times. I would say by 2008 and 2009 that we were starting to get calls, and they literally would be regurgitating what we were saying to them earlier. They wanted to be part of the event. They weren't looking for banners. It's an evolution of marketing, right? The evolution of getting better at what you do. By 2008 or 2009, the market had caught up with how we looked to create more meaningful partnerships, and they started to ask us for exactly what we had been pitching them originally.
It was also because the live music and marketing worlds were developing, and becoming more aligned.
That's right. Absolutely because everything needs to be better. In terms of selling 80,000 tickets, you just have to get better at your craft and understand audiences better. You are always competing for attention and, beyond that, you are continuing to think about how to look at a particular audience in a different way. To get to know them better. Ear to the ground. Reading materials, and just being smart. If you are not doing that constantly, then you fall behind.
At WORLDZ in Los Angeles last year in a session titled  "Not Another Face in the Crowd," you argued that festival goers enjoy "a heads up engagement with a wristband, compared to heads down with phone. Both are best when well thought out." Pretty astute thinking.
I've always looked at technology, in general, in that there's no evil in itself. It's how you use it, right? It can take you away or it can provide value. There's always that juxtaposition or paradox. You see it every day. Facebook talks about how it brings people together, but also it pulls you away. So I think that for all of those things the more you can be in the moment, usually, the happier you are. You want to share those moments as well but, if people can look up and be with the concert which is why they are spending their hard-earned money and maybe they can share it after on their phone, I think that people get rewarded with better experiences. So the wristband should at the end of the day enhance your experience because now you are more connected. There's more information that is being shared that can then be used to positively impact your life.
Wristbands are also being used to monitor audiences.
Yep.
Data mining is not new, but beyond collecting the data, proper execution is necessary to drill down and find precise details about security, food, and beverage issues. I'm not sure everyone is doing that with the data being compiled. Data collected in the summer is worthless if it's being evaluated six months later.
Yeah, there's absolute truth to that. People talk a lot about data but, like most things, unless you can make sense of it… What we found really interesting is that we ran a couple of programs where we had stations where people could scan (via wristbands) where they were at stages and what things they watched and then we were able to send them an actual journal of their experience including set lists from the artists that they saw. Those things make a lot of sense. There are probably other people out there more sophisticated than me working (data) with elections and other stuff. But I'm with you. People are still sorting out exactly how to use, and maximize data to bring value to audiences. Obviously, people who have the data are also thinking of themselves as well.
The live music event space is becoming attractive to many media companies, and internet brands. Vivendi continues to grow its live music business in France with the apparent acquisition of Garorock Festival as well as owning the Brive Festival, Festival des Déferlantes, Live at Campo and the Blue Note Festival. Spotify recently announced it is bringing one of its key global playlist brands, Viva Latino!, to the live stage. Do you have concerns about these players expanding into live music?
No. In general, you are constantly competing for dollars and attention. Attention being first and foremost. That's where dollars follows from. Spotify is a digital brand and I think what we will continue to see is that brands are trying to have a deeper connection. You can't replicate the live experience through anything digitally or through TV. That visceral feeling of community, the mindset when you walk into a live experience, is very, very different. Spotify knows that. To continue to build their brand, they have plenty of competition from Apple and others, and (the strategy is), "I need not to only be the brand that people go to digitally, but they can have a visceral experience, a peoples' experience with me." So I think you will continue to see that happen. Apple used to have a festival in London and a lot of brands, not just digital music brands, are continuing to think through how their brand manifests in live experiences.
[The Apple Music festival, known as The iTunes Festival until 2015, ended in 2017 after a decade. The annual event was held at the Roundhouse in London for much of its tenure.]
At the same time, Apple is focusing on original TV and music content following Netflix in trying to build catalogs to deepen relationships with subscribers.
Yeah, it's a relationship. It's more forms of content for sure, and it's a deeper level of brand commitment.
There are also people moving away from live music. Of course, there's been such high-profile demises as Fyre and Pemberton, but more recently Adam Zacks announced that the Sasquatch! Music Festival in George, Washington will not be taking place in 2019 after 17 years. Then the FYF Festival in Los Angeles canceled its 2018 event because of poor ticket sales.
Heading into a second year, the Lost Lake Festival in Phoenix, co-promoted by Superfly, Stateside Presents, Walter Productions, and Coran Capshaw's Starr Hill was canceled last month. Forty acts were scheduled to perform Oct. 20-22, including Chance the Rapper, Run the Jewels, Major Lazer, Pixies, Crystal Castles, The Killers, and Huey Lewis and the News.
Are there too many festivals in America today?
It's tough to say that we have too many festivals. I think you have to be smart in the business. There's a decent-sized risk profile, and not everything is going to succeed. You throw some things out there, and as long as you do a really good job, you have a very good shot. We were really excited about the product that we put out in Phoenix. Last year was incredibly successful, but this year we weren't going to be able to create the vision that we set forth. Sometimes things take longer than you have. We are big believers in that market, and we love the community that we saw growing there. The vibe and the culture. The First Fridays (art walk) and everything else going on there. It is certainly a developing music market and one that is going to take time.
[Superfly and AC Entertainment also launched a festival called Vegoose in Las Vegas in 2005 which folded in 2007. In 2012, Superfly launched The Great GoogaMooga in Brooklyn's Prospect Park, but it was canceled in its second year.]
How hard is it to cancel a live event while it is in motion?
It's not fun. It really is not. You certainly let people down on a certain level and we have had such tremendous support from the city and the community and we are going to give back to that community.
Superfly has announced that it will be donating $25,000 from  Lost Lake Festival's profits in 2017, and $25,000 from direct funds from the Lost Lake partnership to local charities including the Arizona School for the Arts, Native American Connections, Phoenix Central High School, Phoenix Parks Foundation, and Rosie's House.
Yeah, wherever we can support we will continue to. We have a lot of friends there. But is always disappointing (canceling), but it is certainly part of our business and you have to be smart if you want to survive because festivals aren't easy. It's like anything. If you are really really good at it, and you are smart about building businesses, you can be successful. But you have to make some tough choices too.
You and Jon went to high school together In West Nyack, New York?
We did. Clarkstown High School South. I think we met in 10th grade, and we have been best friends ever since. We were both from Rockland Country. I was in New City, and he was in West Nyack. We were five minutes apart, but they are different towns. So we didn't go to elementary or junior high together. We just connected in high school, and been friends ever since.
Was Jon the music geek?
We were both the music geeks. Oh man, we were complete music geeks. I just remember coming back from college every year, and the New City Library, had an incredible jazz collection, and I would tape literally everything that they had. I would spend every single day there
What university did you attend?
I went to the University of Albany taking marketing and business. I graduated from the business school with a B.A. in business and marketing. A lot of marketing classes, and business administration.
Meanwhile, your three partners were attending Tulane University in New Orleans. Jon graduated first in 1995 and got a job booking talent at Tipitina's. While still students at Tulane, Rick and Kerry joined him there. When Tipitina's was sold in 1995, Jon started working in the production office of the New Orleans Jazz & Heritage Festival. You were then asked by the three to come to New Orleans to launch some live events around Mardi Gras and JazzFest.
Well, Jon had done some stuff when he was in college. So when we really started, it was a couple of concerts at the Contemporary Arts Center, a warehouse with a hole in the ceiling.
The first being "Take Funk to Heaven-Mardi Gras '97" with the Meters, Maceo Parker and Rebirth Brass Band.
That was in '97 when we started. We did two shows. Then we did two shows during JazzFest. We thought it was easy at first because all four of those shows were really successful. It was interesting just to see. We were so ingrained within that community, and they were so ingrained in the Tulane (University) community. I remember collecting money at the door, and I would be telling people $25, and they'd say, "That's great. Who's playing?" It was such the thing to do. We created such an energy around it (these shows) that people just felt that this is what everybody was doing around Mardi Gras, and what everybody was doing around JazzFest. Then, we certainly got all of the passionate (music) fans into what we were doing, and into the vision that we were bringing to life.
[The first date presented under the Superfly name was a May 1995 Tipitina's show with George Porter Jr., Kermit Ruffins, the Wild Magnolias and Rebirth Brass Band.]
Meanwhile, while you were stapling up posters for events without a license, you attracted the attention of the New Orleans' police. You were taken to the police station. A true story?
My gosh, yes it's a true story. What was crazy about it was the only reason they took me down to the station was that I didn't have my ID on me. It's one of the things you look back and think, "That was a pretty good experience." I wouldn't want it again,  but once it's over, okay I learned something. I saw some stuff. But yes, putting posters up on a pole without a license was my first trip down to a police station.
When you four started Superfly, you didn't have much money. About $20,000. Most of which was borrowed from your families, and there was some bar mitzvah money.
It was my bar mitzvah money. Some of the money was from a home equality loan that my mom had, and she gave me a few bucks. We pulled a few dollars in. I think that everybody contributed. Kerry had the car. I think me, Jon and Rick pooled some money together, and Kerry drove everybody around town.
Against a backdrop of competing against Clear Channel Entertainment which had purchased  Robert Sillerman's SFX Entertainment in 2000, and the rise of  House of Blues Entertainment which in 1999 acquired Universal Concerts that operated 19 concert venues across North America, it was a tough period to begin to operate a small live music event company.
Yeah, It wasn't an easy time, but certainly what we did couldn't have happened in New York. New Orleans was a good market like that. We had a good relationship with the other promoters in town. Sonny Schneidau was booking the House of Blues at the time (the second venue opened in the chain), and one of the bands asked him if it was okay if they played for us, and he said no problem. Those are the types of relationships that you build, and we have always been one to want other people to succeed and, hopefully, that comes back to us. You put out the right energy. We are very fortunate to do what we do, and I think it stems from having our hearts in the right place, and putting something out there that people can be proud of.
Quint Davis, producer the New Orleans Jazz & Heritage Festival (aka JazzFest) is someone who likely also influenced your way of thinking.
Yeah. Jon worked very closely with him. We've been to so many years of JazzFests in a row. He's an incredible inspiration. Certainly JazzFest and what Quint has done down there, he is just an incredible force. The food, the energy, just the joy that came of coming to JazzFest. We were happy to be part of all that and just contribute even a little bit to it with our night shows. It was amazing to learn from it all.
Certainly going to California for Coachella prior to launching Bonnaroo was also an inspirational moment.
Coachella was great. From a Bonnaroo perspective, just seeing what Paul (Tollett)  was looking to do, and the vision that he had for that, and certainly the ups and downs that he had with that property to get it to where it is today. Glastonbury was also amazing. Certainly what Europe was doing was far ahead of what we were doing. Glastonbury is still the grandfather of them all, and we hopefully got a little taste of that. We've also been to Burning Man so many times working with Marian (Marian Goodell, founding board member, and CEO, Burning Man Project). We have shared so much together, and have had a lot of different summits, and mixers to learn from each other.
The industry can be like a family.
It's a pretty collaborative industry when you find the right people. It certainly is not a zero-sum game. I think that there's a lot to learn from each other to put a great experience out into the world so people can enjoy. I think it speaks to the camaraderie of the industry when you are working with the right people. Every industry has its people that don't work like that. Fortunately, we found most of them that do. From our legal representation into accounting. Just the mentors that we've had.
How did you come to find the 700-acre Bonnaroo site in Manchester in Coffee County Tennessee with access roads left over from an earlier festival?  Right off Interstate 24 with the backstage road leading to a Holiday Inn.
We were looking for something centrally located, and we went to one property that had a railroad track going through it. Then a security guy from one of the companies said, "Why don't you check out this site?" We went up to the owner's door and knocked. There had been a festival there a couple of years earlier that had failed called Itchycoo Park. But Sam McAlister (owner of 530 acre farm) wanted to give it another shot, and he took a chance on us as did Coran Capshaw, and Ashley Capps, and we were off to the races.
[Itchycoo Park was a 1999 music festival that featured Rick Springfield, the Outfield, Sammy Hagar, Iron Butterfly, and Styx. By all accounts, it was a sizeable failure. Promoters had hoped to draw a crowd of 80,000 but only 19,000 tickets were sold. Itchycoo went broke even before the weekend concluded.]
Coran brought in his live event expertise. At that point, you nor Ashley had been involved with overseeing a major festival.
Yeah, Coran has been a mentor and partner of ours for many years now. Going on 20 years. We have learned a tremendous amount from him. From a business perspective. From a guidance perspective. Every show that we had done before Bonnaroo was a 3,000 person capacity theater show. Ashley obviously knew the Southeast marketplace. He had a lot of relationships with the talent. We were very fortunate because Phish was on hiatus, and we were able to take a fair portion of that team who was doing the big Phish event to work on Bonnaroo. Some of those people are still with us today. But the amazing organization that we were able to build up from the beginning came from not only listening and deferring to the experts, but learning and understanding that we could become experts ourselves in what we did. But those early years were certainly about a lot of listening and having a lot of questions.
Bonnaroo, like many festivals, was an outgrowth of the jam band scene.  Superfly, however, hasn't stayed genre specific with its festivals.
It was a moment in time, and certainly, we were passionate. I've been to over 100 Grateful Dead shows, and my partners and I…we were just very much into the music scene, and very much into the grassroots rock scene. We continued to evolve as well. I think from the industry and the success of Bonnaroo we knew that we had to continue to diversify as peoples' tastes did, and as our own tastes did. Radiohead in 2006 (at Bonnaroo) was just such a seminal moment on a personal level, as well as for the festival. That (diversity of music) was just listening, being aware, making sure that what you are doing, and what your feeling is what is happening with society at large. We have always prided ourselves on being part of the cultural zeitgeist. Again, I think that is why the festivals have been successful and the agency stuff has been successful. You really have to be in it, and understand it.
What things can you talk about in Superfly's future?
From a pipeline perspective, there's nothing I can really talk about outside of the things that have been announced but I do think that you will see some new IP in 2019. Some new formats and things of that nature. Certainly, on the brand side, we are doing a lot of great work. Those are projects that we do in service of which are not necessarily for PR.
Are you still having fun?
Absolutely. I'm incredibly blessed. Part of it is mindset. Working through the challenges, and continuing to focus on how to get better every day. It has always kind of been the way that my mind has worked. Really trying to understand consciousness, but absolutely enjoying every single day, and enjoying the people I get to be with. I wake up with a lot of gratitude.
You have a family of your own?
I do. I've got a wife and three kids. Three boys.  Seven, three and one. Yeah, I'm in the thick of it.
Some advice for you. You lose control of your kids when have to ask them to fix a computer issue.
I will be so happy about that because I'm the person in the office asking my guys, "Can you fix this?" I turn it on, I turn it off and unplug it, and 75% to 85% of the time it works. The other times I have to call someone. I've never been a tech geek. I love technology for the services and the things they can do for me, but not being into the latest greatest thing there is.
Larry LeBlanc is widely recognized as one of the leading music industry journalists in the world. Before joining CelebrityAccess in 2008 as senior editor, he was the Canadian bureau chief of Billboard from 1991-2007 and Canadian editor of Record World from 1970-80. He was also a co-founder of the late Canadian music trade, The Record. He has been quoted on music industry issues in hundreds of publications including Time, Forbes, and the London Times. He is co-author of the book "Music From Far And Wide," and a Lifetime Member of the Songwriters Hall of Fame.
He is the recipient of the 2013 Walt Grealis Special Achievement Award, recognizing individuals who have made an impact on the Canadian music industry.