(CelebrityAccess) The Manhattan Transfer is on tour, promoting The Junction, its first studio album in 10 years and singing Christmas tunes along the way. CelebrityAccess talked a bit about it with the group's Janis Siegel, who is also its vocal arranger. Siegel herself is a nine-time Grammy winner and a seventeen-time Grammy nominee.
became the first act to win Grammy awards in the Pop and Jazz categories in one year (1981) for "Best Pop Performance by a Duo or Group with Vocal" for "Boy From New York City" and "Best Jazz Performance Duo or Group" for "Until I Met You (Corner Pocket)." In 1985, their album Vocalese made history as the single greatest Grammy-nominated album in one year — with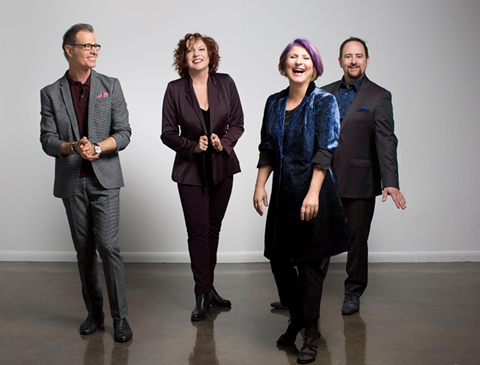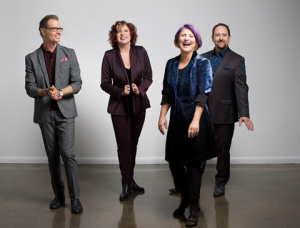 12 nominations. Vocalese earned two Grammys: "Best Jazz Vocal Performance, Duo or Group"; and "Best Vocal Arrangement for Two or More Voices" for "Another Night in Tunisia" (won by Cheryl Bentyne and Bobby McFerrin). The album, which featured jazz legends Dizzy Gillespie, Ron Carter, and the Count Basie Orchestra, changed the perception of The Manhattan Transfer from successful pop artists to formidable jazz singers 
Can you please tell us a little bit about the newest album, The Journey, and how people are reacting to it?
It's been out now for a while. We're doing quite a few of the songs from the record, which is a whole other process. In the studio you can look at music, and look at words. Doing it live, the singer has to learn arrangements, notes and words, and memorize them as opposed to, say, an instrumentalist on stage who can still look at charts and see everything. We're the front people; we don't have music in front of us.
But I'm very happy with it. I think (producer) Mervin Warren is a genius, first of all, and he did an amazing job of keeping what people may consider the traditional Manhattan Transfer sound but also stretching us out in a lot of unexpected ways, which is what we want. We've never been one to rest on our accomplishments.
Obviously there are even local bands bring out sheets on music stands to sing lyrics
Ipads are the latest thing
But it feels lazy.
Yeah, I agree with you. Memorizing new songs is difficult. We tend to have a lot of words in our songs so, sometimes, we need a little cheat sheet. Trigger words or something – but then we get rid of it.
Well, this song "Cantaloop" for instance.
Right! Woo! We're doing that! We are doing that! We've been doing that a lot. Most every show now.
I had a little bit of a leg up because I was familiar with the US3. They came out in 1993. I was kinda blown away with that. I was vaguely familiar with the words, at least. But putting pitch and harmonies to it was the little frisson of excitement.
You're playing three nights at the Blue Note in Napa.
We've never been there but we play the Blue Note in New York all the time, and we've played the Blue Note Mulan and the one in Tokyo as well. It's all part of the same organization.
Any venues that you are particularly looking forward to?
I love playing the Museum of Musical Instruments in Phoenix. We're doing two nights there. It's an awesome place. It's worth a trip to Phoenix.


Anything else?
Well, we're mainly doing Christmas shows. We're doing a couple of "regular" shows but people this time of year want to hear Christmas stuff.
I think the Blue Note shows will be mostly other stuff. We'll be doing stuff from the new album, regardless. We'll be doing a couple shows with Herb Alpert and Lani Hall. A double bill deal.
Didn't know ya'll were hanging out.
I've never met him, actually. Sometimes agents put together these things; it's not that you're besties and want to tour together.
You would think our paths would have crossed by now, but not really. We were with Atlantic Records for many years (not Albert's A&M).
Ah, so enemies.
Of course! Enemies! Hey, there are no enemies in music!
More information on the tour is available here.