(CelebrityAccess) Van Hunt has reimagined his self-titled debut album from 15 years ago, a self-titled recording that drew critical acclaim and announced a career filled with promise.
Writing for The New York Times, Nic Harcourt said, "[Van Hunt] oozes soul and sex…Van has absorbed the likes of Marvin, Rufus, Curtis, and Prince and then added the most important ingredient: himself."
Entertainment Weekly awarded it an A and hailed it as "refreshingly dark and disturbing." The BBC declared "the newcomer of the year has been found…[Van Hunt] is a sweet brew of rich slow jam, finger clicking tempos and music delivered straight from the heart."
And yet, even though Hunt has had several albums since then, each more exploratory than the last, plus a Grammy for his performance alongside John Legend and Joss Stone on the Sly & The Family Stone tribute album Different Strokes For Different Folks, Hunt's career was filled with changes and one full-stop. He has said he was not satisfied with his first two albums and, when signed to Blue Note, the label refused to release his sophomore album, Popular. Hunt said that devastated him. It was shelved for a decade.
At the time, his manager, Randy Jackson of "American Idol" fame, told LA Weekly that "People at major labels think everyone wants to be a pop star … but Van's a real career artist, and his artistry isn't based on a hit single."
When Popular was finally released two years ago, the same publication called it a "left-field stunner."
Not too long after that, Hunt decided to take a six-year break from live performances. Personal appearances were handled through his website.
That appears to be changing: Hunt has released a re-imagining of his debut album called TRIM and has management in Steve Nice of Nice Management & Consulting. Plus he says he is now officially on APA's roster and getting ready for extensive touring that will coincide with an album of new material this year.
You were one of my first interviews about 15 years ago, for your debut album, and it's deja vu all over again.
Ironically, from what I recall, you were one of my first interviews, especially if you did Randy Jackson around the same time. That was definitely one of my first.
I figure you'd like to talk about TRIM but I also want to talk about touring. You took a six-year break from touring – are you planning on doing any extensive touring when the next album comes out?
First of all, we can talk about whatever you want to talk about. I'm definitely not a stickler for subject matter. If somebody wants to talk to me, about whatever, I'm interested in talkin'!
We have a record that was recorded live but that was just recorded. The TRIM record was recorded based off of what I was doing live. Vernon Reid had asked me to open up for him in Atlanta. It was my first show back. The way I had to create the sound for the live show, because it was just my drummer and me, that gave my tour manager the idea that maybe I should record. Vernon suggested it too: just record what he had heard that night.
So that's where it all started, to do the 15th-anniversary record. That's TRIM. I did that in about two weeks.
Now a record of completely new material will probably surface around fall.
So will you be supporting the new material with live dates?
Oh, definitely.
Do you have an agent? It appears on your website that you are booked directly.
Oh, no. When I first came back, I obviously hadn't toured in six years so nobody wanted to book me (laughs). Basically, my manager made a call and a guy did a favor for him. Do you know Steve Ferguson?
Yes, Steve Ferguson out of APA, New York.
Yeah, so he basically did my manager a solid and said, "I'll make a few calls just so we can expedite some of these small clubs."
But the whole last tour that I just did which, again, was my first in five, six years, they didn't know what to expect, and the clubs didn't know what to expect and I didn't either. But they wanted to know how I did in the market. It just so happened that every show sold out. Then Steve Ferguson was, like, "Well, now I can come out of the shadows and we're going to do this." He and his company are my agent now.
So anything on the books yet?
Oh, yeah, we have the whole summer planned out. It's just that they want to get as many of the dates confirmed as possible before we post them.
It sounds like a long trip.
Yeah, man. It is. It's going to be the whole summer, going into fall. It's going to be a lot of fun and I'll be playing, again, with my drummer, Ruthie Price, whom I love dearly. Man, it's going to be a blast!
On the dates from last year, did that include anything equivalent to meet-and-greets or getting feedback from the audience?
You know, I don't ever remember doing a show where I didn't do a meet-and-greet. Sometimes you do them before the show, like the Vernon Reid show. As I said, it was Vernon's show so he wanted to do his meet-and-greet in a specific way, so we did it beforehand. But, for me, I always do it after the show. Whoever is around, I'm going to talk to.
It's not about just being grateful. I'm really interested. Even when I'm performing onstage, I try to let the audience know that we're here for each other. I want to try and get each other off. It's fun. If I can do the whole show from inside the audience, I would.
It would seem if one was going to do music from a "previous self," you'd have a conversation with that version of you. "Mind if I tweak this lyric?" "No, you're trying to respect me from 15 years ago!" Did you ever want to, oh, fiddle around with the lyrics or whatnot?
(laughs) Yeah, it was totally like that but it wasn't all in one moment, you know? It wasn't even conceptual. As I said, my manager was, like, "Yo, what about a 15th-anniversary thing where you re-record these songs?"
I don't think even he had in mind a re-imagining of the songs, just literally record them again and make them sound like the old record, you know? I think he had a little more of a business tilt to it.
When I got involved with it, of course, I'm an artist and I looked at those songs as a 48-year-old man. I was wondering what it was I was getting ready to do. I just tackled them.
I had been performing those songs off and on, even with the six-year break. I've played those songs tens of times if not hundreds. I've already done all th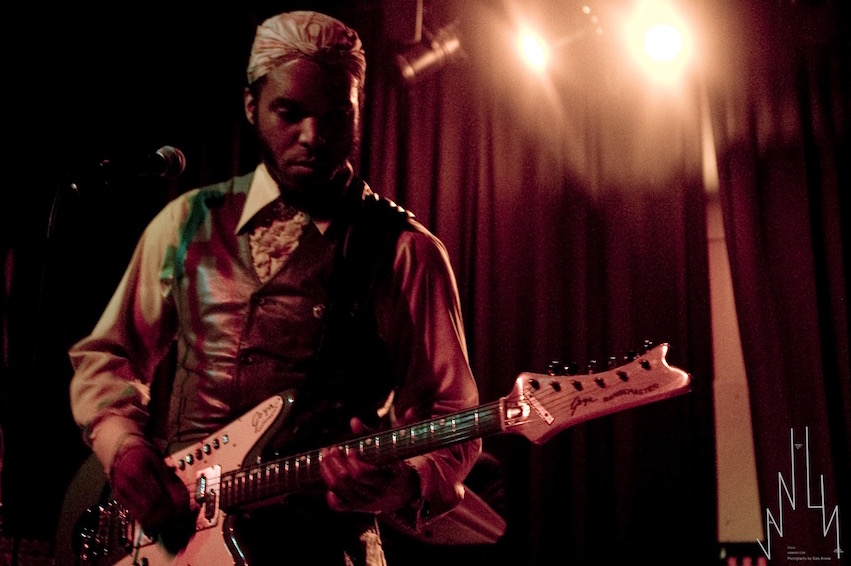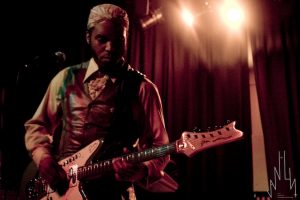 e things you just laid out, you know, as far as changing them. Not necessarily lyrically, though. The listeners have come to know those songs through the lyrics.
In addition to that, when I started singing these songs again, I realized they really felt like something I needed to hear. It was almost as if the songs were describing where I would be and were giving me a sense of context for a pathway forward. Some of those songs were written when I was 23 years old, man.
But they almost laid a pathway for me as a much older guy. It was amazing. I didn't feel the need to change the lyrics
because they took on a whole new context for me.
Any dates in California?
Definitely. Those will probably be late June, if not early July. We'll definitely be hitting L.A and San Francisco, for sure.