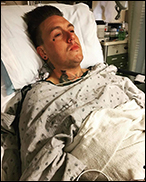 LOS ANGELES (CelebrityAccess) — California-based rock band Papa Roach announced that they were canceling a series of tour dates in August while frontman Jacoby Shaddix undergoes medical care for his voice.
In a post on their social media, the band wrote: "It is with a heavy heart that we are forced to cancel our upcoming shows in the Oregon, Illinois, and Alaska this month due to the need for Jacoby Shaddix to have immediate vocal cord surgery and rest. This week, Jacoby was advised by his Doctors and Vocal Specialists to have surgery on his vocal cord and to give his vocal muscles enough time to heal before Papa Roach resumes their current touring schedule in September. Jacoby had a similar surgery about five years ago.
"Fortunately, the diagnosis was made early and full recovery should be soon. The vocal cords are a muscle and like any athlete, muscles can get injured in the course of their profession and we appreciate your understanding this diagnosis. We wish to thank all of our fans in advance for your prayers and good wishes. We know some of you had travel plans and we will return next year to perform for you. Please contact your local ticketing company for more information on the following shows.
Affected dates include:
August 11, 2017. Roseburg OR. Douglas County Fair
August 19, 2017. Carterville, IL. Moonstock 2017
August 25, 2017. Palmer, AK. Alaska State Fair
On his own social media, Shaddix posted a photo of himself confined to a hospital bed and thanked his fans for their well-wishes.