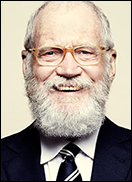 NEW YORK (CelebrityAccess) — Late-night legend David Letterman is preparing for a return to the small screen through the auspices of a new deal with video streaming service Netflix.
The yet-to-be-named, six-episode series has Letterman will conduct a long-form conversation with a singular guest – and will also explore topics on his own, away from the studio. Episodes will be an hour long and the series is set to premiere in 2018.
Netflix noted that the format for the new series was not "fully fleshed-out" nor has a title for the new show been announced.
In his 33-year tenure as a late-night host, Letterman, 70, was the longest-serving host in U.S. late night television and helped to redefine the format from the genial but staid model championed by Johnny Carson.
Since his departure from "Late Show" in 20014, where he was succeeded by Stephen Colbert, Letterman has made only a handful of TV appearances. Last year he was a celebrity correspondent on "Years of Living Dangerously," a climate-change documentary series on the National Geographic Channel, for which he traveled to India and met with Prime Minister Narendra Modi.
Mr. Letterman said in a statement, "I feel excited and lucky to be working on this project for Netflix. Here's what I have learned, if you retire to spend more time with your family, check with your family first. Thanks for watching, drive safely."