INGLEWOOD, CALIF. (CelebrityAccess) MSG Forum, owners of the Forum in Inglewood, Calif., have filed a 46-page complaint against the City of Inglewood and Mayor James T. Butts, among others, stemming from alleged "secret negotiations" to build a Los Angeles Clippers arena.
In the lawsuit filed with the Superior Court of the County of Los Angeles, MSG accuses Butts of defrauding the Forum and accuses the city, the city council and others of violating contractual commitments to the new facility, saying the Clippers arena, if built, would be walking distance from the Forum.
The complaint alleges breach of contract, breach of implied covenant of good faith and fair dealing, rescission, and indemnification, among other accusations. The lawsuit claims Butts ("at the center of the alleged deception") deceived the Forum to give up its long-term lease and purchase option with the city for 15 acres of city-owned land for overflow parking. MSG alleges that Butts said the land was needed for a "technology park" to attract new businesses to Inglewood but was secretly planning to provide the land to the Clippers.
MSG provided a graphic that shows the parking areas it returned to the city, which it claims is now central to the Clippers arena.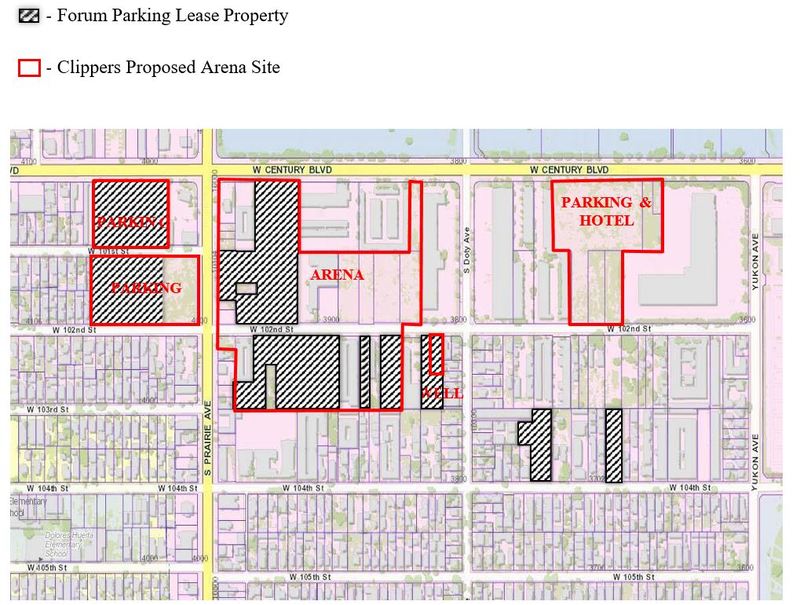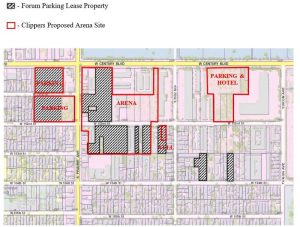 "The Forum has been a proud member of Inglewood's fabric since it first opened its doors 50 years ago, and we have nothing but respect and affection for our home community," Marvin Putnam of Latham & Watkins LLP, counsel for MSG Forum, said in a statement. "Unfortunately, the shocking and outrageous conduct of the Mayor, City officials and others have forced us to seek accountability in the courts in order to protect the Forum."
The lawsuit alleges that the mayor directed Forum executives to email him on a private gmail account to keep discussions "confidential." MSG Forum notes in the complaint that it invested more than $50 million in the venue and maintained a ticket minimum guaranteeing $600,000 annual revenue to the city for 30 years in exchange for the city to not engage in "any action or proceeding" that would cause "a material adverse impact on the … economic competitiveness of the Forum."
MSG Forum's prayer for relief includes rescission of the parking lease termination and reinstatement of the parking lease; and injunction prohibiting the city, the city council and others from continuing to pursue a competitive arena; declaratory relief stating the city is in breach of the development agreement; and compensatory damages in an amount to be proven at trial.
Other defendants include the Inglewood Parking Authority, Successor Agency to the Inglewood Development Agency, and Murphy's Bowl LLC.