MILWAUKEE (CelebrityAccess) The organizers of Milwaukee's Summerfest have released a time-lapse video of a major project at the event's longtime main stage, the American Family Insurance Amphitheatre.
The shed has long been known as the Marcus Amphitheatre and it opened in 1984 with a concert by Huey Lewis & The News – a harrowing tale that former Summerfest chief Bo Black would recall as one of the scariest days in her career. The mulitplatinum album Sports was at the top of the charts, and 25,000 people tried to fit themselves (many by climbing fences) into a space that accommodated 15,000. Two years later, seats were still being installed the day before the Beach Boys played.
The amphitheatre is currently undergoing a $50 million renovation. The stage's roof was raised 26 feet, more than doubling its original height from 39 to 65 feet.
The project is taking place in two stages. The first phase will be completed in time for this year's festival, which runs June 26-30 and July 2-7. It includes an expansion of the backstage area, including 19 dressing rooms, seven loading docks and more catering facilities.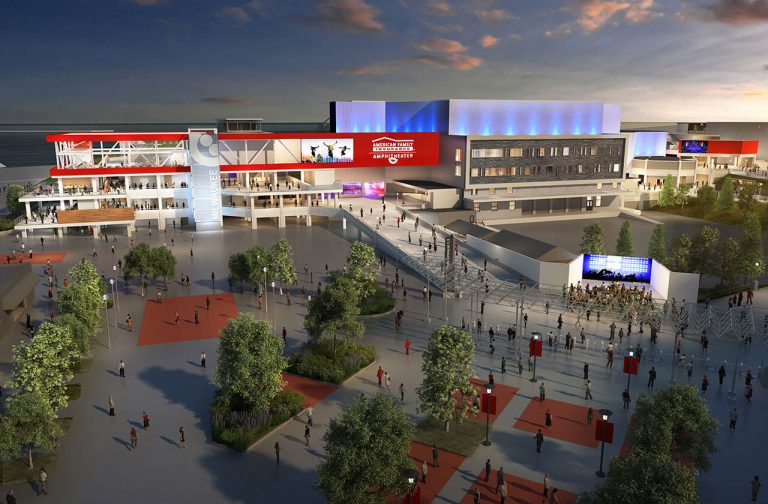 Summerfest has announced five headliners for the amphitheater for 2019 so far with more to come, announced so far: the Zac Brown Band on June 30, Thomas Rhett with Dustin Lynch, June 26; Jason Aldean and Kane Brown, June 28; Bon Iver with Lord Huron and Julien Baker, June 29; and Ozzy Osbourne with Megadeth, July 4.
Approximately half of the roof — or 24,100 square feet – was raised with the area weighed more than 600,000 pounds. The lift expands stage production capabilities in the amphitheater, which will now have the ability to host larger and more complex tours.
The full amphitheater project will be completed in time for the 2020 fest.