Construction work on Minnesota United's 19,400-seat Allianz Field in Saint Paul, Minn., has been completed and has been turned over to the project's construction manager, the Major League Soccer club Minnesota United FC.
The $250 million, privately funded arena began construction in June 2017 and has reportedly finished on schedule in advance of an April 13 game against New York City FC. The venue, designed by Populous, features an exterior skin made of Polytetrafluoroethylene (featured at the US Bank Stadium in Minnesota) and an extensive LED lighting system, plus a 360-degree roof canopy.
"This has been an amazing journey, and all of the men and women who worked on this project are extremely proud of what has been accomplished," Greg Huber, Mortenson Project Executive, said in a statement. "Construction extended across 20 months and we worked through two tough winters; the fact that we were able to stay on schedule is a testament to all of the people who had the commitment and passion to build this incredible stadium. And we are all excited to see that it has already transformed the area and is providing the catalyst to reinvigorate and further redevelop the historical Midway."
h/t Pan Stadia
_________________________________________________________________
The City Ground, the 30,445-seat stadium in West Bridgford, Nottinghamshire, England, for the Nottingham Forest Football Club, is expected to be redeveloped after a lease extension was agreed upon between the football club and the city council.
The area will include a museum, a new club shop, hospitality lounge options, restaurants and executive boxes. There will also be new, wider concourses and the capacity could expand to 38,000.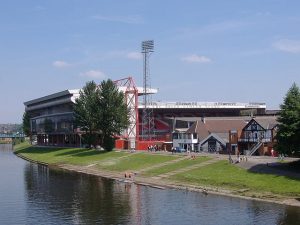 It would be the first major development work on the stadium since 1994.
City Ground has been home to the club since 1898.
Forest owner Evangelos Marinakis said in a statement: "After more than a year of consultation, we are now delighted to be able to present you our vision for The New City Ground.
"The City Ground has iconic history and memories for our supporters and these legacies were fundamental in our decision for us to remain on the banks of the River Trent and not relocating to an alternative site.
"This is our home and we will remain here forever."
h/t Pan Stadia
_____________________________________________________________________
Spanish Second Division football's Club Atlético Osasuna has announced the winning design for renovating its El Sadar Stadium, which was chosen by fans.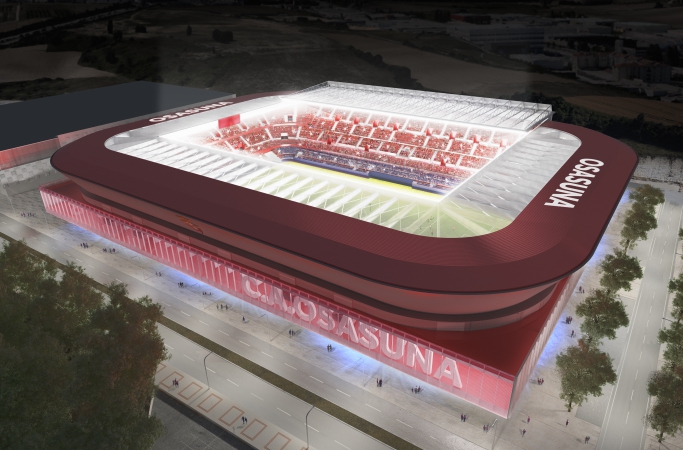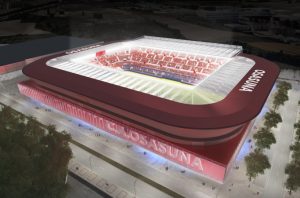 More than 90 percent of the 8,409 people who participated in the voting chose for the stadium to be renovated, with 45 percent picking a design by OFS Architects and built by VDS. Work on the venue is expected to be completed next year.
Club president Luis Sabalza said an Extraordinary General Assembly has been convened for March 2 to approve €16 million in financing.
"We're very happy to have reached this point," Jaime Suescun, partner in OFS Architects said in a statement. "There are several factors that have been key. We believe we have given value to the interior and in the end, this is a stadium that will be recognised as being genuine, loud and in keeping with tradition of El Sadar and the team."
h/t Pan Stadia 
___________________________________________________________________________
Fredericksburg Baseball has broken ground on a new baseball stadium in Virginia.
The 5,000-seat ballpark will house Minor League Baseball's Potomac Nationals of the Carolina League, which currently plays at Pfitzner Stadium in Woodbridge, Va. The Potomac Nationals are associated with the Washington Nationals.
"We are excited to take this next step towards opening our ballpark in April 2020," the team owners said in a statement. "This is a great opportunity to share our excitement and plans for the new stadium with the community, and recognize the incredible support from the City, fans, and sponsors who have turned this dream into a reality."
h/t Pan Stadia 
_____________________________________________________________________________
The Oakland A's have tweaked the desing for its new ballpark, which is expected to open at Howard Terminal in 2023.
Since the initial positive response to our preliminary concepts for the new Howard Terminal ballpark at Jack London Square, we've continued to meet with public officials, fans, and community members to gather more input and refine our designs. The result is a new circular shape," the team said in a statement.
"This update helps capture fan energy, still have a continuous rooftop park for use by fans and the community, provides better views of the water and Oakland from inside the ballpark and easier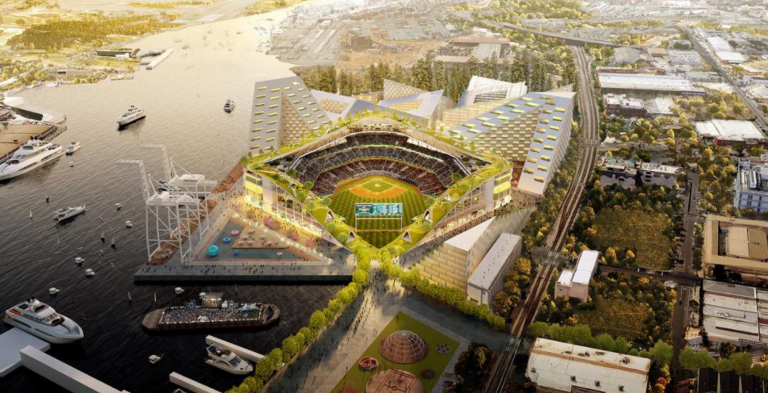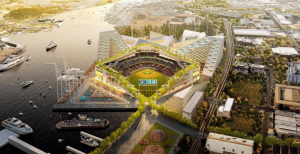 access from the surrounding neighborhood."
The team is also planning to redevelop its current home, the Oakland Coliseum, where it has played since 1968.
h/t Pan Stadia