BEAUMONT, Texas (CelebrityAccess) Tracy Byrd is back on the road, this time for more dates than he's seen in a decade, celebrating 25 years since he signed to MCA Nashville and immediately hit No. 1 with the single "Holdin' Heaven."
He was one of the top names in country music, having two No. 1 hits (the other being "Ten Rounds with Jose Cuervo") and more than 30 hits including 11 that hit the Top 10, plus four gold records, one that went platinum, and two greatest-hits compilations. He even launched a cookbook and a line of spices.
But after playing 200 shows a year and maybe a bit too much hoopin' and hollerin', Byrd broke up his band and exited the stage in 2009 for a quiet life with his family in Beaumont, Texas, where he quit drinking, coached his two sons' Little Dribblers basketball teams (one of which won a National Championship), ran a store called Kitchen Koncepts with his wife, Michelle, and started thinking about "the car wash on the corner and the hole in the street," as John Prine would put. 
It brought Byrd some balance, but it didn't keep him on the radio and in front of the fans, and he was fine with that.
"Once I got used to it, I loved it and I had a hard time getting back on the road," Byrd said, "although it was something I really wanted to do."
He put a band together and started playing gigs around the Lone Star state. Each tour grew a little longer and in wider, concentric circles. Now he's on the biggest tour in a decade and was happy to talk about how much he loves being back (and how much he wants this to be about as "back" as he wants to get).
For booking information, contact:
artistLIVE
Deric Brown
deric@artistlive.net
615.346.9177
You took some time off. If I ask, "How would you reengage with your fans?" I figure you would answer, "I'm doing it. I'm on the road."
Yeah, in my mind, I'm old school. I'm a little late to the whole social media game but, to me, there's still no better way to engage than to get on the road.
And I do it to the nth degree, compared to most people. I play my show and then I'll go out to my merchandise booth and sit there. Sometimes my meet-and-greet, my signing at the merch booth lasts twice as long as the show. I'll sit there until I've done every one. There's no time limit unless the venue puts one on me.
I'll sit there until I've signed with everybody and visit with everybody and there's no better way, in my mind, to engage with people than that.
I know social media these days is a way to engage and it's a very good way, and I'm catching up on that but I still believe that looking in their eyes and shaking their hands is the best way.
Right, and as soon as they take a selfie, your social media is taken care of.
Right! They're going to take care of that social media part.
Marathon meet-and-greets: has that always been the case for you? Was there a time when you would just rush out of the building?
There was a time when the venue was way too big but, unfortunately, it's not too big anymore! But we have great crowds and a lot of shows.
I think at this point in my life I enjoy that kind of thing more than when I was younger. And, back then, I was working 200 shows a year so the voice itself had to have some rest, too. I've always been one where talking over noise will strain the voice much more than singing. So that was another reason why I wouldn't do it back then; I had to conserve my voice.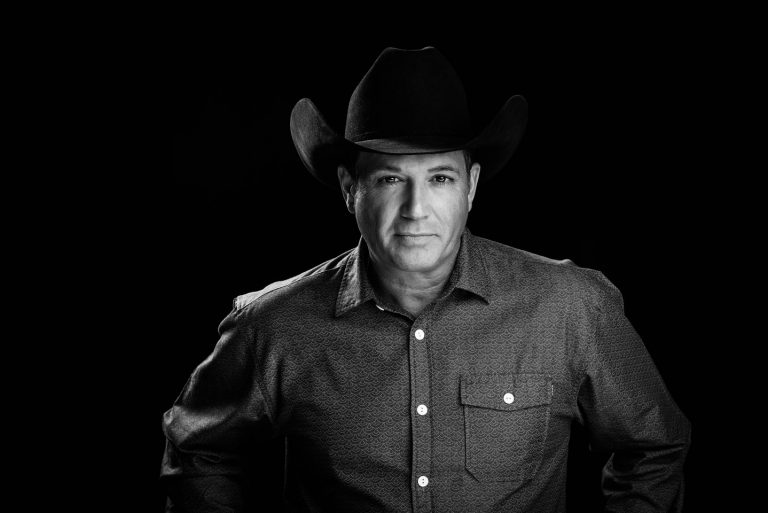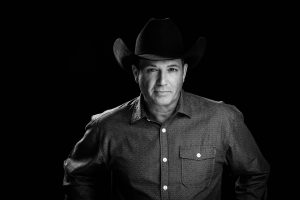 We're doing 75 shows this year, so it's workable and I can make it through a weekend, after speaking with everyone, and still be all right. Plus I don't drink and party anymore so that might make a big difference too. Back in the day, you know, that had a lot to do with it, the way we were carrying at the end of the night.
Still, 75 dates is a big tour. Did you have to find your touring legs again?
Yeah it took a while. I got off the road at the end of '09 and just needed some time off. I ended up taking two-and-a-half years off.
The first year was tough, getting used to being at home. Once I got used to it, I loved it and I had a hard time getting back on the road, although it was something I really wanted to do. I've missed it, I was burned out after 20-some odd years keeping my nose to the grindstone. I didn't know if I really ever wanted to do it again and after the time off, I realized that I do.
I still love it and, moreso, felt very fortunate to do it. Once I did, I realized I had to adjust. I had gotten into a routine where I'd go to bed at 10 o'clock and get up at six. That's not quite the hours on the road!
Yeah, once you're not playing live, it's funny how quickly 9:30 becomes bedtime.
That's right! It's pretty nice, though. You have to re-acclimate. There's nothing worse than a performer yawning on stage!
To be clear, you have done tours in the past couple of years.
Oh yes. We kind of eased into it. I guess my first full year back on the road would have been 2013. We probably did about 45 shows. Then we did 50 the next year and we ramped it up to this point. Last year we did 70. This year maybe 80.
I'm turning down as many as I'm taking. But I don't have any desire to do 200 shows a year. I don't even want to do 100. It's just the place I am in my life. I've finally found some balance. All those years, from about 1991 to 2009, was full-blown workin' it. That can get you off-balance real quick, but I didn't know it until I took some time off.
I'll probably work the way I'm working now for the next several years. I'm just loving it.
But if you're doing 70 shows last year, you're not driving around in circles in Texas.
No, no, we started getting out. Last year was really the first year where we started venturing out and going to some places I used to play in the country. Before that, I was concentrating on Texas, Oklahoma, Louisiana and that was about it. Regional runs.
Last year we went to Wisconsin, Illinois, Indiana, Minnesota. That north run. This year we've already been out West for eight shows. We end up back out there this summer. We'll have 14 shows in about 16 days, all in the Northwest – Idaho, Washington, Montana, that fair run. Then a few more shows in California.
So working more dates necessitates going outside of Texas. There are some younger acts in Texas that can work the state all year long but they're at a lower level and lower money threshold.
So we can call your tour launch at Buck Owens' Crystal Palace in Bakersfield a "return" to the venue.
Oh yeah. That was the first time I've played Crystal Palace since '08. Terry Christoffersen, the manager/owner there, thinks it was '08. I didn't know what to expect and he didn't know but he thought we should give it a shot. Sure enough, we sold out in two days.
That whole run was good. We played Modesto, Folsom, a couple shows in Arizona that were both sold out. I think all those shows were either sold out or at about 95 percent.
But West was always good for me. But that doesn't mean you can go back 11 years later, yet I was pleasantly surprised with the enthusiasm as much as the turnout. It was really over the top. Sometimes you can sell out and the crowd can be ho-hum, but they were very excited I was there and that made me feel great and wanted me to perform harder.
When you say enthusiasm, are you seeing younger fans or, at least, younger people at the show?
Absolutely. That's another thing that is blowing my mind. Just eyeballing I'd say they're 70 percent my past fans but 30 percent are literally 18- to 28-year-old kids, or I'd call them kids, at least. Turns out they grew up listening to me – somewhat forced to listen to me – by their parents and they're fans. They're genuinely fans.
That blew me away. I thought I would be playing to the people I've always played to but it hasn't turned out to that. Everywhere I go there seems to be more younger people and I can only attribute it to them growing up listening to me.
Also, there are some younger fans out there that want to hear more traditional country music. There's not a lot of traditional music being played by the artists that are their age. It's the new sound that is greatly successful but I just discovered there are some kids out there that want to hear a steel guitar and a fiddle.
Could be interesting what the future holds, considering how popular Midland has become.
Oh GOD! I love those guys! It's funny you mentioned them because I have worn that record out! I love those guys, man. I love their story, I love how they came together but, most of all, I love the sound of their records.
They're as country as anything out there and it sounds like '90s country, you know? Their debut album was produced by Dann Huff. He produced a lot of '90s hits and played guitar on them. But he's a Californian guy who was transplanted to Nashville.
I have a little gym in my garage, always working out, playing music on the speaker and I've been playing Midland for the last three nights, just wearing that record out.
It's neat you mention those guys because I am a huge fan.
They're not kids, they're in their 30s, but they're hip-looking, good-looking guys with the clothes they wear, and they sound country.
Don't know when the next record is coming out but it's gotta be huge.
Oh yeah. Should be soon because this one has been out for a while. If the second album is anything like their first, they're sitting in a spot to just take off.
And who knows? They might bring the needle back around to traditional country. Somebody always does. It's happened five or six times through the years.
We could talk about your career, from 25 years since your first No. 1 hit to spices to golf.
(laughs) I forgot about the spices. We don't have to touch on everything. I've done a lot of different things and music kind of fed all of them. Of course, I've got an outdoor business and hosted outdoor shows. I've done a lot of TV work. And of course the spices and the cookbook.
There were other interests in my life and they were all new adventures for me. They were things I did in my own time. And now people who won't know what I do musically will know it from the other things.
A prime example: I remember vividly sitting in the DFW airport waiting on a flight and I see this guy looking at me. I'm reading my magazine and I'd look up, and he'd keep looking away. You get kind of accustomed to that but you assume they've got your records.
But this guy finally comes up and says, "I hate to keep staring at you but are you that guy on TNN Outdoors, that Tracy Byrd that's the outdoor guy?"
I said, yeah, that's me.
"Man! I love to hunt. How did you get a gig like that?"
I said, "Well, I had these hit records and hit songs on the radio."
He goes, "What?"
I'm, like, "Yeah! That's my main gig. I'm a country singer."
He said, ah, I don't listen to country music.
I realized, dang, that was really interesting. That's pretty wild. I realized those outside projects expose you to people that you assume know you're a singer, but maybe they don't.
That and all the other little adventures we did throughout my career have helped in other ways. But I'm just blown away that I'm 52 years old and playing good places and be somewhat in demand and still be viable to people even though music has changed.
We just asked Jimmy Wayne if he ever wanted to hit the road with a band again and he said he was content with what he's doing now.
Jimmy's a good boy. He wrote one of my hits, "Put Your Hand In Mine." He's a good dude. What a story that guy's got. The book's great, too.
Your band. Is it people who have been with you forever?
No, no, no. When I got off the road in '09, all my musicians were working out of Nashville and we disbanded that.
When I decided to go back out, I didn't want to work out of Nashville, I wanted to work out of Texas, so I got one guy out of San Antonio, a guy from Ft. Worth, I've got two guys from here in Beaumont – my drummer and guitar player – and my steel guitar and bass player are from Louisiana.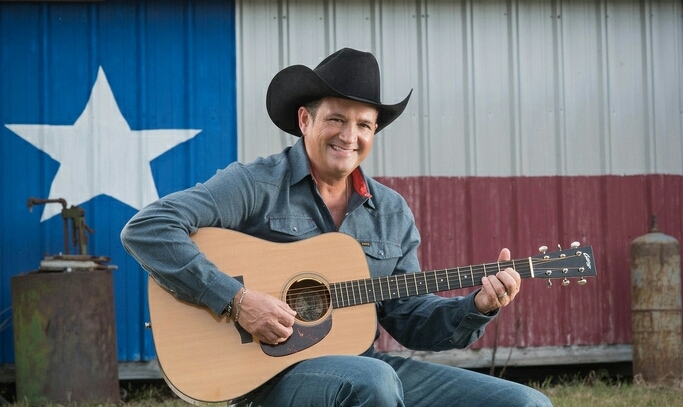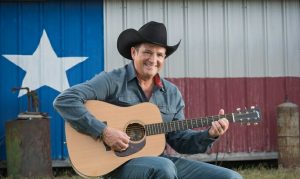 So I just pulled this group together from a couple hundred miles of Beaumont. It worked out real good. We run the bus out of here. The only person I fly in is my bus driver; he lives in Mississippi.
Everybody else is pretty close by. Louisiana sounds like another state but it's literally 30 miles from my house. One is from Lake Charles, which is 50 miles from Beaumont and the other is from Lafayette, which is about 110 miles.
The core of this group has been together since I came back out on the road in 2013. The fiddle player has been with us for about four years now. The steel player for about six.
Are you interested in raising your profile more than it is now? Recorded music? A high-profile publicist?
Nah, I probably wouldn't hire anybody. I might do that for the next record. I did a new record, on my own, three years ago and didn't promote it at all. I just kind of did it for my own personal satisfaction. I had written some songs and cut them. It's a really good record called All-American Texan.
But I'm about to do another one. I'm going to do a Live At Billy Bob's record in June and after I get that done I'm going to go back in the studio, probably January/February and cut another studio record. I think I'll push that record a little more, probably a lot more.
But raise the profile? I won't be looking to raise the profile. I won't be making a concerted effort. I'm pretty happy with the way it is right now. And my experience with raising the profile turns into a whole lot for me to do, personally, and once again it's about the balance of life and pay attention to myself, to my family. For years, I never said no. I've learned when to say stop and when enough's enough.
No, I don't see any aggressive raising of profile. And it's not like I'm going to put out a new single and have a hit. That part is gone, and I'm happy with what is left.
Upcoming shows:
22 Mar Redneck Country Club Stafford, TX
23 Mar Ford of Boerne Ribbon Cutting (Daytime Show) (FREE SHOW) Boerne, TX
23 Mar Twisted J Live (Nighttime Show) Stephenville, TX
28 Mar Imogene Theater Milton, FL
29 Mar The Stockyard Holiday, FL
30 Mar The Ranch Fort Myers, FL
31 Mar Orange Blossom Opry (Afternoon Show) Weirsdale, FL
31 Mar Orange Blossom Opry (Nighttime Show) Weirsdale, FL
05 Apr Coyote Joe's (Beaumont Boys Show) Charlotte, NC
06 Apr Red Barn Convention Center Winchester, OH
12 Apr Choctaw Casino Pocola, OK
13 Apr Delta Downs Racetrack Casino Hotel Vinton, LA
25 Apr Cahoots Dancehall and Honkytonk Lebanon, TN
26 Apr Saddle Up Saloon Indianapolis, IN
27 Apr Arcada Theatre St. Charles, IL
18 May Lee County Fair Giddings, TX
01 Jun Billy Bob's Texas Fort Worth, TX
12 Jun Merryman Performing Arts Center Kearney, NE
14 Jun Kickin' Country Festival Karlstad, MN
28 Jun Big Texas Spring, TX
29 Jun Johnny's Steaks and BBQ Salado, TX
24 Jul Cowlitz County Fair Longview, WA
26 Jul Canyon County Fair Caldwell, ID
29 Jul Montana State Fair Great Falls, MT
03 Aug Deerasic Classic Cambridge, OH
06 Aug Umatilla County Fair Hermiston, OR
07 Aug Tillamook County Fairgrounds Tillamook, OR
08 Aug Riverfront Amphitheater Albany, OR
23 Aug Cotton Eyed Joe Knoxville, TN
24 Aug Garden City Bicentennial Garden City, GA
25 Oct Blue Gate Theatre Shipshewana, IN
14 Dec Redneck Country Club Stafford, TX
21 Dec Jefferson Theater Beaumont, TX