MEMPHIS (CelebrityAccess) – The Blues Foundation has today (March 1) announced the 2019 inductees to the Blues Hall of Fame. Among this year's honorees are Pee Wee Crayton, Moe Asch, Booker T. & the MG, Aretha Franklin, Count Basie, Ida Cox, Muddy Waters, Ray Charles, B.B. King, Bessie Smith and Elmore James.
The 13 honorees represent all five of the Blues Hall of Fame's categories: Performers, Non-Performing Individuals, Classics of Blues Literature, Classics of Blues Recording (Song), and Classics of Blues Recording (Album).
This year's selections for landmark recordings spotlight works by several long-time Blues Hall of Famers. Elmore James' 1965 album The Sky Is Crying and his song "Shake Your Moneymaker" both are entering the Blues Hall of Fame. Last year, the Blues Hall inducted B.B. King's album Blues Is King, and this year it is recognizing King's 1954 classic tune "Everyday I Have the Blues." Muddy Waters adds to his Blues Hall of Fame honors with the induction of his influential 1950 tune "Rollin' Stone." Ray Charles' iconic "I Got a Woman" and Bessie Smith's signature version of "The St. Louis Blues" round out 2019's recording honorees.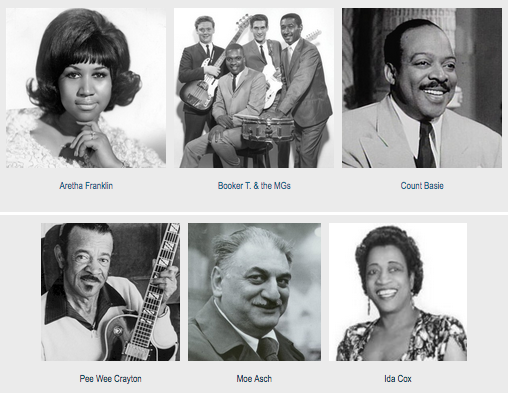 Additionally, the Blues Hall's choice for the Classic of Blues Literature is the revelatory historical work Lost Delta Found: Rediscovering the Fisk University-Library of Congress Coahoma County Study, 1941-1942, which was compiled by John W. Work, Lewis Wade Jones, and Samuel C. Adams, Jr.
Taking place during Blues Music Week, the Blues Hall of Fame Induction Ceremony will be held May 8 at the Halloran Centre (225 South Main Street, Memphis). The celebration continues the next night (May 9) when The Blues Foundation presents the 40th Annual Blues Music Awards at Memphis' Cook Convention Center (7 p.m. start time).
As part of the Induction Ceremony, the Blues Hall of Fame Museum is securing special items representing each of the new inductees, and those artifacts will be installed and available for viewing beginning May 8.
For more information about the Blues Foundations upcoming events click HERE.