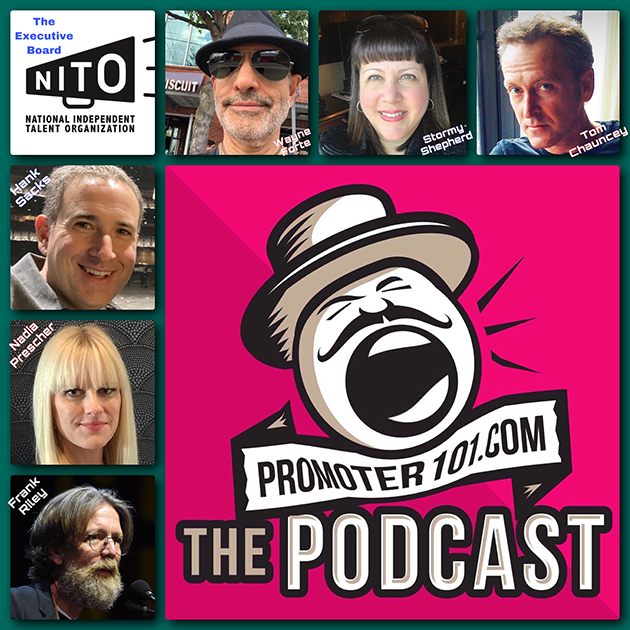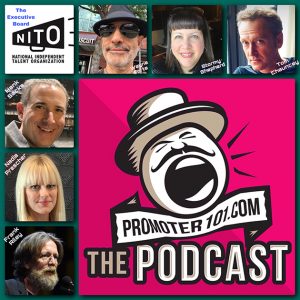 The Promoter 101 Podcast Quarantine Sessions continue with The National Independent Talent Organization (NITO) Executive Board including Madison House's Nadia Prescher, High Road Touring's Frank Riley, Leave Home Bookings' Stormy Shepherd, Entourage Talents Wayne Forte, Partisan Arts' Tom Chauncey and Hank Sacks.
Red Mountain Entertainment's Jay Wilson talks Cheesecake.
Hosted By: Emporium Presents' Dan Steinberg + Works Entertainments' Luke Pierce.
Direct Link:  https://is.gd/6vnIK3
Email Dan + Luke: steiny@promoter101.net
Spotify: https://is.gd/T5SPEC
Tweet the Guys: https://twitter.com/Promoters101
Tweet Dan: https://twitter.com/TheJew
Tweet Luke: https://twitter.com/wlukepierce
Follow us on iHeartRadio: https://www.iheart.com/podcast/promoter101-29260148/
Follow us on Instagram: https://www.instagram.com/steinypromoter101/
Facebook: https://www.facebook.com/promoter101
Soundcloud: https://soundcloud.com/promoter101
Website: http://www.promoter101.net/
itunes: https://itunes.apple.com/us/podcast/promoter101/id1163910658?mt=2
Google Music: https://is.gd/onEmSt
Stitcher: http://www.stitcher.com/podcast/promoter101?refid=stpr
Tumbler: http://promoter101.tumblr.com/
Spreaker: https://www.spreaker.com/user/promoter101
YouTube: https://www.youtube.com/promoter101
LinkedIn: https://www.linkedin.com/company/promoter101