NASHVILLE, TN (CelebrityAccess) – The biggest names in country music took to the stage for the '53rd Annual CMA Awards' in Nashville Wednesday night, and what a night it was.
Anchored by host Carrie Underwood and special guest hosts Reba McEntire and Dolly Parton, the evening began with a once in a lifetime collaboration led by Underwood, featuring McEntire and Parton as well Terri Clark, Sara Evans, Crystal Gayle, The Highwomen's Brandi Carlile, Natalie Hemby, Morris and Amanda Shires, Little Big Town's Karen Fairchild and Kimberly Schlapman along with Martina McBride, Jennifer Nettles, Tanya Tucker and Gretchen Wilson.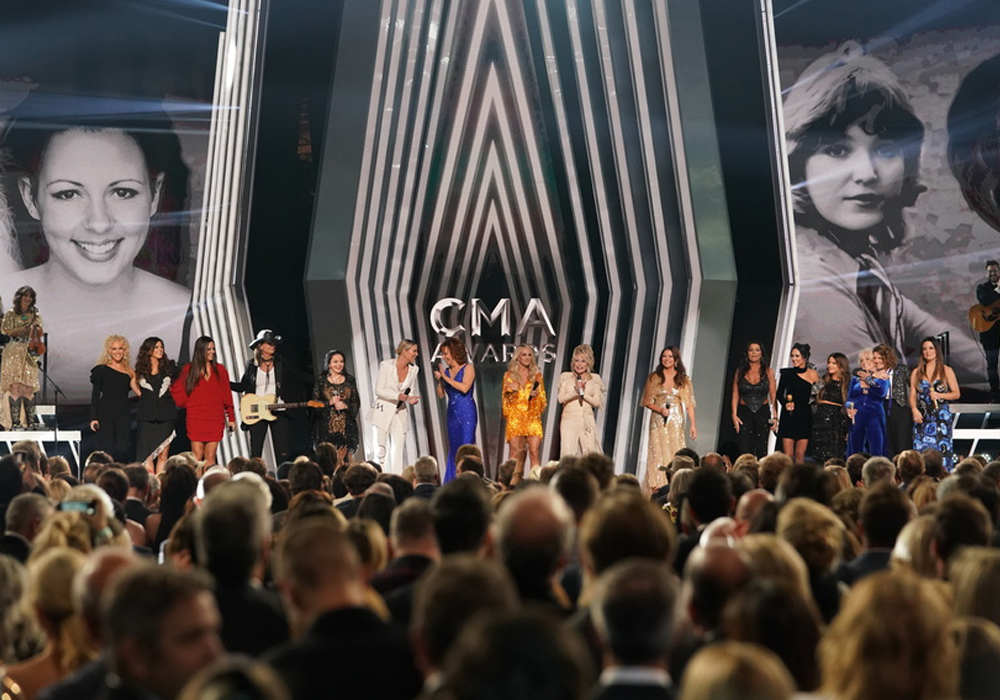 Luke Combs and Kacey Musgraves were the night's big winners, each receiving two wins. Last year's CMA New Artist of the Year winner Combs took home the CMA Male Vocalist of the Year as well as CMA Song of the Year for "Beautiful Crazy," alongside songwriters Wyatt B. Durrette III and Robert Williford. Musgraves won two trophies—CMA Female Vocalist of the Year as well as CMA Music Video of the Year for "Rainbow," alongside director Hannah Lux Davis.
Garth Brooks was crowned as Entertainer of the Year. Brooks is a 7-time winner of the entertainer of the year award and has notched up an impressive collection of 14 CMAs over the course of his storied career.
Multi-instrumentalist Jenee Fleenor became the first-ever woman to win musician of the year, beating out stiff competition from the likes of Mac McAnally, Paul Franklin, Ilya Toshinsky and Derek Wells. Maren Morris took home her first CMA Album of the Year win for GIRL, alongside producers Greg Kurstin and longtime collaborator busbee, who passed away in September.
Meanwhile, CMA Single of the Year was awarded to Blake Shelton's "God's Country," alongside producer Scott Hendricks and mix engineer Justin Niebank. The award is Shelton's seventh CMA and his first since 2013 when he won album of the year.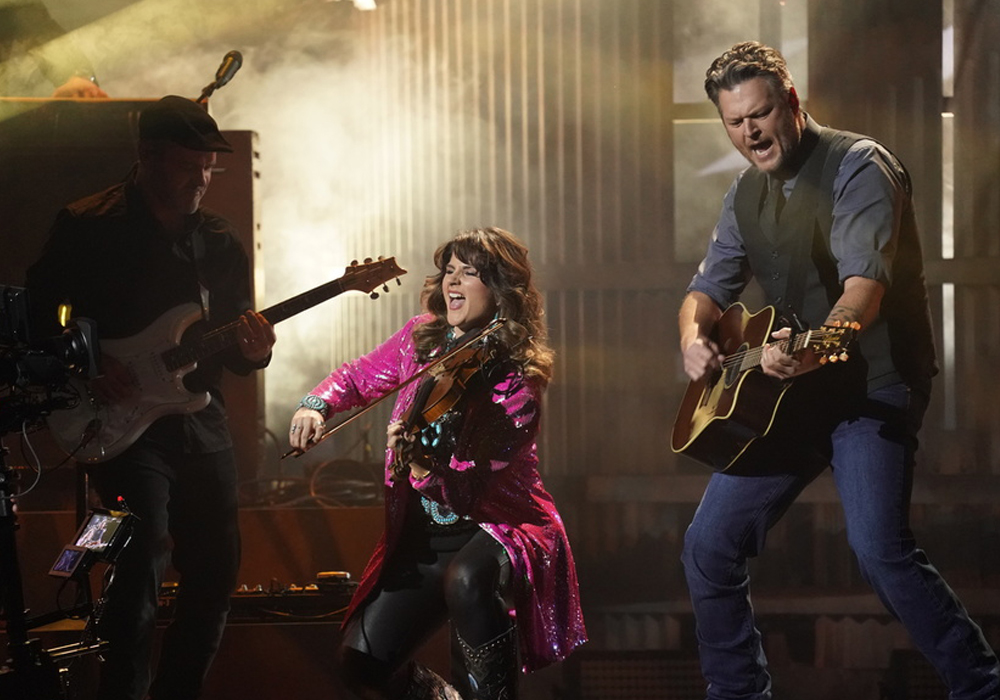 CMA New Artist of the Year was awarded to Ashley McBryde, winning for her first-ever CMA Awards nomination. Old Dominion extended their reign as CMA Vocal Group of the Year, while Dan + Shay were awarded their first-ever CMA Awards win for CMA Vocal Duo of the Year.
Earlier in the day, Lil Nas X and Billy Ray Cyrus won CMA Musical Event of the Year for their record-breaking hit "Old Town Road (Remix)," along with producers YoungKio, Michael Trent Reznor and Atticus Matthew Ross.
Among the evening's many highlights were a special tribute to the legendary Kris Kristofferson (the recipient of the 2019 CMA Willie Nelson Lifetime Achievement Award), which saw Dierks Bentley, Sheryl Crow, Chris Janson, Brothers Osborne's John Osborne and Joe Walsh teaming for a stellar performance of Kristofferson's classic "Me and Bobby McGee"; a live mashup of Halsey's "Graveyard" with Lady Antebellum's "What If I Never Get Over You"; and a collaboration between P!NK and Chris Stapleton who teamed for an electrifying performance of "Love Me Anyway."
The following is a complete list of winners from "The 53rd Annual CMA Awards" and previously announced winners from the 2019 CMA Broadcast Awards.
"THE 53RD ANNUAL CMA AWARDS" WINNERS:
ENTERTAINER OF THE YEAR 
SINGLE OF THE YEAR 
Award goes to Artist(s), Producer(s), and Mix Engineer
"God's Country" – Blake Shelton
Producer: Scott Hendricks
Mix Engineer: Justin Niebank
ALBUM OF THE YEAR  
Award goes to Artist and Producers

GIRL – Maren Morris
Producers: busbee, Maren Morris, Greg Kurstin
SONG OF THE YEAR
Award goes to Songwriters
"Beautiful Crazy"
Songwriters: Luke Combs, Wyatt B. Durrette III, Robert Williford
FEMALE VOCALIST OF THE YEAR 
MALE VOCALIST OF THE YEAR 
VOCAL GROUP OF THE YEAR 
VOCAL DUO OF THE YEAR

MUSICAL EVENT OF THE YEAR
Award goes to Artists and Producer(s)
"Old Town Road (Remix)" – Lil Nas X feat. Billy Ray Cyrus
Producers: YoungKio, Michael Trent Reznor, Atticus Matthew Ross
MUSICIAN OF THE YEAR 
MUSIC VIDEO OF THE YEAR 
Award goes to Artist(s) and Director

"Rainbow" – Kacey Musgraves
Director: Hannah Lux Davis
NEW ARTIST OF THE YEAR 
BROADCAST PERSONALITY OF THE YEAR WINNERS (by market size): 
NATIONAL
"The Bobby Bones Show" (Bobby Bones, Amy Brown, "Lunchbox" Dan Chappell and Eddie Garcia) – Premiere Networks
MAJOR MARKET
"The Morning Wolfpack with Matt McAllister" (Matt McAllister, Emily Raines and "Slow Joe" Wallace) – KKWF, Seattle-Tacoma, WA
LARGE MARKET

"Q Morning Crew" (Mike Wheless and Janie Carothers) – WQDR, Raleigh-Durham, NC
MEDIUM MARKET

"Mo & Styckman" (Melissa "Mo" Wagner and Greg "Styckman" Owens) – WUSY, Chattanooga, TN
  SMALL MARKET

"Dr. Shane and Tess in the Morning" (Shane Collins and Tess Connell) – WPAP, Panama City, FL
CMA RADIO STATION OF THE YEAR WINNERS:  
MAJOR MARKET
LARGE MARKET
MEDIUM MARKET

SMALL MARKET