SAN BRUNO, CA (CelebrityAccess) — San Bruno Police have identified the woman who injured three people in a shooting that took place shortly before 1 p.m. local time yesterday at the YouTube headquarters in Northern California as Nasim Najafi Aghdam.
Aghdam, 39, who was a resident of San Diego then shot and killed herself. A fourth person also injured their ankle while fleeing the scene.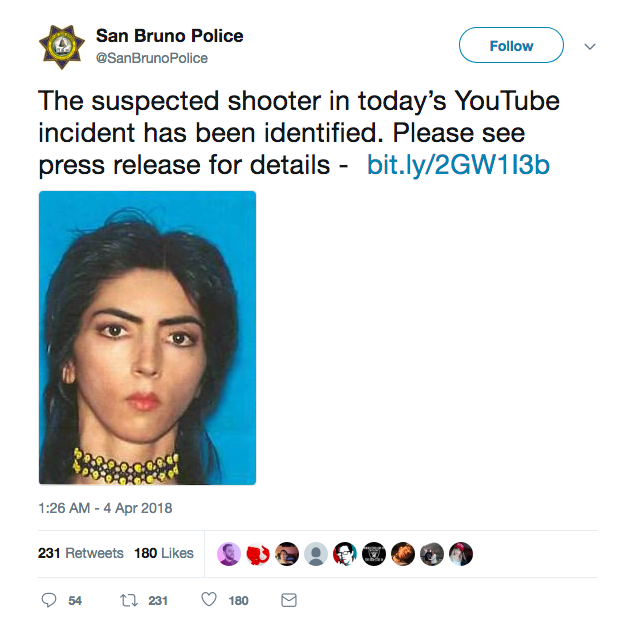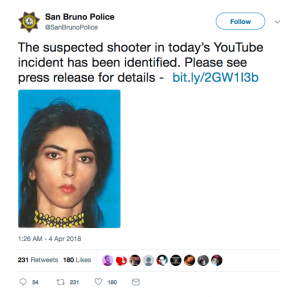 San Bruno Police have indicated that currently "there is no evidence that the shooter knew the victims of this shooting or that individuals were specifically targeted" however, they are investigating the possibility that Aghdam, whose online profile reveals she was a vegan activist who ran a website called NasimeSabz.com (meaning "Green Breeze" in Persian) was furious with YouTube for censoring her channel and knowingly preventing page views.
Aghdam's father, Ismail Aghdam, who reported his daughter missing on Monday after she could not be reached by phone for two days, has stated that he warned police that she may be headed to YouTube because she "hated" the company.
Police have since confirmed that they did, in fact, locate Aghdam sleeping in her vehicle early Tuesday morning, but that she was let go after it was determined that she was not a threat to herself or others. When questioned about whether or not they had been warned that Aghdam might attempt to go to YouTube, police gave no comment.
A news conference about this ongoing investigation has been scheduled for 9 a.m. PT this morning.