NAPA, Calif. (CelebrityAccess) CelebrityAccess has just returned from BottleRock in Napa, Calif., after three days of music, food and wine and here's a blog-tastic account of the artist performances, a few interviews, and an unnecessary digression into donuts.
BottleRock was built off the sweat equity of three people at promotion company Latitude 38 and has been an industry leader for the recent trend of combining the VIP / culinary experience with live music, with this year's headliners Muse, The Killers, and Bruno Mars. The focus on special stages, VIP areas and suites with prices up to $3,500 has given the festival the pejorative nickname "White-chella" (aka the "Fancy Coachella" as Bruno Mars put it) but it was sold out and absolutely packed at a 30,000-cap per day. The business model works.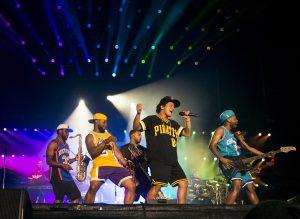 A few things were different this year, the first one since Live Nation acquired a majority stake in the company. Namely, grass. The site of the festival, Napa Valley Expo, was the landing ground for firefighters and their massive equipment last fall during the area's devastating firestorm, destroying the grounds. Rather than attempting to regrow grass throughout the property, BottleRock rolled out acres of artificial turf that not only looked nice and was easy to walk on but probably made for an easy late-night clean up. Also new, at least so it seemed to this visitor, was more focus on up-and-coming acts. It had its share of Shakey Graves's, Michael Frantis, Allen Stones, along with mainstage acts likes Earth, Wind & Fire and Thievery Corporation, but also more of the relatively less-known like Hundred Handed, David Luning, The Alive, The Record Company, and Ethan Tucker. Plus, of course Caitlyn Smith.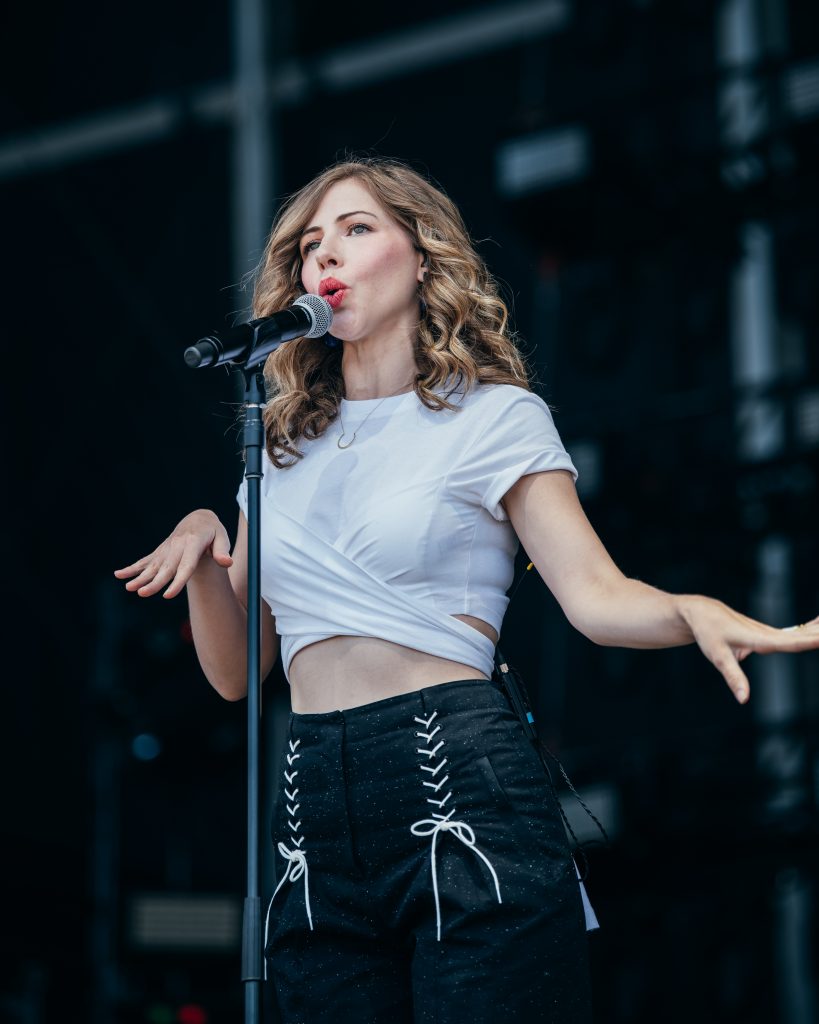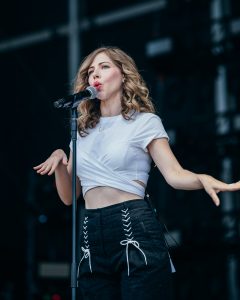 But of the breakout artists, BottleRock's most prescient bookings were probably for Tank & The Bangas, The Struts, Lake Street Dive, and The Aces, at least out of the acts seen.
Tank & The Bangas won last year's Tiny Desk Concert competition at NPR and is fronted by slam poet Tarriona "Tank" Ball. Google "force of nature" and you'll see several different media outlets using that term to describe Tank. Seriously, give it a shot. It's a band that must be mere months away from exploding to stardom.
The Struts, meanwhile, fresh off a tour with Foo Fighters, hit BottleRock about the same time they are hitting the upper echelons. Ain't nobody seems to be as cool as The Struts are right now. They may have had the highlight of day one with a cover of Bruce Springsteen's "Dancing In The Dark" that was covered by several media outlets (doesn't hurt they brought on a festivalgoer to reenact Courtney Cox's '80s dance).
Best @springsteen cover I have heard in a long time. @TheStruts @BottleRockNapa pic.twitter.com/x8jkjOEKN3

— Jim Harrington (@jimthecritic) May 25, 2018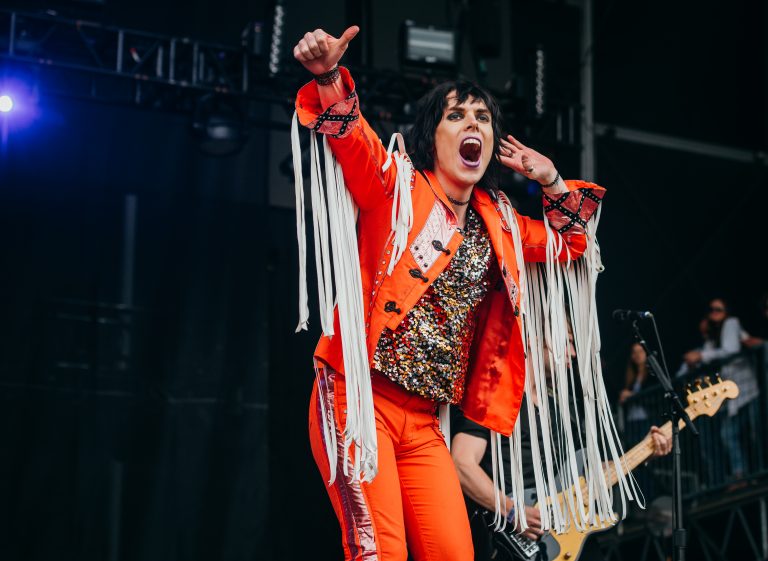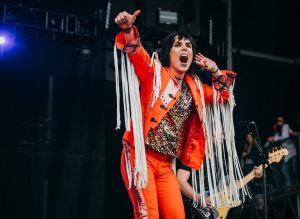 Their popularity was evident later that day when they played an acoustic set at the more intimate JamPad stage – well, intimate in name only. The crowd was one of the largest for that particular stage.
Speaking of the JamPad stage, that's where Magic Giant, which had played the mainstage earlier in the day, showed off its compelling people-rock but skirting the stage entirely and hopping into the crowd, staying there after the performance to take photos with the new fans.  Yeah, I know: it's vertical but how else to get the disco ball into the shot?
Some of the other highlights: Snoop Dogg and Warren G were on the culinary stage to achieve a Guinness World Record for the world's largest cocktail which was, what else? Gin & Juice – about 145 gallons of Hendricks Gin (from the creative/weird vendor booth next door) and a massive amount of orange juice donated by Whole Foods. Celebrity sighting: Shep Gordon, who regularly attends the event not because of his association with celebrity chefs but, rather, because of a friendly association with the founders of Latitude 38 and because he's on the board of directors. Also, almost the entire festival ground to a halt to watch the end of Game Six of the NBA's Western Finals between the Houston Rockets and the Golden State Warriors, which was broadcast on many of the screens across the festival. Plus, Billy Idol gathering a crowd that rivaled that of The Killers, playing later that night on the same stage.
Then, of course, there was the wedding proposal at the Silent Disco area. A girl's friends had warned the DJs: They would clear out the middle of the area to do the "electric slide" and, when done, the boyfriend would propose, which he did. Not the best video, but because I was next to Robbie Kowal of Hush Concerts, I got a short video just in time:
Another highlight, on the business side, was the inventory of ticket exchange company Lyte. Founder Ant Taylor whispered the numbers in this reporter's ear and it was staggering.
A couple of lowlights: Halsey made it through her mainstage set but then said she was treated backstage for her asthma. Plus, the festival grounds were locked down for an hour Saturday afternoon between 4 p.m and 5 p.m., causing massive entrance lines, after a car chase. Police were pursuing two suspects of armed robbery and one ran into the festival, where he was arrested.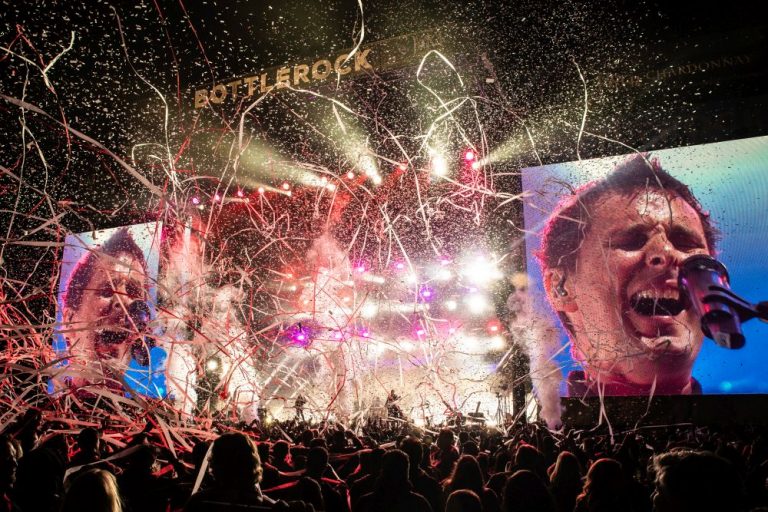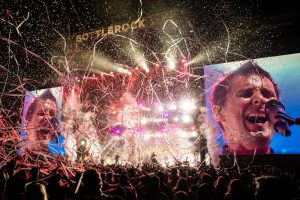 Now for the donuts.
There's always plenty of good food at BottleRock, mostly from local vendors, but this year it appears the belle of the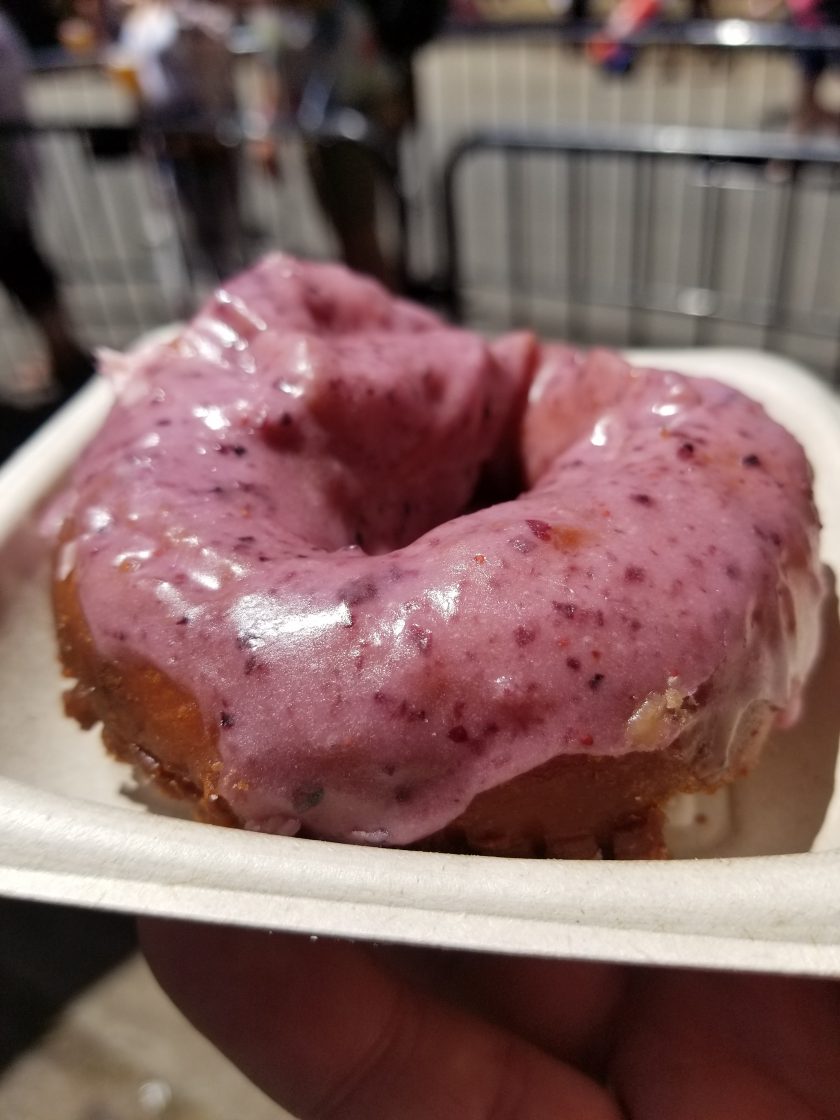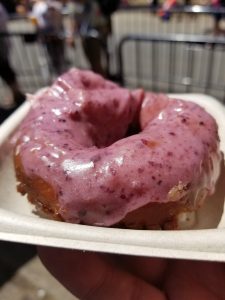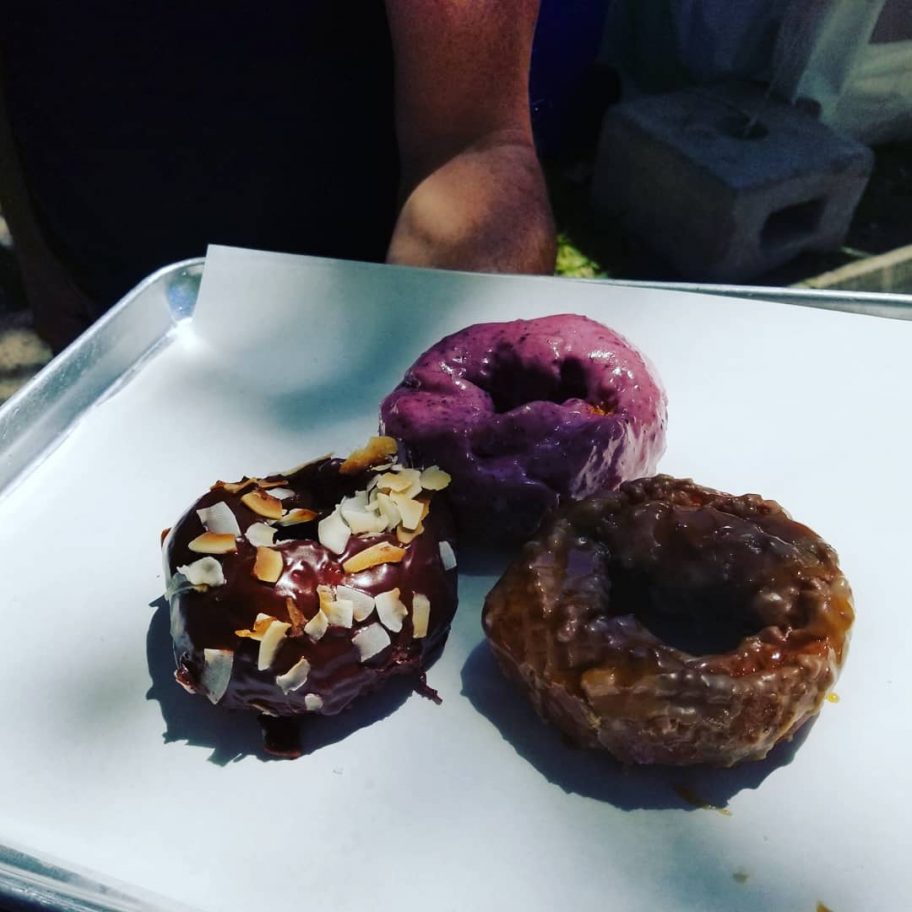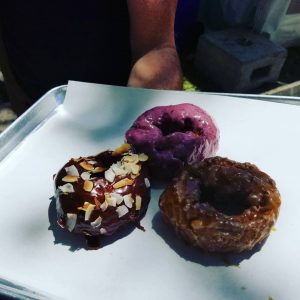 ball was Johnny Donuts, founded in San Rafael. It seemed that everywhere you'd go, someone would be there with a donut on a plate.  In years' past, one of the more popular items was fried chicken, to the point where the vendor would run out of inventory three hours before close. In this case, the Johnny Donuts food truck became so popular that they ran out of their three-day supplies on Friday, the first night. The line was so long that security put out crowd stanchions, claiming it was a fire hazard, operations manager Sarah McKenzie told CelebrityAccess. The company, founded by Craig Blum in 2012, went from a food truck to a brick & mortar establishment within months.
"We went from six employees to about 75 in a year," McKenzie said. "We have two running brick & mortars with a third opening next month in Larkspur, Calif. We have four food trucks."
She and Blum said that the donuts, at about $6 a pop with locally sourced ingredients, are more expensive because of the effort put into them (they were recently used in a movie – the donuts were flown down to Los Angeles for the shoot).
"We make small batches five to 10 donuts in a batch," McKenzie said. "We push them out hot so everybody is always being served with fresh donuts while in line."
At BottleRock, they created several donuts they had never made before including a devil's food chocolate cake and an apple chocolate cake donut.
We had a chance to talk to Trisha Yearwood for a few moments, who dropped by the media tent before doing a cooking show with the Harlem Globetrotters at the Culinary Stage. Yearwood was promoting the 12th season of her Food Network show, "Trisha's Country Kitchen," and to announce that her next album is coming out soon. She told the press that there wasn't time to cook during the 400 dates she did with husband Garth Brooks during his recent tour but that he "gently suggested" to the caterers that they use recipes out of her cookbooks "so he got to eat my cooking pretty much every night."
When asked by CelebrityAccess if she would support her album with touring, Yearwood said it would most likely happen because, even after the massive tour, there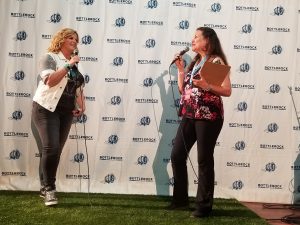 was still something missing.
"When Garth and I got married almost 13 years ago we made a decision to be together and to not be apart. That's one of the reasons why when he went on tour we went together. I was in the show for a few songs but we wanted to be together.
"But one of the big things I missed when we did those big stadium/arena tours was the intimacy of those theaters. I love those venues. So I would love to do a small support tour for that. He has said he will go with me. I don't know if he will wait on the bus or what he's going to do. It's a little different with him going with me than me going with him, so we'll see how that works out."
The festival wrapped with Silent Disco at the Lagunitas Stage, a dual concert by Warren G and White Panda. The event had about the same attendance as last year's, about 4,000 to 5,000 visitors all wearing headsets.  Yes, the festival unofficially wrapped with Bruno Mars around 9:45 p.m, but this event continued until 10 p.m. and could have gone longer, according to one production staffer, because the decibel level was well below the 95 db threshold.
We grabbed a video of the event that attempts to show the difference between headsets and no headsets by basically putting a pair onto the phone halfway through.  On the right is former "Man Vs. Food" host Adam Richman who was on the culinary stage last year with Warren G and isn't too bad of a rapper himself. Language NSFW:
Richman was asked by CelebrityAccess his impressions on the event.
"I just think it's great because it's the ultimate, unifying thing," he said. "The people who listen to EDM and listen to hip-hop might actually listen to each other's genre of music. They can go side by side and peacefully groove together in their own little worlds, side by side. I think it was also something to take the headphones off and actually hear this mass exultation, and this kind of privacy that the headphones lent you, that you may act more freely than you normally would in a concert."