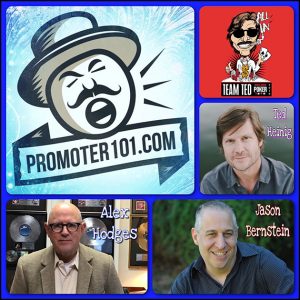 This week on Promoter 101 The Podcast we've got the legendary Nederlander Concerts' Alex Hodges holding court.
AC Entertainments' Ted Heinig give us a play by play of making it to the World Series of Poker, and how he faired.
AEG Presents' Senior Counsel Jason Bernstein shares some legal advice everyone should know.
And News of the Week with Emporium Presents' Dan Steinberg and Billboard / Amplify Media's Dave Brooks.
Spotify: https://is.gd/T5SPEC ← JUST ADDED
Email: steiny@promoter101.net
Tweet the Guys: https://twitter.com/Promoters101
Tweet Dan: https://twitter.com/TheJew
Tweet Luke: https://twitter.com/wlukepierce
Follow us on iHeartRadio: https://www.iheart.com/podcast/promoter101-29260148/
Follow us on Instagram: https://www.instagram.com/steinypromoter101/
Facebook: https://www.facebook.com/promoter101
Soundcloud: https://soundcloud.com/promoter101
Website: http://www.promoter101.net/
itunes: https://itunes.apple.com/us/podcast/promoter101/id1163910658?mt=2
Google Music: https://is.gd/onEmSt
Stitcher: http://www.stitcher.com/podcast/promoter101?refid=stpr
Tumbler: http://promoter101.tumblr.com/
Spreaker: https://www.spreaker.com/user/promoter101
YouTube: https://www.youtube.com/promoter101