(CelebrityAccess) Brian Wilson is attempting something new: a whole bunch of Christmas music live. He and his band debuted the concept last night in Minneapolis and Wilson told CelebrityAccess that it was well worth the effort.
"It was great! Great!" Wilson emoted.
The musical force behind the Beach Boys and indisputable living legend of rock 'n' roll is never one for long soliloquies but was clearly happy with the debut of the Christmas portion of last night's first show of the tour.
Wilson, longtime Beach Boys associates Al Jardine and Blondie Chaplin, Wilson's son-in-law Rob Bonfiglio and the rest of the band are on the front-end of the 12-city Holiday Tour that features, but is not at all exclusively about, the Christmas Album, the Beach Boys' seventh studio album released in November 1964. The concert itself maintains all of the hits, with a heavy dose of Pet Sounds plus other Wilson classics. It just happens to have more than 30 minutes of Christmas tunes – the album played in its entirety plus cuts from Wilson's 2005 LP What I Really Want for Christmas and standard fare like "Santa Claus Is Comin' To Town."
As APA's Bruce Solar noted, "Brian was way into the idea. It was really nice to see," adding that "It was something different; he had never done it before. It was just a cool thing to do."
That, of course, meant that Wilson and the crew had to learn, or re-learn, tunes that he had not worked with for a long time, and he didn't pull any punches.


"They were rough," he said. "Rehearsals were rough."
However, "We rehearsed a lot because we wanted to make sure the Christmas songs sound good and I hope people like them as much as I do."
As for how this all came about, Solar, who also books The Monkees, had some fun with it.
"I'd love to take all the credit for it because, well, I did think of this idea," he told CelebrityAccess. "But I was told by Andrew Sandoval, who manages The Monkees, that it was his idea, so I'll give him 50 percent credit for it.
"We had kicked this around at different times, that it would be pretty cool to do this. Like I said, I'd love to take full credit, maybe Andrew, maybe a couple other people. Who knows? Maybe Brian can take full credit."
That would be a no.
"I don't know," Wilson said when asked how this idea came about. "I can't answer that question."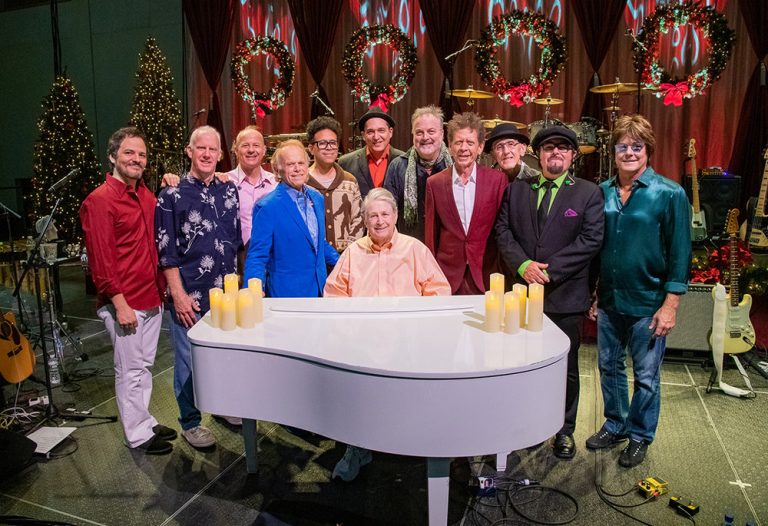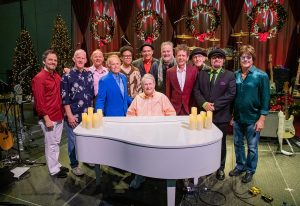 The idea did, however, reach manager Jean Sievers of Beachwood Entertainment Collective, who talked to Wilson.
"She really liked the idea and kicked it around with Brian because we really had to have Brian's signature first," Solar said. "Then, you know, he'll talk to Al about it, the music director, everybody but Brian was very excited about doing it."
The agent said the show includes Chaplin doing a "killer version" of "I can't say what but people get blown away by it" – which, according to the review by the Minneapolis Star-Tribune, is likely "Run Rudolph Run," which was considered the raucous highlight of a set that the paper's Jon Bream considered, well, a little rough but during the classics "the ensemble was tight, the sounds joyous and the crowd thrilled."
"We're planning to do this next Christmas and hopefully the Christmas after this," Solar added. "There was a lot of demand; there were way more cities that wanted the show than dates we could do. But none of the same cities, so tell people to not miss it this time."
The Holiday Tour continues Nov. 30 at the Horseshoe Casino in Hammond, Ind.
November 30 – Hammond, IN @ Horseshoe Casino
December 1 – Northfield, OH @ Hard Rock in Northfield Park
December 4 – Englewood, NJ @ Bergen Performing Arts Center
December 5 – Westbury, NY @ NYCB Theatre at Westbury
December 7 – Staten Island, NY @ St. George Theatre
December 11 – Sarasota, FL @ Van Wezel Performing Arts Hall
December 12 – Hollywood, FL @ Seminole Hard Rock Hotel & Casino
December 15 – Austin, TX @ ACL Live at The Moody Theater
December 16 – Midland, TX @ Wagner Noel PAC
December 17 – San Antonio, TX @ Tobin Center for the Performing Arts
December 20 – Thousand Oaks, CA @ Thousand Oaks Civic Arts Plaza
December 23 – Reno, NV @ Grand Sierra Resort & Casin