LAKE PLACID, N.Y. (CelebrityAccess) The community of Lake Placid, N.Y., has said farewell to Denny Allen, 64, the longtime general manager of the Olympic Center and Herb Brooks Arena, known for "The Miracle On Ice."
Allen retired last April after 37 years as GM of the Olympic Center and a director for the Olympic Regional Development Authority. He died unexpectedly Feb. 1. No further details were available.
Approximately 500 community members gathered at the Herb Brooks Arena Feb. 8 to say farewell in a tribute that was documented by WCAX News.
"I suppose it is the very first time a funeral mass has been celebrated here. It's an unusual place and yet a sacred place. An actual miracle happened here back in 1980," said Rev. John Yonkovig of St. Agnes Church.
Allen was known for "Dennyisms," some of which were recounted at the funeral.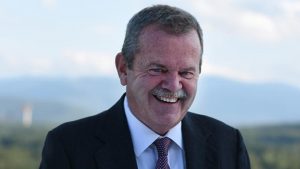 "'Pull yourself together, you look like an unmade bed,'" friend Greg Borzilleri said. "There was a couple words before that but it's probably not safe for TV."
Allen was also a youth hockey coach for two decades and an ice sports assistant at the 1980 Olympic Games, held at the Herb Brooks Arena, which put him at "The Miracle On Ice," one of the greatest moments in U.S. sports history when the men's ice hockey team, composed mostly of collegiate players, beat the veteran Soviet team 4-3.