DOVER, Del. (CelebrityAccess) Police say a man at Firefly Music Festival stripped naked and streaked through the festival grounds, knocking over some DJ equipment at a concert tent along the way, in Dover, Del., June 22.
"We had a streaker," Dover Police spokesman Cpl. Mark Hoffman simply told the Delaware News Journal.
Hoffman said there were no reported injuries at the Bud Light tent and no reports of assaults connected to the incident; however, a festivalgoer posted a photo of her boyfriend holding an icepack up to his cheek with text that said he had been punched by the streaker but "no hard feelings." Two state police officers posed with him and it was posted on the Firefly website and on Reddit.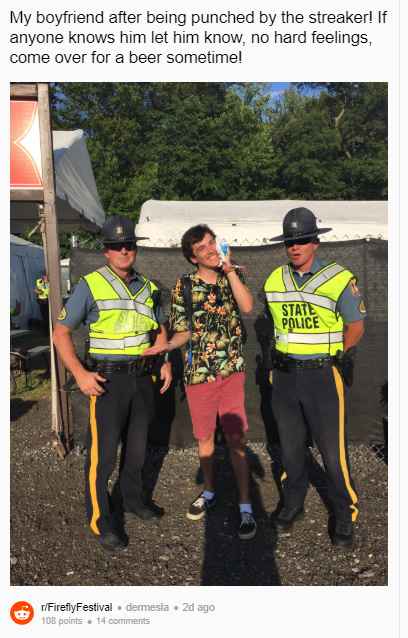 The streaker was arrested by security personnel and was taken to a medical tent because he "had a medical issue related to his intoxication level," Hoffman said, adding that the man faces one misdemeanor charge of criminal mischief.
Meanwhile, there was a rash of cell phone thefts at the festival, with at least two dozen phones stolen there on Friday night but Hoffman said there were fewer thefts the next evening.