HOLLYWOOD, Calif. (CelebrityAccess) Metalachi, the world's best (probably because they are probably the only) mariachi/heavy metal band, is having its record release party for Tres tomorrow night at the House of Blues in Anaheim, Calif.
The quirky, fun and musically gifted band has traveled the world over but maintains a strong base throughout the Southwest.
Metalachi has been featured on America's Got Talent, CNN's Great Big Story, Rolling Stone en Español, BBC's Outlook via NPR, Huffington Post, and National Geographic, and their music has been heard on FX's The Bridge and in a new TV commercial for DirecTV. Metalachi has been named one of the 10 best Mexican Metal Bands worldwide by OC Weekly, was named #4 on a list of the top 20 tribute bands based in Los Angeles by LA Weekly, and was voted as one of the best live shows in Southern California by Examiner.com.
The band features Vega De La Rockha on vocals, Queen Kyla Vera on violin, Kiko Cane on guitarron, Paco Halen on guitar, El Cucuy on trumpet and is managed by mysterious impresario Warren Moscow.
It has released a video for their cover of Queen's "Bohemian Rhapsody," featuring a cameo by comedian Felipe Esparza. The video is available here.
"A perfect merging of Metal and Mariachi…" – Howard Stern
"I love Metalachi… absolutely a blast with great musicianship and awesome humor. A must see every time they're in town. Hellyeah!" – Vinnie Paul (Pantera, Hellyeah)
"Very entertaining and a blast to listen to. So glad that these guys and gal exist."- M. Shadows (Avenged Sevenfold)
"Metalachi is the best heavy metal mariachi band you'll ever hear. Sure, they're probably the only one… but still"- Buzzfeed
First of all, greetings from all your fans who see you at Fresno's Fulton 55. 
We love rocking Fresno. Metalachi has played all over the world, but Fresno was one of the first markets we ever started playing outside of Los Angeles. 
The likely awesome third album is just days away. How are the songs picked? Do the fans get a say?
It's very organic really. We try things. We get ideas. Some work, some don't. We have played songs we thought the fans would love and we get mediocre responses and at the same time, we have done songs we thought would never work and fans love it. There really is not a hard set formula to what we do, more times than not we start with what we like and hopefully everyone else will get onboard. Songs change in the studio also, we do songs that maybe are not fan favorites live but take on a new life in the studio because there is so much more you can do outside of a live performance. 
Pantera, Howard Stern, etc. You have some big fans. Is there any recent one that we don't know about?
I'm sure there are some closet Metalachi fans out there. We have recently started doing some stuff with Jose Mangin at Sirius XM radio which has an amazing reach and a great fans base. Love that dude, he is a true music fan. 
We are also doing a private gig later in November for the lead singer of a HUGE band. Can't really say much more than we are playing at his vineyard in Arizona and the name of his band rhymes with Pool. Needless to say, we pretty freaking honored. 
You have drawn a crowd for years now. Did you always have a following, from the very start? 
Yes and no. We have built this show organically over the years. We have markets where we had 25 people at the show the first time we played there and now we will have 1000 in that same market. The truth is, it really all comes down to fans having a blast at a show and then coming back the next time Metalachi is in town and bringing two or three new people with them. Lather rinse repeat. That is really how we have grown the show, just by fans getting excited about the show and exposing it to more people. 
When we started out we did a monthly show at a small bar in North Hollywood called Skinny's Lounge. It all started there. We spent about two years growing it from that room until the crowds got too big to keep the show there and then we just never looked back and kept grinding. The truth is, we are one of the hardest working bands in the business and have been for years. We do close to 200 shows a year now. 
Please tell us a little more about the upcoming tour. Any new venues? Any favorite old ones? 
The southwest corridor run is a circuit we have been doing for years, from LA through Arizona, New Mexico to Texas and back. It's like a second home for us. We are hitting all the standard stops but this run we are adding in Las Cruces NM and Denton Texas to the mix. We are also getting back to El Paso Texas after a long, multi year absence of doing the show in that city. Favorites? Hard to say, Texas shows Metalachi so much love every time so I would have to say we love getting back in the Lone Star State. 
If you could have a "residency," where would it be?
We are working on some things in Vegas. We actually did a residency at Hard Rock in Vegas a few years back but would like to get something going on a regular basis back in Sin City. 
Is it true "Queen" Kyla Vera was discovered at a roadside stand? 
The line between truth and fiction is a slippery, slippery slope in this band. We could tell you the truth but we would have to kill her…or is it kill you? Should really figure out who dies before we proceed with this line of questioning. 
These questions were written the day before Halloween. Any scary stories? 
Not that would not perjure us in a court of law. Let's just leave it at that.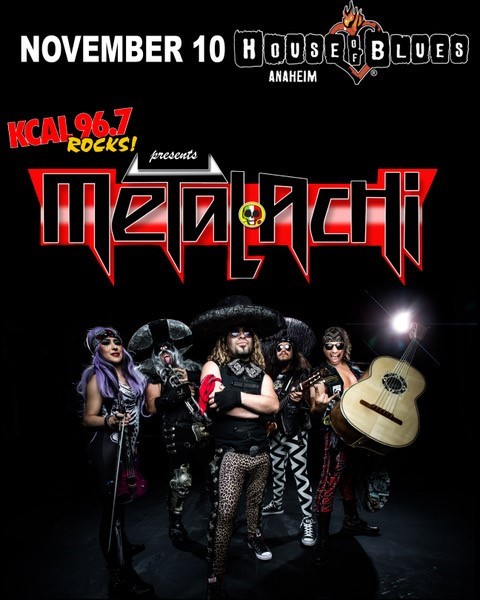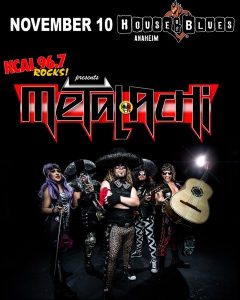 FOR GENERAL BOOKINGS
Scott Weiss– Atomic Music Group
scott@atomicmusicgroup.com
818.889.1588
FOR PRIVATE BOOKINGS/GENERAL BUSINESS/MEDIA/MANAGEMENT 
Eric Travis– Yarddart Entertainment L.L.C.
info@metalachi.com
323.821.9662
New Album, Tres, out Nov. 11 via all digital platforms & www.metalachi.com
 Album Release Party – Saturday, Nov. 10 at House of Blues Anaheim
Headline your information coming soon