Since the late '60s Adam White, author of the weekly West Grand Blog, has had a widely-respected career in music journalism both in the UK and America, writing for such publications as New Musical Express, Disc, Melody Maker, The Times (London), New York Post, Television Business International, Rolling Stone, and the British trade publications Music Week, and Music & Media. 
From 1985 to 1988, White was New York bureau chief for Radio & Records. 
Notably White served two extensive tours of duty at the American music trade Billboard in various editorial posts until becoming Billboard's international editor-in-chief in 1989, a post he held until 2002 when he was appointed VP, communications of Universal Music International (UMI), the London-based headquarters responsible for the Universal Music Group's activities outside North America. 
White and former Motown Record's president Barney Ales are co-authors of the lavish 400-page book "Motown: The Sound of Young America," (Thames and Hudson, 2016) which, teeming with over 1,000 photographs, provides a provocative peek into the company's backroom workings. 
Here's Adams background on Motown's Grammy history:
It's time to talk about the Grammys.
Some of you may have submitted nominations to the Recording Academy for this year's awards (the contenders will be announced on December 5, the event and telecast are set for February 10). Others among you may simply be interested observers. Whatever the case, the chances are good that you have strong views about winners and losers, past and present.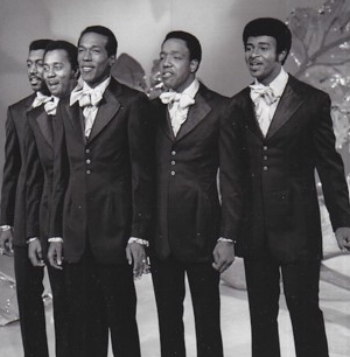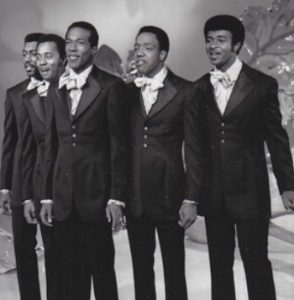 When it comes to the music of Motown, the recording industry's most prestigious awards have been guilty over the years of extremes. For every moment of recognition and acclaim, there have been grievances and gripes. There's no pleasing everyone, of course, but some decisions by Academy members seem positively perverse in retrospect.
 Along similar lines, Lionel Richie remains one of the most-nominated individuals for Song of the Year, yet the work of Holland/Dozier/Holland has never earned a single nomination in that category. How can that be? As for Smokey Robinson, he created some of the most compelling music of our times, but none of it was in contention for Song of the Year. Hell, he wasn't even nominated as a solo performer until 1979, and still had to wait another eight years to win.
OK, let's have some perspective. Music is about more than Motown, even if West Grand Blog isn't. So for the long view, I turned to former Billboard colleague Paul Grein, a veteran music journalist, historian and Grammy authority. His ruminations on the annual runners and riders can be found at HitsDailyDouble, and there's this savvy assessment, too, of the most recent Academy procedural changes.
"The Grammys were shamefully late in acknowledging Motown," Grein confirms. "The Recording Academy was founded by people who loved jazz and traditional pop, and were cool to rock 'n' roll and R&B. They were confused by it. They perhaps even felt threatened by it." The possibility – even the likelihood – that artists such Ella Fitzgerald, Frank Sinatra, Nat "King" Cole and Peggy Lee would be pushed aside was very real. "Those are all great artists, but so are those who were moving in. It took the Grammys a while to recognize there's greatness in all genres."
NEITHER SMOKEY, NOR DYLAN 
Paul also points out that for all the Grammys' neglect of Smokey, the same applied to others – such as the Rolling Stones. They were not nominated for anything until 1978, and didn't win until 1994. As for failing to recognize anything of Robinson's for Song of the Year? "Bob Dylan was never nominated in that category, either," he says.
And the Beatles? Their impact was so great that even the conservative Academy voters couldn't ignore it in 1964. The group prevailed as Best New Artist, and also won the Grammy for Best
Performance by a Vocal Group. That was the same voting round which chose "Hello, Dolly!" as Song of the Year, the nominations having excluded the Smokey-penned "My Guy" by Mary Wells – even for Best R&B Recording. In the latter category, Motown did manage one '64 contender: "Baby Love" by the Supremes. It was beaten by Nancy Wilson's "How Glad I Am," a model of modern rhythm & blues. Not.
There were other anomalies. In 1964, the Grammys had one category for R&B recordings, and six for country & western. By 1966, another couple of R&B fields were added; by 1969, there were finally an equal number of award categories – five – for R&B and C&W.
During the first half of the '60s, Motown earned six Grammy nominations. The groundbreaker was 1962's "You Beat Me To The Punch" by Mary Wells, not in contention as an R&B recording but in the soon-to-be-scrapped Rock & Roll category. She and four other nominees (Sam Cooke, the Four Seasons, Neil Sedaka, the Drifters) lost out to Bent Fabric. His "Alley Cat" – a rock & roll recording? – grabbed the Grammy. There were no Motown wins from 1962-1965.
In the decade's second half, the company garnered greater recognition. There were ten nominations, and one triumph: 1968's "Cloud Nine" by the Temptations, honored as Best R&B Performance by a Group. Of those ten nominations, Stevie Wonder had three – the most for any Motown artist from 1966-1969.
Also, "I Heard It Through The Grapevine" was nominated twice: by Gladys Knight & the Pips (curiously, for R&B Solo Female Vocal Performance) in 1967, and by Marvin for R&B Male Vocal Performance in 1968. But when the envelopes were opened, Knight and Gaye lost out to recordings by Aretha and Otis, respectively.
If the second half of the '60s was an improvement on the first for Motown, let the record show that there were only two nominations for the Supremes during the entire decade, and none whatsoever for the Four Tops. Not for "Baby I Need Your Loving," "I Can't Help Myself (Sugar Pie, Honey Bunch") or "Reach Out I'll Be There." Not a single one. Nothing. Nada. Read it and weep.
"Grammy voters' conservatism hurt Motown in the '60s," reiterates Paul Grein. "But eventually that conservative strain came to help the company, when their artists were the familiar veterans and their records were more in the mainstream tradition. In 1984, Lionel Richie's Can't Slow Down won Album of the Year when Prince & the Revolution's Purple Rain and Bruce Springsteen's Born In The U.S.A. split the totals of younger, more 'progressive,' rock-leaning voters."
RIGHTEOUS REWARDS, REPEATEDLY  
Regardless of conservatism, categories or familiarity, there is Stevie – and everyone can agree that Academy voters righteously rewarded the music made in the '70s by this marvel from Michigan. When 23-year-old Wonder received the Album of the Year award for 1973's Innervisions, he was the second-youngest artist to do so. "I hope that all of you know I am fantastically grateful," said Stevie upon that triumph.
He also prevailed in three other categories that year – with  "Superstition" and "You Are The Sunshine Of My Life," both from his previous album Talking Book – while the associate producers of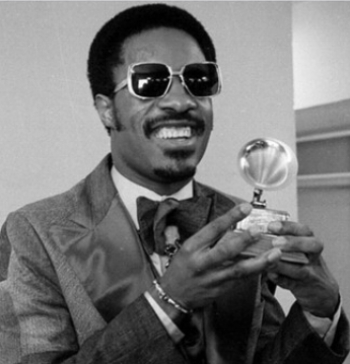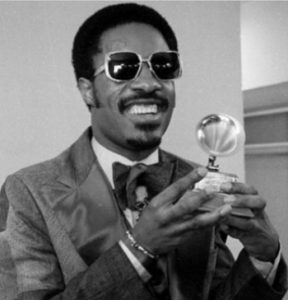 Innervisions, Robert Margouleff and Malcolm Cecil, took home Grammys in the Best Engineered Recording category.
By 1976, the Motown superstar had amassed 15 Grammys, second only to Henry Mancini's total of 20. To date, Wonder has taken home 25. According to Grein, this places him among the top six recipients of all-time: conductor Georg Solti (31), country/bluegrass star Alison Krauss and producer Quincy Jones (27 each), conductor Pierre Boulez (26) and another classical maestro, Vladimir Horowitz, who is tied with Stevie.
To be sure, other Motown artists gained Grammys in the '70s and '80s – Thelma Houston, the Dazz Band, the Commodores, solo Lionel, Smokey – but the number of nominations far outweighed the wins. Fortunately, there was the triple triumph of 1972's "Papa Was A Rollin' Stone," which not only honored the Temptations, but also songwriters Norman Whitfield and Barrett Strong, and arranger Paul Riser.
And yet it seems outrageous that Grammys were never granted to Diana Ross (with or without the Supremes) or Marvin Gaye during their Motown time. In her case, the nominations included "Ain't No Mountain High Enough," "Touch Me In The Morning" and "Love Hangover." In his case, there was "Inner City Blues (Make Me Wanna Holler)" and "Got To Give It Up (Part I)," and the albums Let's Get It On and I Want You, among others. What were Academy voters thinking?
TWO FOR SONG OF THE YEAR 
On other occasions, perhaps they weren't thinking at all. "In 1984," says Grein, "Motown had two of the five Song of the Year nominations, for the first and only time, with Lionel's 'Hello' and Stevie's 'I Just Called To Say I Love You.' These are far from the best Motown songs, but by this time, Motown – and Lionel and Stevie, in particular – were universally known and accepted."
Such questionable choices were hardly new, and this is where Grein's wider perspective comes in. "Grammy voters continue to have a hard time embracing new music," he says. "Now, it's rap and hip-hop that they grapple with." Only two such titles have won Album of the Year: Lauryn Hill's The Miseducation of Lauryn Hill and OutKast's Speakerboxxx/The Love Below. No rap or hip-hop releases have taken Record of the Year or Song of the Year so far. Music critics despair at these oversights in the 21st century, just as this blog does about Motown's 20th-century treatment. The present seems to be the past, on repeat. We shall see what, if anything, changes in February.
So to the list of Grammy-winning Motown releases from 1959-1988, when the company was under Berry Gordy's ownership. (This tabulation excludes the honors presented as Lifetime Achievement Awards or Trustees Awards from 1991-2013.) Now, the envelopes, please…
1968
Temptations, "Cloud Nine" (R&B Performance by Duo or Group, Vocal or Instrumental)
1970
Martin Luther King, Jr., Why I Oppose The War In Vietnam (Spoken Word Recording)
1972
Temptations, "Papa Was A Rollin' Stone" (R&B Vocal Performance by Duo, Group or Chorus)
Temptations, Paul Riser, "Papa Was A Rollin' Stone" (R&B Instrumental Performance)
Norman Whitfield, Barrett Strong, "Papa Was A Rollin' Stone" (R&B Song)
1973
Stevie Wonder, Innervisions (Album of the Year*)
Stevie Wonder, "You Are The Sunshine Of My Life" (Pop Vocal Performance, Male)
Stevie Wonder, "Superstition" (R&B Vocal Performance, Male)
Stevie Wonder, "Superstition" (R&B Song)
Robert Margouleff, Malcolm Cecil, Innervisions (Engineered Recording)
Gladys Knight & the Pips, "Neither One Of Us (Wants To Be The First To Say Goodbye)" (Pop Vocal Performance by Duo, Group or Chorus)
1974
Stevie Wonder, Fulfillingness' First Finale (Album of the Year*)
Stevie Wonder, Fulfillingness' First Finale (Pop Vocal Performance, Male)
Stevie Wonder, "Living For The City" (R&B Song)
Stevie Wonder, "Boogie On Reggae Woman" (R&B Vocal Performance, Male)
1976
Stevie Wonder, Songs In The Key of Life (Album of the Year*)
Stevie Wonder, Songs In The Key of Life (Pop Vocal Performance, Male)
Stevie Wonder, "I Wish" (R&B Vocal Performance, Male)
Stevie Wonder (Producer of the Year)
1977
Thelma Houston, "Don't Leave Me This Way" (R&B Vocal Performance, Female)
1982
Lionel Richie, "Truly" (Pop Vocal Performance, Male)
Dazz Band, "Let It Whip" (R&B Vocal Performance, Duo or Group**)
1984
Lionel Richie, Can't Slow Down (Album of the Year)
Lionel Richie, James Anthony Carmichael (Producer of the Year**)
1985
Stevie Wonder, In Square Circle (R&B Vocal Performance, Male)
Commodores, "Nightshift" (R&B Vocal Performance by Duo or Group)
1987
Smokey Robinson, "Just To See Her" (R&B Vocal Performance, Male)
* Before 1980, artists who produced or co-produced their albums won two Grammys for Album of the Year
** Indicates a tie
Music notes: most Grammy-honored Motown recordings can swiftly be found on digital services. The company's second winner, Why I Oppose The War In Vietnam by Martin Luther King, Jr., was originally issued on the Black Forum label in 1970, featuring a speech the civil rights leader gave earlier. That exact release doesn't seem to be on digital platforms, but another recording (with a slightly different title) is present. In 1983, Motown released 25 Years of Grammy Greats, an LP with 10 tracks from 1963-1982 which were either nominated or won. This subsequently appeared on CD, too.