AUSTIN, Texas (CelebrityAccess) Journey Instruments has launched a line of acoustic guitars that can be taken apart and stuffed into a carrying case.
Sounds interesting, but the company has been issuing collapsible guitars for years.
The First Class Overhead line of guitars, introduced through a Kickstarter campaign, will have three models – two acoustic models and a classical guitar model – ranging from $770 to $950 that can be taken apart at the base of the neck and fit into a carry-on case. Although there is no mention that the guitars are automatically in tune when reassembled (dream on), they have been "road tested" for six years, according to the announcement, and have a patented stainless steel neck connection system that assembles in "less than 10 seconds with no tools."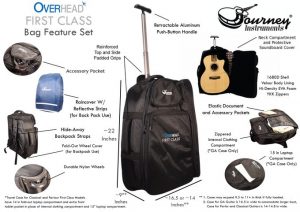 The guitar is guaranteed for life.
"We reverse-engineered the problem by starting with the airline's carry-on dimensions and worked backwards to create the best sounding, best feeling guitar that is guaranteed to fit," the statement said.
In addition to being carry-on sized, the roll-on bag includes a TSA-approved 15″ laptop compartment, telescoping handle and wheels, zippered compartments for books, headphones, guitar accessories and even a change of clothes.