LOS ANGELES (CelebrityAccess) — The producers for the Frank Zappa hologram tour used a purported "Questionable Content" Violation From Ticketmaster over artwork used in tour advertising to their advantage.
The hologram team issued a video with a digital representation of Zappa repeating the late musician's 1984 statement on censorship: "I'm a person who likes to do what he wants to do…whether people like it or not and what I do is designed for people who like it, not for people who don't."
The controversy was sparked by tour artwork, which included an image of a penguin in bondage gear preparing to paddle the bared buttocks of another similarly attired penguin — a reference to the 1974 & Zappa the Mothers' song "Penguin in Bondage."
According to the show's producers, the artwork was censored by Ticketmaster, who cited the image for so-called "questionable content," according to their Content Governance team, and wouldn't post it online.
An updated version of the promotional artwork was created by your organizers Eyellusion and the Zappa Family Trust with the Penguin's bare bottom covered up by a "Warning Guarantee" Zappa devised in the mid-1980s to voluntarily place on his music after appearing before Congress on September 19, 1985, to discuss censorship.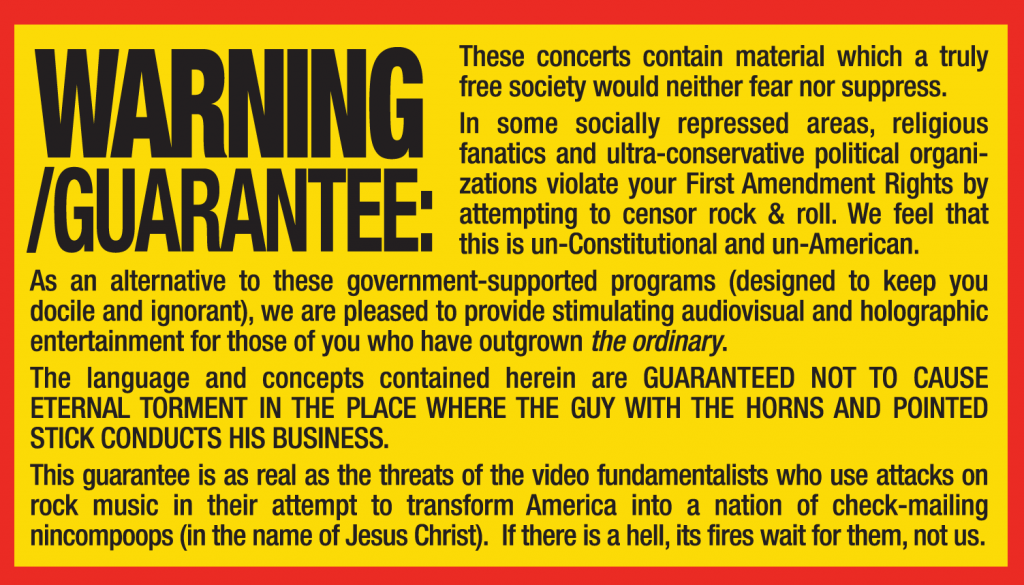 The nine-date "The Bizarre World Of Frank Zappa" tour kicks off on April 19th at the Capitol Theater in Port Chester, New York and then heads across the pond for additional shows in the Uk and Europe.
The Bizarre World Of Frank Zappa U.S. dates are as follows:
4/19 Port Chester, NY Capitol Theater Tickets VIP Package
4/20 Rochester, NY Kodak Center Theater Tickets VIP Package
4/22 Red Bank, NJ Count Basie Tickets VIP Package
4/24 Long Island, NY Paramount Theatre Tickets VIP Package
4/26 Boston, MA Shubert Tickets VIP Package
4/28 Albany, NY The Palace Theatre Tickets VIP Package
5/01 Wilkes Barre, PA Kirby Center Tickets VIP Package
5/02 Collingswood, NJ Scottish Rite Auditorium Tickets VIP Package
5/03 Baltimore, MD The Modell Lyric Tickets VIP Package
The European shows are as follows:
5/09 Edinburgh, UK Playhouse Tickets
5/11 Gateshead, UK Sage Tickets
5/12 Manchester, UK Bridgewater Hall Tickets
5/13 Birmingham, UK Symphony Hall Tickets
5/14 London, UK The Palladium Tickets
5/16 Ostend, BE Kurssal Tickets
5/17 Amsterdam, NL Rai Theater Tickets