STEVENS POINT, Wis. (CelebrityAccess)  Celebrating "the greatest peaceful event in history," "Woodstock 50th Anniversary: Back to Yasgur's Farm" (Krause Publications) has been published by author and Woodstock attendee Mike Greenblatt.
The book features a foreword by Country Joe McDonald, whose acoustic version of "The Fish Cheer/I-Feel-Like-I'm-Fixin'-To-Die Rag" was one of the famed moments of at Woodstock, played on a borrowed, cheap guitar.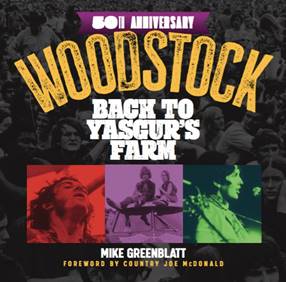 The book includes interviews with Graham Nash, Carlos Santana, Joe Cocker, Richie Havens, Country Joe McDonald, Edgar Winter, members of Jefferson Airplane, Creedence Clearwater Revival, Sly & The Family Stone, Canned Heat, Sha Na Na, co-host Chip Monck, fans and others.
In addition, all 32 performances at the festival are showcased.
The book will be available in July, although an exact date was not included in the press release.