(Hypebot) — As technological innovation continues to sweep the music industry, live streaming has become an increasingly important component of bands and artists' promotional arsenal. Here we look at why you need to livestream and what you need to do so effectively.
_________________________________
Guest post by Amanda Smith
Technology is innovating and improving constantly. The digital transformation of the media industry has given rise to the trend of live streaming. It's no secret that live videos drive more views, traffic, and engagement. In fact, live video are already more desirable than any other form of content. Currently, over 80% of online users prefer watching live videos from a brand.
The good news is -live streaming offers excellent opportunities for emerging musicians around the world to create, record, and perform their music and reach out to a wide global audience. One of the main reasons why music artists must care more about live streaming is due to its growing popularity and huge user base. The potential to reach thousands of music lovers and fans with the click of a button is a reality now.
Why you need to live stream
While live streaming has not been around for a long time, it has quickly gained momentum and the attention of online audience who are looking for online entertainment. While the reasons to live stream are obvious, here are some positive impacts live streaming can bring in for music artists, fans, and the music industry as a whole.
New opportunities for artists
Live streaming opens up plenty of opportunities to reach a global audience inexpensively. One of the biggest benefits of live streaming is that your fans consume content on your time. This facilitates direct targeting of the fans who are more likely to follow you. For example, you can use live streaming to promote your merchandise in the same way music group 'As Sirens fall' did in their live stream.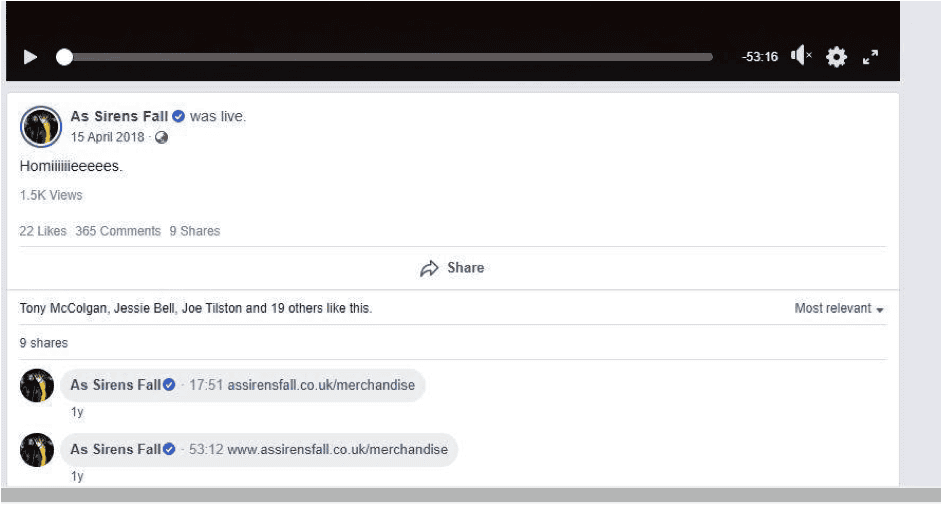 You can see the band promoting their merchandise in the comment section of their live video.
Detailed analytics
Most live-streaming platforms offer immersive features to measure the success of live streams through integrated analytics and visual reports. This helps artists to improve their live stream MO and have a better impact the next time. The live streams from popular musicians even hit billions of playback; we can attribute the credit to optimized live audio streaming servers that handle a huge number of concurrent viewers. With such massive numbers, it becomes difficult to analyze the interaction, but live streaming platforms comes with capabilities to give accurate and detailed analytics.
Reach a large audience base
Being a real-time online streaming solution, live streaming helps you reach a broad range of audiences without any geographical or time constraints. Moreover, even after a live video ends, you have options to upload it on social media channels and to reach out to your fans further.
Facilitates data monetization
Live streaming is not only a brilliant way to gain exposure, but also to make money. Social media platforms like YouTube, Twitter-owned periscope, etc. allows musicians to monetize their live streams. However, these platforms don't offer full control over generating money out of your content. However, if you want to generate a good amount of income with your live streams, a dedicated music website of your own presents a lot of opportunities for the same. The rising popularity of music sharing scripts is also influencing the creation of customized live streaming music services than ever before.
Live streaming tips for musicians
Whether it is IGTV or Facebook live you use to live stream, it is important to approach live broadcast the right way. Here are some tips to make the most of live streaming as a music artist.
Get the right equipment
While you can start a live broadcast with a smartphone and an internet connection, invest in some new gear if you want to add a professional edge to your streams. Invest in a professional camera, an external lens, lighting tools, tripod, etc. to start with. Even if you are planning to use a smartphone instead of a camera, you might need the best quality external mic as even the latest mobile devices don't help that much with recording quality audio. Instead of buying a camera, you can also invest in a great smartphone that is compatible with an external mic.
Decide what to stream
While it is common for music artists to stream live performances, it need not be the same always. It is not just live music show you can stream, it can be a live stream of an interview, unrehearsed practice sessions, behind the scenes sessions or anything interesting. Whatever be the type of live stream, make sure to offer original content and to engage with your fans in an interesting way. In addition, make it a practice to mention commenters by user names to establish an instant connection with your audience.
Broadcast length
When it comes to the length of your live broadcasts, find the right balance. Even if it is a full performance, decide whether to stream the complete session or to shoo a small portion of the actual show. While a couple of minutes is too short to earn anything valuable, a couple of hours might be too much. Half an hour to an hour is a good duration but again, the length solely depends on the type of content you stream. It is recommended to decide yourself how long to broadcast for. Finally, it all depends on the engagement, too. Hence, try out different ideas and then finalize an ideal length based on your experience.
Plan ahead
At times, the spontaneous stream can work well especially when you have a large following who are active on social media. But, if you are just starting with live streaming, the key is to announce ahead of time that you will go live on a particular day so that they can join you.
There is another bonus for announcing and promoting your live broadcast, especially on Facebook. Facebook's algorithm will bring your announcement on the top of news feeds and this helps in sending notifications to your users the moment you go live. Plan ahead how to handle and engage your audience in case the number of viewers rises up instantaneously. All thanks to the complex live audio streaming software and algorithms used by live-streaming platforms to manage the insane amount of incoming traffic.
Watch out for copyright flags
You might have heard of stories of the cover songs of artists being taken down from Facebook. Due to copyright infringement, this seems unfair but unfortunately, it happens most of the time. Playing an original track is absolutely fine, but if you plan to stream recorded music, make sure you have the right to do it.
In conclusion
Live streaming is accessible and advantageous to both music artists and fans alike and it's time to start using it. The era of music streaming is right here. With all of the emerging live streaming opportunities, there is immense potential for music artists to make the most out of live broadcasting. Did you enjoy reading the blog? Please share your opinions in the comment section below. We would love to hear from you.