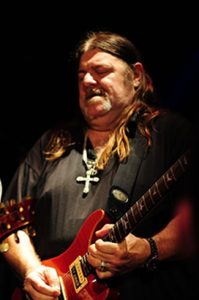 (CelebrityAccess) — David Lawrence Hlubek, guitarist and founding member of the southern rock band Molly Hatchet has died. He was 66.
Hlubek founded Molly Hatchet in 1971 and was the band's initial vocalist, as well as one of the primary songwriters, with credits that include the band's best-known hit "Flirtin' with Disaster" from their 1979 studio album "Molly Hatchet."
In 1987, Hlubek was ousted from the group and replaced by lead guitarist Bobby Ingram, telling Kaos2000 Magazine in 1999 interview that he was battling a serious drug addiction at the time and had become "unbearable."
"I left the band in 1986, 1987. I had a horrendous, horrendous cocaine problem," he said during the interview.
After recovering, Hlubek performed in a number of southern rock 'supergroups' including Hlubek & Friends, Southern Jam Band, and the Southern Rock Legends and in 2003, he formed the band Skinny Molly with former Lynyrd Skynyrd guitarist Mike Estes, Kurt Pietro on drums and Finnish musician Pontus J. Back.
In addition to his work as a touring musician, Hlubek also has writing credits on several film soundtracks, including Monster starring Charlize Theron, The Dukes of Hazzard, Suspect Zero, and Delta Farce.