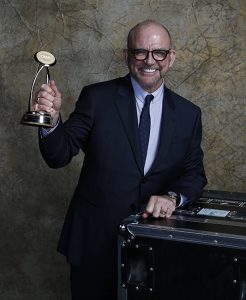 NASHVILLE, TN (CelebrityAccess) — The Country Music Association presented the 2018 CMA Touring Awards during a gala at the Marathon Music Works in Nashville.
Hosted by Jerrod Niemann, the event presented awards to 16 industry professionals, including Louis Messina, CEO of Messina Touring Group, who was honored with the CMA Touring Lifetime Achievement Award.
Messina was presented with the lifetime achievement award by John Peets, founder of Q Prime South. The award is intended to recognize an individual who has positively impacted and contributed to the growth of touring throughout their career and who has had a significant impact on the country music scene.
"This is quite an honor. I've been so blessed throughout my whole career," said Messina. "I'm going to steal an Eric Church line because last year when everything came through, we did over 100 stadium shows. I had a record year. I've been doing this for 46 years, but last year was crazy. I've always been a dreamer. The first time I saw Elvis I knew this was what I wanted to do. I saw him when I was seven-years-old. My big reward is not only seeing my dreams come true, but the artists I work for, seeing their dreams come true."
"We help create magic night after night. It's all about the artists, but it's all about everybody in this room too because when you put us all together, that's what magic is. When the artist and the audience connect and we're just that part of it, that's magical. I salute everybody in this room for being a part of what you all do. This is a night I'm never going to forget," Messina added.
Other winners for the night included Live Nation Nashville's Brian O'Connell, who won the award for Talent Buyer/Promoter of the Year Award. In his acceptance speech O'Connell, he thanks numerous colleagues and graciously invited the other nominees for the award, including s Ali Harnell, AEG Presents, and Patrick McDill, Live Nation Nashville, plus Mike Dugan, Messina Touring Group, and David Kells, Bridgestone Arena, to individually recognize them for their own accomplishments.
Mike Kennedy, drummer for George Strait, posthumously won the Touring Musician of the Year Award. His wife Margaret Kennedy; Terry Hale, bassist for Strait and founding member of Ace in the Hole Band; Mike Anderson and Marty Slayton, also members of Ace in the Hole Band, accepted the award on his behalf.
"I had the great privilege and measurable pleasure of standing next to Mike Kennedy every night on stage for 30 years. I'd like the thank his wife for sharing him with us." He finished by recognizing everyone associated with Strait and the tour saying, "It's not a right, it is indeed a privilege to be able to do this for a living. I think everybody out here knows that, and I thank Mike Kennedy for sharing this with me," Hale told the audience.
Ebie McFarland of Essential Broadcast Media won the award for Publicist of the Year and was surprised by Michael Ray, who dropped in to congratulate McFarland.
"Ebie, you're a true visionary who's worked with and represented so many great people in this industry and top entertainers," said Ray. "You're respected by your peers and on behalf of all of your clients and everybody at EBM we are all not only better at what we do because we have you in our corner but we're better at who we are. Thank you for all that you do. We love you and congratulations."
Winners in 15 categories were determined by CMA members in the following categories: Advertising/Public Relations/Media; Affiliated; Artist; Entertainment Services; Marketing/Digital; Musician; Personal Manager; Record Label; Talent Agent; Talent Buyer/Promoter; Touring; and Venue. Ballots were tabulated by the professional services firm Deloitte.
The 2018 CMA Touring Awards winners
BUSINESS MANAGER OF THE YEAR
Julie Boos (Flood, Bumstead, McCready & McCarthy, Inc.)
COACH/TRUCK DRIVER OF THE YEAR
John Stalder (Kenny Chesney)
FRONT OF HOUSE (FOH) ENGINEER OF THE YEAR
Kirk Kelsey (Keith Urban)
LIGHTING DIRECTOR OF THE YEAR
Philip Ealy (Kenny Chesney)
MANAGER OF THE YEAR
Kerri Edwards (KP Entertainment)
TOUR MANAGER OF THE YEAR
David Farmer (Kenny Chesney)
MONITOR ENGINEER OF THE YEAR
Cam Beachley (Miranda Lambert)
PRODUCTION MANAGER OF THE YEAR
Randy "Baja" Fletcher (Keith Urban)
PUBLICIST OF THE YEAR
Ebie McFarland (Essential Broadcast Media)
TALENT AGENT OF THE YEAR
Becky Gardenhire (WME)
TALENT BUYER/PROMOTER OF THE YEAR
Brian O'Connell (Live Nation Nashville)
TOUR CATERER OF THE YEAR
Dega Catering
TOURING MUSICIAN OF THE YEAR
Mike Kennedy (George Strait)
VENUE OF THE YEAR
Ryman Auditorium (Nashville, TN)
TOUR VIDEO DIRECTOR OF THE YEAR
Jay Cooper (Kenny Chesney)