(CelebrityAccess) A couple of legal documents pertaining to The Beatles are up for grabs at the Moments In Time website: a 1969 agreement, signed by the Fab Four, authorizing attorney John Eastman to handle all business negotiations on their behalf and a breakup contract signed by John Lennon, George Harrison and Ringo Starr to attorney Lee Eastman informing him that he is not authorized to act or hold as the attorney for the group.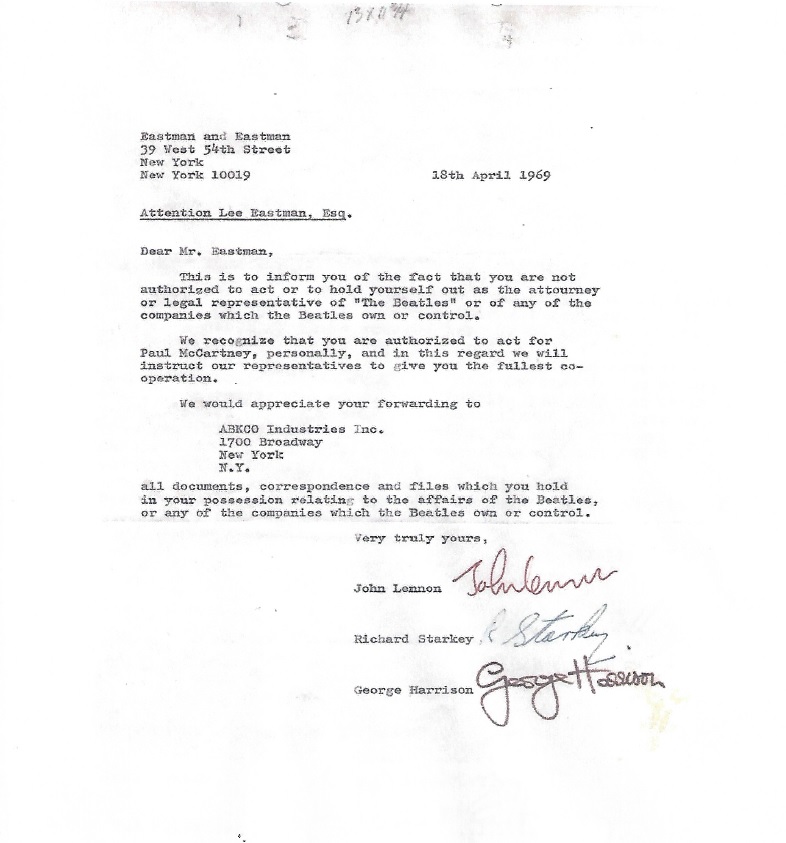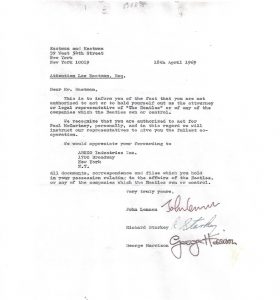 The first piece of paper has a going price of $225,000. The second one is a bit steeper, with a purchase price of $325,000.
That document is a letter to Paul McCartney's attorney, dated April 18, 1969, informing Eastman he's "not authorized to act or to hold yourself out as the attorney or legal representative of 'The Beatles.'" It does acknowledge he is the attorney for Macca, but only that.
The letter was signed a few months before Lennon privately told the band that he was leaving. The split became public the following April when McCartney announced he was leaving the group.
Meanwhile, director Peter Jackson has announced he is reworking the Beatles' farewell documentary "Let It Be," using 55 hours of footage that the public has never seen.
The original movie, directed by Michael Lindsay-Hogg, came out in 1970 after the Beatles broke up. Lennon called the making of the album a miserable experience "set up by Paul for Paul."
"That is one of the main reasons the Beatles ended. I can't speak for George, but I pretty damn well know we got fed up of being side-men for Paul," Lennon said.
Jackson, however, says the footage tells a different story.
"It's simply an amazing historical treasure-trove," he said, according to the Associated Press. "Sure, there's moments of drama — but none of the discord this project has long been associated with."
Jackson, known for the "Lord of the Rings" and "The Hobbit" films, recently produced a documentary called "They Shall Not Grow Old," in which he restores heavily damaged World War I footage and transferred it into 3D. He even used expert lip readers to restore lost dialog, according to the AP.