(CelebrityAccess) Sixthman, the company that started the musical cruise craze, is celebrating its 20th year at sea. The Rock Boat, which began with Sister Hazel as the main event, takes off to Belize Jan. 24-29 and this time not only includes Sister Hazel but NEEDTOBREATHE and Switchfoot.
Since then, Sixthman has added cruises like the KISS Cruise, Kid Rock Cruise and the Jon Bon Jovi Cruise. It has served more than 250,000 guests and has home ports including in New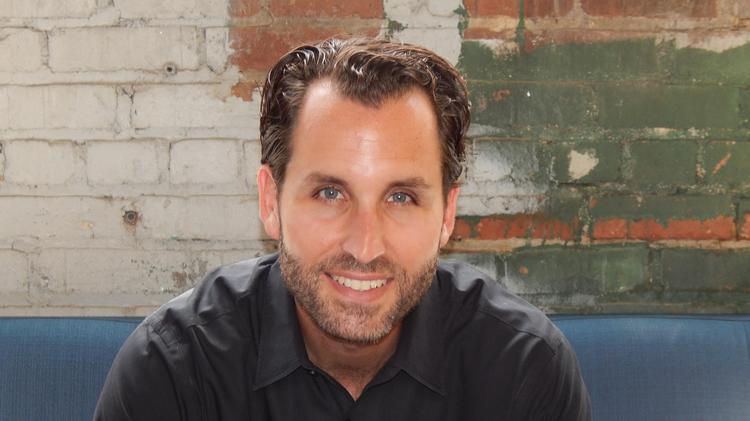 Orleans, Miami and Tampa. Sixthman cruises have traveled to the Virgin Islands, Belize, Honduras, Mexico, and the Bahamas and, this year, it expands its festivals at sea to Europe, sailing to Barcelona and Mediterranean ports, plus resorts in the Dominican Republic.
We asked CEO Anthony Diaz to take us back to the founding days and how things have changed.
How did this all come about?
Andy Levine is the founder of Sixthman. He and I were in a band together in Gainesville, Fla., at the University of Florida, and we had a ton of heart. We'd write thank you notes to the people we'd rent lights and sound from. We were a fan first band but we had no songs.
We toured the Southeast for about four years, thought we were going to get that big record deal and become rock stars and it just never happened. We were really working together; he'd book the shows and I would market them. Then, he'd play guitar and I'd play drums.
So we did that for a while. I ended up saying, "You know what? I'm out. I'll chase music, but on the radio side." I started working at radio stations. A couple of the guys in the band wanted to continue playing.
Andy was always better on the phone than he was on guitar and he started booking shows in Gainesville. There was an acoustic duo called Ken & Drew that had been picking up some steam. They formed a band around it, called it Sister Hazel. A couple of the guys from the band I was in joined that band and, over a bit of time, Andy started managing them. They had already written the song "All For You." It was a hit and they just took off on a rocket and signed to Universal. (It was recorded in 1994 and a full-band version hit the charts in 1997.)
What they realized early on is that the relationship with the fans is what will keep the band going when there might not be a hit. And right around this window, as you get going into the band's career, the whole concept of Napster jumped into play. It started becoming a question of whether bands could monetize their art. Is selling product going to be the future?
So they were looking for ways to do things that were special with their fans. They had a message board back then and that's how the communication between the fan and the band was going down. After about a year of this message board, which was like a bunch of street team college kids, were really busting their butt for Sister Hazel. The unofficial president of that street team reached out to Andy and said, "Hey, we would love to hang out with the band. We feel like we've earned this opportunity to spend some time with them."
The Rock Boat XX – January 24 – 29, 2020 – Initial Lineup Announce from Sixthman TV on Vimeo.
Andy and the band agreed. But they were, like, "What the hell are we going to do? Are we going to take them to a hotel for a beach weekend?"
Andy happened to be on a flight. He was sitting next to a stranger. She turned out to be a travel agent and he thought he'd float the challenge by her. Sure enough, she said, "Why don't you take them on a cruise?"
Well, a cruise isn't very rock 'n' roll, 18 years ago. And, I'd admit, today it isn't until I can show you a photo, a video and take you on a ship. To this day, in my role, you have to get over the hump of the stigma of a cruise.
Andy figured the guys wouldn't like it. But he told them they could do a large group on a ship, it's easy to set up production for a show, do some meet & greets, have a beach weekend in port.
Sister Hazel are just super bright, empathetic guys, they just got it. They said let's try it.
They took about 400-500 Sister Hazel fans on that first cruise. It was a large group, which is not the model we've grown into. It all worked well. The fans were super respectful to the band, and the band liked that. And because the fans behaved that way, the band was more engaged. It was just a good vibe.
The person they worked with on that Carnival Cruise ship told Andy that he could charter the whole ship. You can take the whole ship and do one of these.
Which is really what's special about the concept. When you've got people who share a passion – we now do comedy and wrestling and all shades of music – but the common theme that made this industry go is how strangers can bond over the common passion. We can become friends really quick.
Relive The Rock Boat XIX! from Sixthman TV on Vimeo.
The next year they chartered a ship. They called it the Rock Boat. Sister Hazel reached out to a bunch of their friends, other bands. The lightbulb went off.
There had been some smaller blues cruises and jazz cruises but never really a floating music festival, which the Rock Boat pioneered in 2001. They did that for a few years and it grew to the point where Andy said, "Listen, I think this has some legs and I'm going to form Sixthman and keep the Rock Boat going. You're the curator and the host." The band got another manager but stayed close throughout the years.
As time went on, just like the music industry today, managers know agents, agents know managers. It was either Lynyrd Skynyrd or Barenaked Ladies that was the next one. That worked really well.
I was on the very second Rock Boat. I had gone into a career running television stations. Every two years he'd call me and say, "Man, you've got to join me. I've got five employees. I rent the ship for all this money and hope I don't lose any of it. I just had a kid."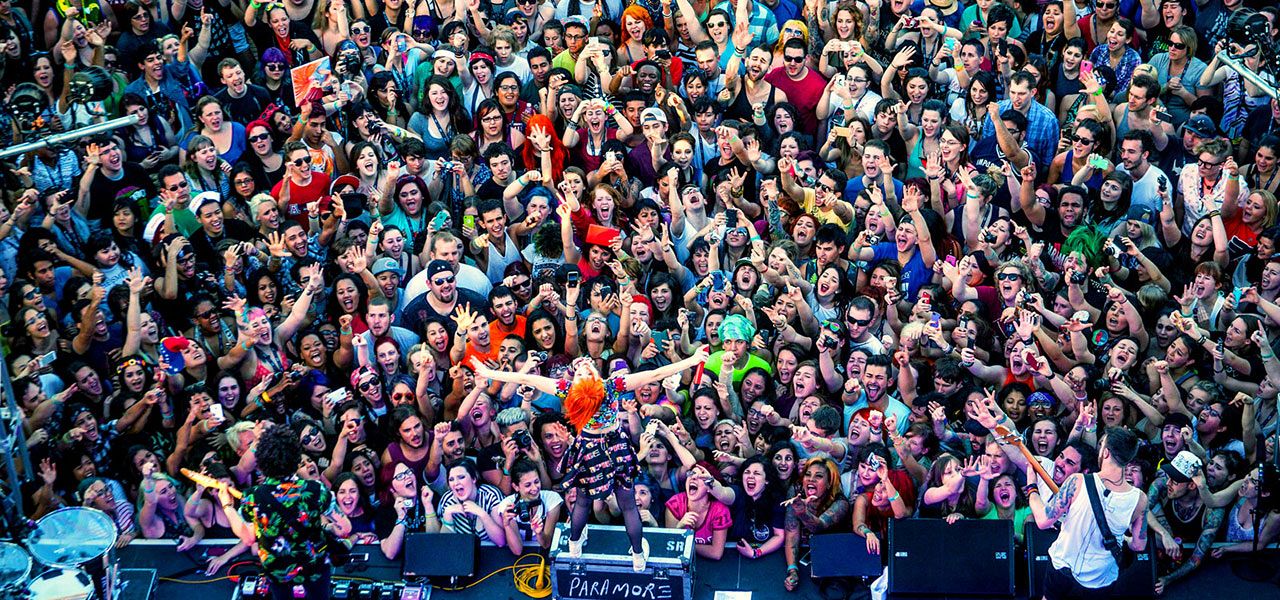 I joined him eight years ago and became his chief marketing officer. By then they had grown to 15 or so employees, maybe 20, doing maybe eight, nine events a year. The Rock Boat was a pillar through it all, even as we added John Mayer and a host of other cruises.
All of the innovation we have tried to make a part of our culture really starts with how we approach the Rock Boat. It's all about the fans. It's multiple stages, multiple activities. We celebrate alumni. More than 80 percent of the customers have sailed before. That's every year. And we now have kids from original Rock Boaters with us because it's 20 years old. The friendships that have formed are crazy. It's even started a cottage industry in the US. There's something called Rock By The Sea, there are Rock Boater groups in DC and other parts of the country that do their own concerts with Rock Boat bands. It's fascinating. People give each other organs! Literally body parts.
It baffles me but it has become an important part of many Rock Boater's lives. It's not just their favorite five days of the year; many of their friendships are based on it, the house parties they do for bands is off the charts. It's really grown into this amazingly strong culture and community. They never thought that was what they were doing during the very first one.
I would assume that employees would enjoy their jobs. It's a great product to create.
We've been really fortunate, from our original day, to grow to over 60 employees. We've expanded into the resort destination arena. We're way more sophisticated than we were 18 years ago. The team and people part, I think, has been the driver of our growth. We've been able to recruit amazing people who can get incredible jobs in any sector of life but they get the mission. They love serving others.
People think we go solely after people with a passion for music, or are in the music industry. That's no doubt it's a big part of the people who work at Sixthman but it's really finding people who have a hospitality bent, of serving others, creating moments for others. We try and shine a lot of attention and energy on our team so they can then engage with the guests and the artists. I've noticed that, at the end of a cruise, I see people hugging the Sixthman team members. They're sending them notes. There is always something being sent to our office from our guests.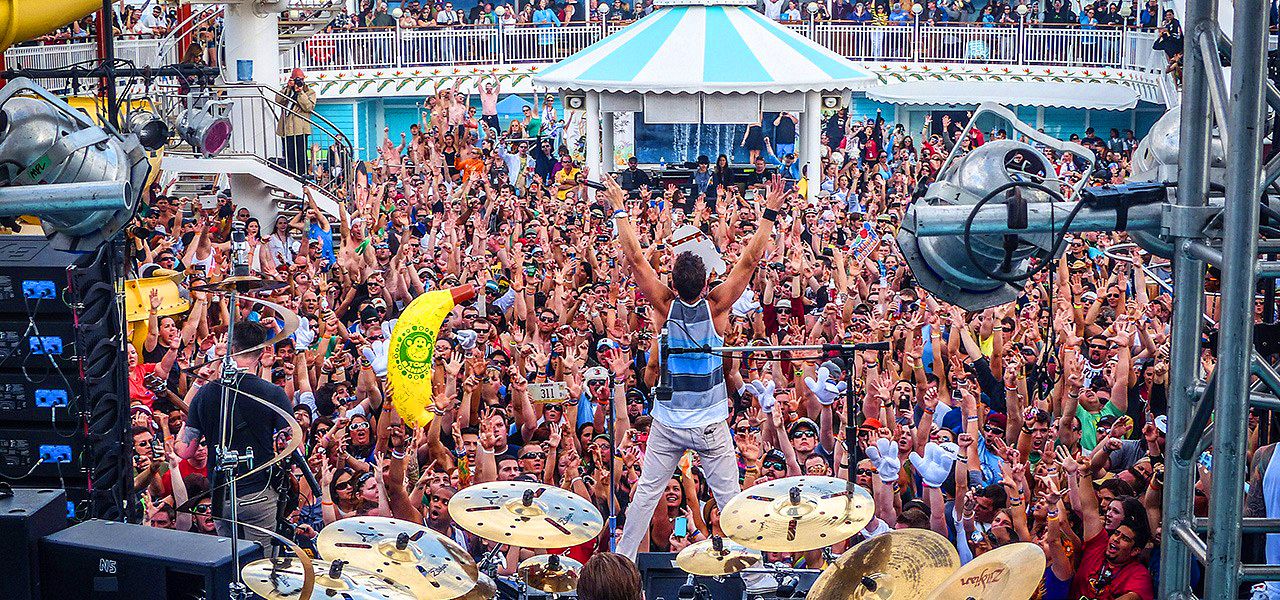 And on the management side, some of the biggest compliments we've gotten are from big acts where they say, "Hey, I wish Sixthman would run our tour." That's not the business we're in or what we want to be in, but we've just been so fortunate to get incredible people who keep the culture so strong that I think it's helped our retention of the artists and guests. Overall, our retention is about 60 percent for guests. If you come back to the Rock Boat in February then there's a 60 percent chance that you'll come and you'll bring a friend. That's how we've been able to build the business.
A lot of artists feel the same way. KISS is in year nine, Kid Rock is in year 10. Joe Bonamassa is in year five or six. 311 is in year six. We're trying to create an environment where the artists want to come back and the fans do too. Otherwise, you're just on a treadmill.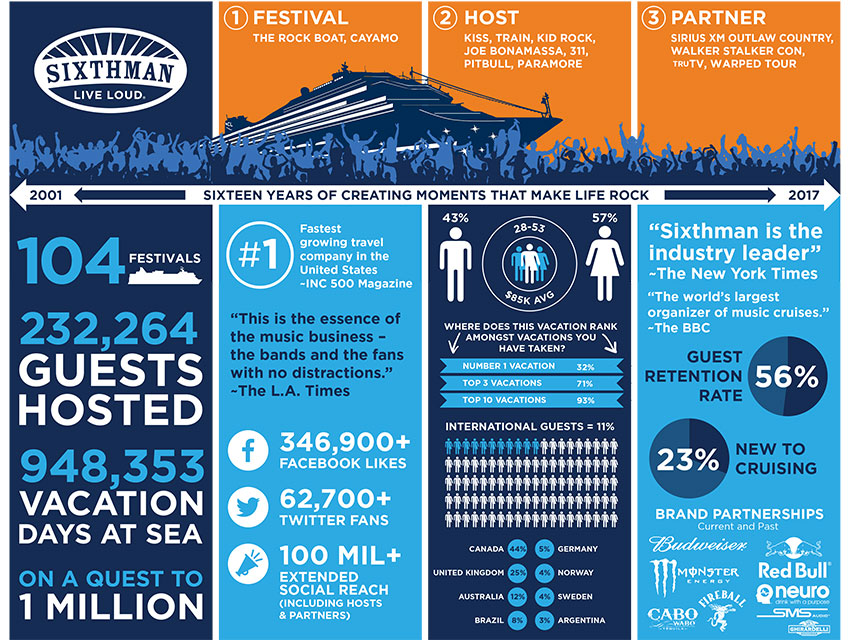 What has been increased over the past years – could be swag, menus to production.
I think it's little things and big things. If we start with production, when I look at the stage and lights we were putting up 15 years ago versus now, it's just mind-blowing. It's just world class now. We just did Jon Bon Jovi about two months ago and his team looked at it and said, "Wow. I didn't realize we could get something like this on a pool deck of a cruise ship."
Production/lights is really dialed in. That helps with the artist and the fan. We've tried to shift more of the attention onto the guests. I think in our first few years the star was the star. Then we realized, wait a minute, if we can get the fans more interactive in the experience, it's great for them and the bands enjoy watching the fans enjoy themselves.
We just did Live Band Karaoke, which is whatever but, on the pool deck stage where fans got to sing Bon Jovi hits with Jon Bon Jovi's band, playing the songs. It was a huge moment for those fans who sang and for those who didn't. We've done something similar where guests sing Paramore songs and Hayley Williams and the bandmembers are on stage with them, dancing with them.
Then there's "Name That Lick" where the guitar player from KISS is onstage playing the lick and the fans are on a panel and determine who's the winner. The spirit of Sixthman was to tear down the walls between fans and bands. I think we're doing that with the non-concert programming better than we ever have.
And the feedback we're getting from the guest is that the concert was awesome but that activity just blew my mind away. You can't do that at a concert at home. We have four days of programming and we have the artists with us. We have over 30 artists on some cruises; even the KISS cruise has 10-15.
That's what we're most proud of because it's shown a light on the guest experience. We've taken over resorts in port to keep the music going rather than sending fans off to enjoy Nassau or Cancun. We owned a stage for a number of years and put a full festival stage on Norwegian Cruise Line's private island. We did Florida Georgia Line out there and Kid Rock and Sister Hazel there.
The way we announce cruises is getting more interesting. With Rock Boat this year, it's got a space theme. To tease it, guests could go to the website and play Space Invaders. Most Rock Boaters are about 47.
Just little things to surprise and delight them. It's been a lot of fun.
On a bigger scope, we're now serving fans out of Barcelona. We took over some resorts. We're trying to take the skill set that the Sixthman team has and see how we can grow with intention and live up to this high standard of service that we built the company on. So far, it's been working.
Anything in particular about this upcoming cruise?
We've had over 300 artists in 20 years and we really tried to lean the lineup to salute a lot of them. We even re-formed a band just for the Rock Boat, a band called Wide Awake. It's so cool seeing a band that's such a small band getting such buzz in the Facebook group. It was part of a big memory, a special apart of Rock Boat years ago. These guys moved on to be executives and professionals.
A lot of the bands are kind of a throwback. We still have needtobreathe who sailed with us before. We've got Switchfoot for the first time, which is exciting, and Tonic. But it's mostly a celebration of the bands that made Rock Boat what it is.
At the same time we're evolving the brand. I think this year we had Andrew McMahon. I like that it's staying current. When we do our meetings with Sister Hazel, they recognize that, to keep this exciting for the next 20 years, you can't continue to throw back to 1992 every year.
But this year it's definitely a celebration of the first 20 years.