SINGAPORE (CelebrityAccess) – Organizers of Singapore's All That Matters Conference, which brings together power players from the music, sport and entertainment worlds, has today (Aug. 29) announced the keynote speakers for this year's event.
Representatives from major brands including Tencent Music Entertainment, FIFA, FaZe Clan, Mastercard, YouTube, Kobalt, Universal Music Group, Hugo Boss, The Coca-Cola Company, LaLiga, AEG Asia, Allied Esports, Paradigm Agency, Arsenal, PCCW and more will all be in attendance.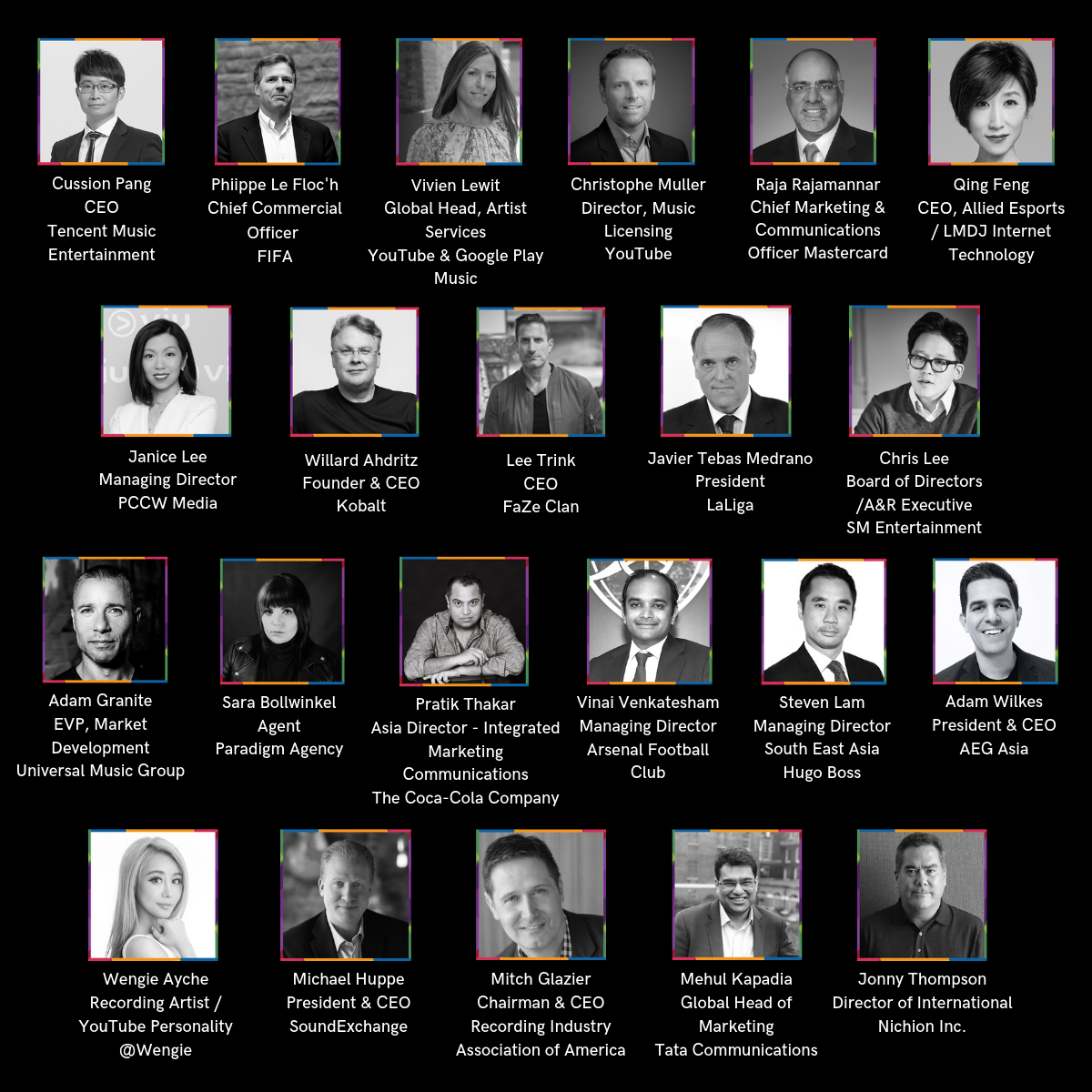 The full list of ATM19 Keynote speakers is as follows:
Cussion Pang, CEO, Tencent Music Entertainment
Raja Rajamannar, Chief Marketing & Communications Officer, President Healthcare, Mastercard
Philippe Le Floc'h, Chief Commercial Officer, FIFA
Vivien Lewit, Global Head of Artist Services, YouTube and Google Play Music
Christophe Muller, Director, Music Licensing, YouTube
Qing Feng, CEO, Allied Esports / LMDJ Internet Technology
Janice Lee, Managing Director, PCCW Media
Willard Ahdritz, Founder & CEO, Kobalt
Lee Trink, CEO, FaZe Clan
Javier Tebas Medrano, President, LaLiga
Chris Lee, Board of Directors/A&R Executive, SM ENTERTAINMENT
Adam Granite, Executive Vice President, Market Development, Universal Music Group
Sara Bollwinkel, Agent, Paradigm Agency
Pratik Thakar, Asia Director – Integrated Marketing Communications, The Coca-Cola Company
Vinai Venkatesham, Managing Director, Arsenal Football Club
Steven Lam, Managing Director, HUGO BOSS S. E. Asia
Adam Wilkes, President & CEO, AEG Asia
Wengie Ayche, Recording Artist / YouTube Personality, @Wengie
Michael Huppe, President & CEO, SoundExchange
Mitch Glazier, Chairman & CEO, Recording Industry Association of America
Mehul Kapadia, Global Head of Marketing, Tata Communications
Jonny Thompson, Director of International, Nichion Inc.
ATM19 is scheduled to take place in Singapore September 16-18 at The Ritz-Carlton Millenia.