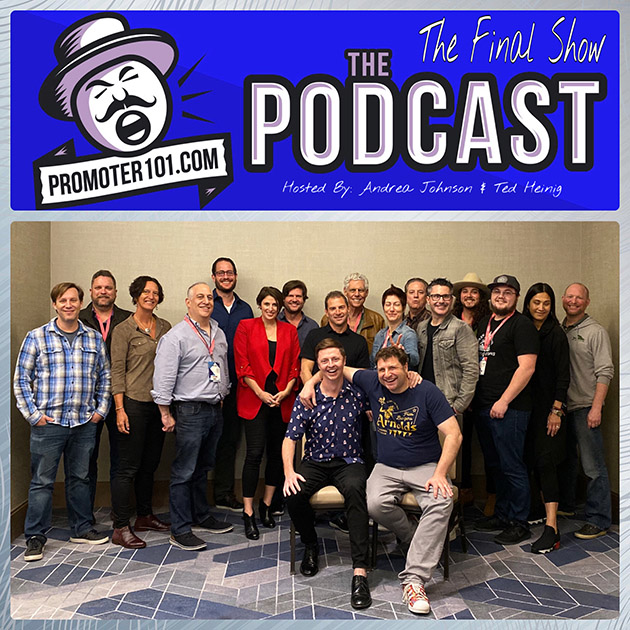 It's Time for the Final Promoter 101 Podcast as we take a look back at the past three years of over 200 episodes featuring hundreds of interviews with the best in the music business Hosted By ICM Partners Andrea Johnson and AC Entertainments' Ted Heinig.
Dan Steinberg & Luke Pierce will join some of the industry's biggest names as we look back from the oddest things that have happened to them on the show, to weirdest stories, what didn't make the show, what couldn't make the show, and all their favorite things that happened along the way.
Special Guest on this final podcast include Brian Hill (CAA), Jeff White (Eventbrite), Kim Bedier (Tacoma Dome), Ant Taylor (Lyte), Rick Farrell (ICM Partners), Brian Penix (Vector), Jason Zink (Emporium / Live Nation), David Britz (Works Ent), Jamie Loeb (Nederlander), Chyna Chuan (ICM Partners), Larry Butler (Did It Music), Jason Bernstein (AEG Presents), Gary Smith (Pollstar Founder), Craig Newman (APA), Connor Merritt (Promoter 101).
Direct Link: https://is.gd/GAmw8L
To Donate to MusiCares and Get a Promoter 101 T-Shirt or Hoodie: http://www.promoter101.net/merch
Email Dan + Luke: steiny@promoter101.net
Spotify: https://is.gd/T5SPEC
Tweet the Guys: https://twitter.com/Promoters101
Tweet Dan: https://twitter.com/TheJew
Tweet Luke: https://twitter.com/wlukepierce
Follow us on iHeartRadio: https://www.iheart.com/podcast/promoter101-29260148/
Follow us on Instagram: https://www.instagram.com/steinypromoter101/
Facebook: https://www.facebook.com/promoter101
Soundcloud: https://soundcloud.com/promoter101
Website: http://www.promoter101.net/
iTunes: https://itunes.apple.com/us/podcast/promoter101/id1163910658?mt=2
Google Music: https://is.gd/onEmSt
Stitcher: http://www.stitcher.com/podcast/promoter101?refid=stpr
Tumbler: http://promoter101.tumblr.com/
Spreaker: https://www.spreaker.com/user/promoter101
YouTube: https://www.youtube.com/promoter101
LinkedIn: https://www.linkedin.com/company/promoter101