LOS ANGELES (CelebrityAccess) – The 80th edition of the Golden Globes returned Tuesday (January 10) to the Beverly Hilton Hotel, and the stars returned with it. It was the wettest Golden Globes on record, with crews working hard to keep the red carpet dry due to extreme flooding from a series of storms that hit the West Coast within the last week. Ultimately, a tent was constructed over the soaked red carpet. However, the laid-back party atmosphere was in full swing as the ceremony returned with an in-person edition after a two-year break.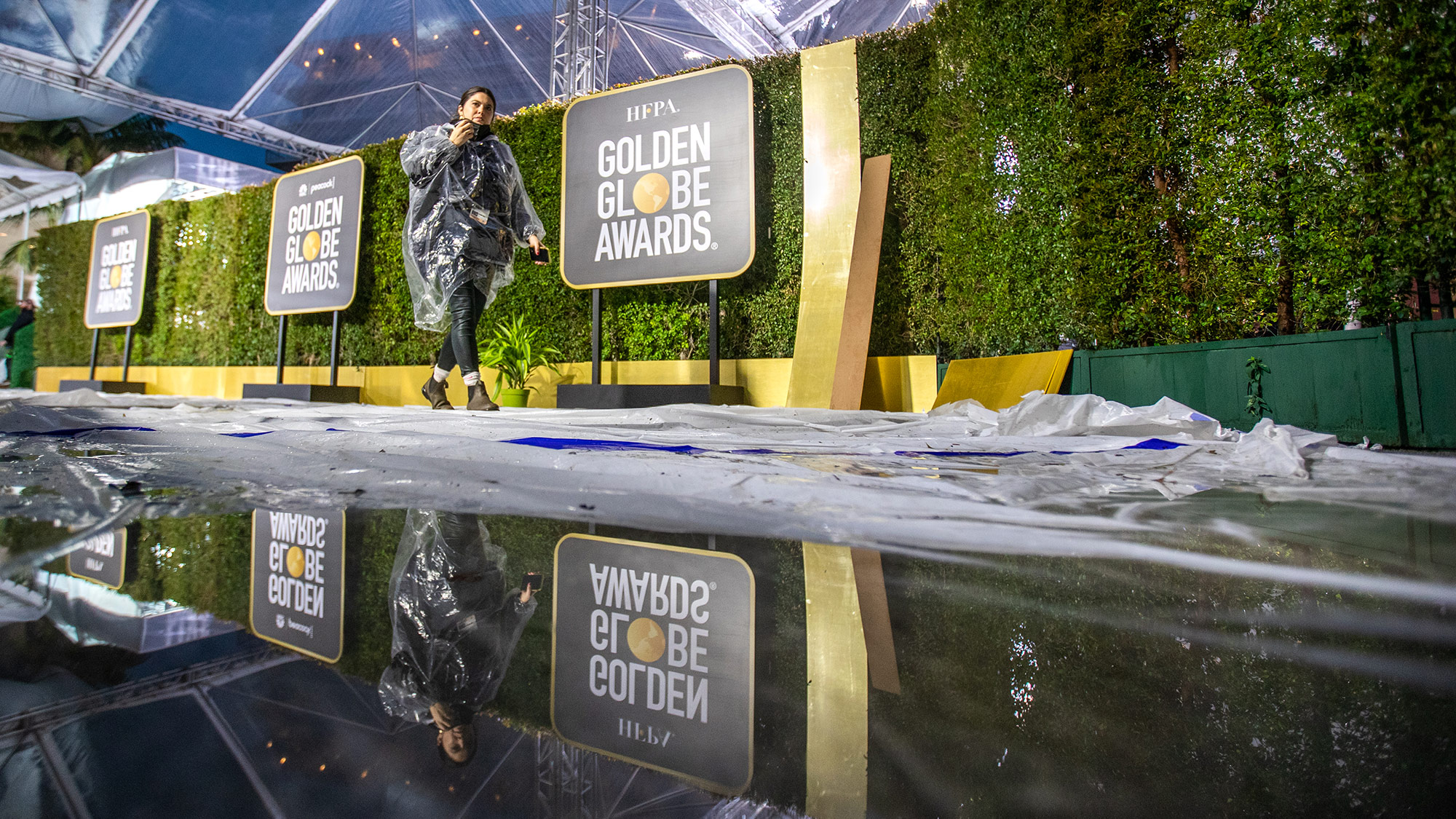 After the 2021 cancellation due to the COVID-19 pandemic, NBC refused to air the 2022 edition when an exposé was published in The Los Angeles Times in February 2021 – a week before the scheduled broadcast. The reveal offered details and gave weight to the accusations that had plagued the organization for years – racism, coteries blocking the entry of members outside of its "circle," the HFPA accepting bribes from studios in exchange for awards, and the associations' lack of transparency. The HFPA opted to have a very small, scaled-back affair at the Beverly Hilton Hotel in light of the scandal.
At the time of the controversy, the association had 87 voting members; some were people of color, but not a single Black member. In addition, it was discovered the HFPA had not had a Black almost for nearly two decades.
After "shit hit the fan," metaphorically speaking, the HFPA began damage control. They parted ways with former HFPA President Philip Berk and released a statement saying they had added 103 international voters, with 52% being female and 51.8% being racially and ethnically diverse – 19.6% Latinx, 12.1% Asian, 10.1% Black, and 10.1% Middle Eastern. The HFPA banned "gifts," saying voting members "shall not be permitted to accept promotional materials or other gifts from studios, publicists, actors, directors, or others associated with motion picture or television programs." Notably, actor Brendan Fraser accused Berk in 2018 of groping him at a 2003 luncheon. Berk has denied those allegations.
The 2023 ceremony took no time to address the controversy that, for the most part, canceled last year's show.
Host Jerrod Carmichael took to the stage as the show opened, "I'm here because I'm Black," he joked. He described how the HFPA scandal led to his opportunity to host the ceremony. However, the acid-tongued comedian and actor had no trouble raking the association over the coals, "I took this job assuming they hadn't changed at all," he quipped.
Throughout the show, he gave some stunning one-liners, including his jab at actor Tom Cruise (complete with a Scientology reference), who returned his awards to the HFPA last year. "Backstage, I found these three Golden Globe awards that Tom Cruise returned," he said while holding the awards. "I think maybe we take these three things and exchange them for the safe return of Shelly Miscavige." Shelly Miscavige is married to Scientology leader David Miscavige and was last seen in the public eye in 2007.
#GoldenGlobes host Jerrod Carmichael makes a dig at Scientology: "Backstage, I found these three Golden Globe awards that Tom Cruise returned…I think maybe we take these three things and exchange them for the safe return of Shelly Miscavige." https://t.co/m069JEKekW pic.twitter.com/fw25ng5nU2

— Variety (@Variety) January 11, 2023
As a writer, I watch the award shows (Oscars, Grammys, Globes) for a glimpse into "how the other half lives," the red carpet dresses, who showed up – who didn't and why, but mostly because I want to hear what the privileged elite with no regard for the cost of anything – ever, have to say. Of course, as a huge supporter and fan of the entertainment industry, I can say that, right?
Historically, the Globes have always "allowed" the winners to say more, give more and wait until the last minute to play the annoying "get off the stage" music. Maybe that's why the ceremony ran over 20 minutes last night … In any case, this year, the winners' speeches didn't disappoint, and the winners were determined to say what they had to say … even when the piano music began.
Austin Butler won his first Globe for Best Actor in a Drama for his performance as Elvis Presley in Baz Luhrmann's Elvis. He was humbled as he stood on the stage, and you could see it all over his face. "Oh man, all my words are leaving me," he said. "I just, I'm so grateful right now I'm in this room full of my heroes." With that, he shouted to the one and only Mr. Pitt (as in Brad), his costar in Once Upon a Time… in Hollywood. It was simple and perfect, "Brad, I love you." He went on to thank the HFPA, mentioned Tarantino and expressed gratitude to those who helped him get on the Globes stage.
Michelle Yeoh was also a first-time winner and won Best Performance by an Actress in a Musical or Comedy, Motion Picture for her role in Everything Everywhere All at Once. Her speech spoke of her journey to get where she was and expressed appreciation for women in the industry. "As time went by – I turned 60 last year – and I think all of you women understand this, as the days, years, numbers get bigger, the opportunities get smaller, as well," she continued, "Then along came the best gift: Everything Everywhere All at Once." She also threatened violence once the music started to play, "Shut up, please; I can beat you up," she quipped.
In one of the most heartwarming moments, Key Huy Quan won his first statue for Best Supporting Actor in a Motion Picture, the first Asian actor to do so since 1984. He began his career being cast in Indiana Jones and the Temple of Doom by Stephen Spielberg. He thanked the director in his speech for choosing him. "When I started a career as a child actor in Indiana Jones and the Temple of Doom, I felt so very lucky to have been chosen, Quan said. "As I grew older, I started to wonder if that was it if that was just luck. For so many years, I was afraid I had nothing more to offer, that no matter what I did, I would never surpass what I achieved as a kid," he continued. "Thankfully, more than 30 years later, two guys thought of me, they remembered that kid, and they gave me an opportunity to try again." Watch it below.
I freaking dare you to watch this and not feel something. pic.twitter.com/64k9JCxeiN

— Phil Yu (@angryasianman) January 11, 2023
Jennifer Coolidge (another first-time winner) was hilarious as usual when she took to the stage to accept her award for Best Supporting Actress, Television Limited Series/Motion Picture. She sat her Globe down on the stage as she looked at the audience and joked she "didn't work out." She is the queen of self-deprecating humor, making fun of how she "milked" her American Pie role for years. She thanked those who "kept her in the business" with minor roles throughout her career, which led to her being a winner on stage. The entire acceptance speech is worth watching from start to finish. Watch it below.
SO well-deserved! Congratulations @jencoolidge for WINNING Best Supporting Actress – Television Limited Series/Motion Picture ❤️ #GoldenGlobes pic.twitter.com/2h8kmbv23B

— Golden Globe Awards (@goldenglobes) January 11, 2023
Evan Peters took home the trophy for Best Actor – Limited Series, Anthology Series, or Television Motion Picture. His speech was short and to the point. He thanked the viewers who tuned into Netflix's Dahmer – Monster: The Jeffrey Dahmer Story. It had been widely reported it was difficult for him to film. He verified those reports at the end of his speech, "It was a difficult one to make, a difficult one to watch, but I sincerely hope some good came out of it." He was a first-time nominee and winner.
Jamie Lee Curtis and Tracy Morgan presented the Cecil B. DeMille Award to actor and comedian Eddie Murphy. The father of 10 and industry veteran of 46 years kept his acceptance speech short at 2 minutes, but of course, it wouldn't be Murphy without a jab to someone, somewhere. This time, it was Will Smith. He gave the audience some life directions: "Pay your taxes, mind yer' Bizness, and keep Will Smith's wife's name out your f*cking mouth." Ahhh, we love Axel Foley, don't we?
Writer, producer and all-around genius, Ryan Murphy received the honorary Carol Burnett Award. In true Murphy fashion, he dedicated his speech to the LGBTQ+ community and those actors he's worked with over the years. Murphy, 57, is best known for co-creating Glee, Pose and the American Horror Story franchise. He stated in his speech he hopes the LGBTQ actors and characters in his work have been "examples of possibility" for youths who fall within the rainbow alphabet watching at home. "For 25 years, that's all I've ever tried to do here in Hollywood," he said. "My mission was to take the invisible, the unloved and make them the heroes I longed to see but never did in pop culture."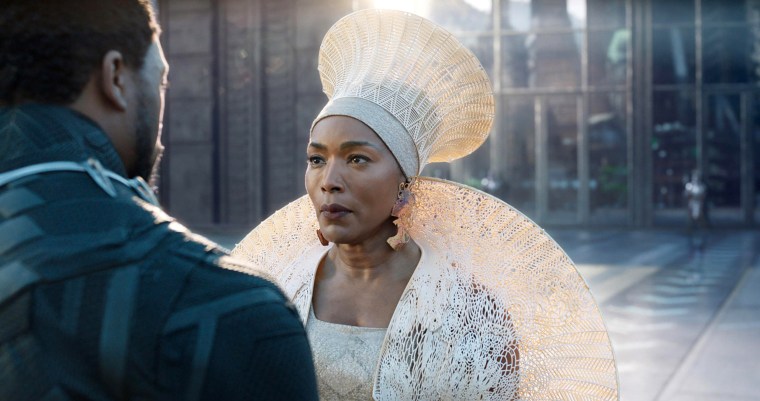 In one of my favorite wins of the night, Marvel actress Angela Bassett won the second Globe of her career (Best Supporting Actress in a Motion Picture) for her portrayal of Queen Ramonda in Black Panther: Wakanda Forever. She is the first actor to be given a major award for their work in a Marvel movie. In her speech, she spoke to the cast and crew of the Marvel sequel.
"Weeping may come in the evening," she said. "But joy comes in the morning. We embarked on this journey together with love. We mourned. We loved. We healed. And we were surrounded each and every day by the light and the spirit of Chadwick Boseman. She continued, "We have joy in knowing that with this historic 'Black Panther series, it is a part of his legacy that he helped to lead us to. We showed the world what Black unity, leadership , and love looks like beyond, behind in front of the camera." She concluded by thanking the fans of the MCU, "And to the Marvel fans, thank you for embracing these characters and showing us so much love. We just made history with this nomination and with this award. It belongs to all of you, all of us. Thank you."
The night's final award went to Spielberg's semi-autobiographical movie, The Fabelmans. It tells the story of a Jewish family, based on the famed director's own, and how he fell in love with film and making movies. He took a moment to thank those who do not usually receive recognition, "I was John Cassavetes' PA on one of his movies, and that's why I treat my PAs so kindly, because I know what it feels like," he said, referring to production assistants.
Ukrainian President Volodymyr Zelenskyy made a virtual appearance at the ceremony, similar to what he did at the Grammys. Actor Sean Penn introduced the video message from President Zelenskyy. "The war in Ukraine is not over yet, but the tide is turning," Zelenskyy said. "And it is already clear who will win." He then thanked "the free people of the free world, those who united around the support of the free Ukrainian people." He also said, "there will be no third World War. It is not a trilogy."
The Golden Globes are given out to honor the best in film and television. The HFPA is the organization behind the awards. It is a nonprofit outfit comprised of journalists and photographers in different media like newspapers, magazines, books, radio, and TV broadcasting. As the word "foreign" implies, most members are non-US citizens. As of press time, the HFPA comprises 105 members from 55 countries. The Globes are broadcast in over 167 countries and is the third most-watched award show in the world, behind the Oscars and music's biggest night, The Grammys.
List of Nominees and Winners (Bolded):
Best Drama Series:
Better Call Saul (AMC)
The Crown (Netflix)
House of the Dragon (HBO)
Ozark (Netflix)
Severance (Apple TV+)
Best Musical or Comedy Series:
Abbott Elementary (ABC)
The Bear (FX on Hulu)
Hacks (HBO Max)
Only Murders in the Building (Hulu)
Wednesday (Netflix)
Best Limited or Anthology Series or Television Film:
Black Bird (Apple TV+)
Dahmer – Monster: The Jeffrey Dahmer Story (Netflix)
The Dropout (Hulu)
Pam & Tommy (Hulu)
The White Lotus (HBO)
Best Actor in a Television Series – Drama:
Jeff Bridges – The Old Man
Kevin Costner – Yellowstone
Diego Luna – Andor
Bob Odenkirk – Better Call Saul
Adam Scott – Severance
Best Actress in a Television Series – Drama:
Emma D'Arcy – House of the Dragon
Laura Linney – Ozark
Imedla Staunton – The Crown
Hilary Swank – Alaska Daily
Zendaya – Euphoria
Best Actor in a Television Series – Comedy or Musical:
Donald Glover – Atlanta
Bill Hader – Barry
Steve Martin – Only Murders in the Building
Martin Short – Only Murders in the Building
Jeremy Allen White – The Bear
Best Actress in a Television Series – Comedy or Musical:
Quinta Brunson – Abbott Elementary
Kaley Cuoco – The Flight Attendant
Selena Gomez – Only Murders in the Building
Jenna Ortega – Wednesday
Jean Smart – Hacks
Best Actor in a Television Series – Limited Series
Taron Egerton – Black Bird
Colin Firth – The Staircase
Andrew Garfield – Under the Banner of Heaven
Evan Peters – Dahmer – Monster: The Jeffrey Dahmer Story
Sebastian Stan – Pam & Tommy
Best Actress in a Television Series – Limited Series
Jessica Chastain – George & Tammy
Julia Garner – Inventing Anna
Lily James – Pam & Tommy
Julia Roberts – Gaslit
Amanda Seyfried – The Dropout
Best Supporting Actor in a Television Series – Drama or Musical/Comedy
John Lithgow – The Old Man
Jonathan Pryce – The Crown
John Turturro – Severance
Tyler James Williams – Abbott Elementary
Henry Winkler – Barry
Best Supporting Actress in a Television Series – Drama or Musical/Comedy
Elizabeth Debicki – The Crown
Hannah Einbinder – Hacks
Julia Garner – Ozark
Janelle James – Abbott Elementary
Sheryl Lee Ralph – Abbott Elementary
Best Supporting Actor in a Television Series – Limited Series
F. Murray Abraham – The White Lotus
Domhnall Gleeson – The Patient
Paul Walter Hauser – Black Bird
Richard Jenkins – Dahmer – Monster: The Jeffrey Dahmer Story
Seth Rogen – Pam & Tommy
Best Supporting Actress in a Television Series – Limited Series
Jennifer Coolidge – The White Lotus
Claire Danes – Fleishman Is in Trouble
Daisy Edgar-Jones – Under the Banner of Heaven
Niecy Nash – Dahmer – Monster: The Jeffrey Dahmer Story
Aubrey Plaza – The White Lotus