NEW YORK, NY (CelebrityAccess) – Clarence "Fuzzy" Haskins, singer and original member of Parliament-Funkadelic and Rock and Roll Hall of Fame (R&RHoF) inductee passed away Friday (March 17) at the age of 81. No cause of death has been given. P-Funk legend George Clinton announces his death via social media on Saturday (March 18).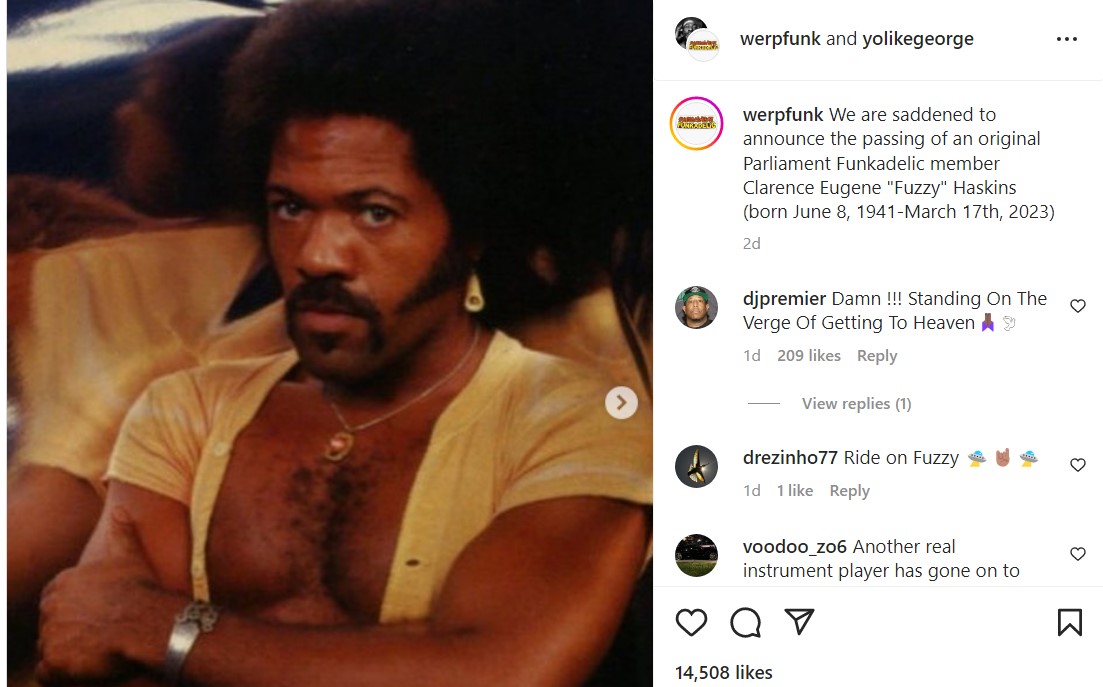 Born in Elkhorn, WV, in 1941, Haskins began his career as a member of the Gel-Airs before linking up with the New Jersey-based doo-wop vocal group The Parliaments – named after an American cigarette brand. Clinton, Haskins, Ray Davis, Calvin Simon, and Grady Thomas had their first hit with "I Wanna Testify," in the late 60s.
After linking up with another group, The Funkadelics, the group morphed to become a galactic R&B-funk group, a change driven by Clinton and Haskins, according to Clinton's website.
Haskins is credited with writing and co-writing some of Funkadelic's classics including, "I Got a Thing" and "I Wanna Know If It's Good To You." He beat the skins on the song "Can You Get To That," which he also co-wrote. The 1972 LP America Eats Its Young was a showcase for Haskins' vocal ability.
A showman at heart, Clinton's website biography of Haskins says he was known for wearing skin-tight sparkly bodysuits during live shows, gyrating on the nearest equipment, and giving the crowd a show.
He broke free of the group in 1976 due to growing tension between members and released a solo album, A Whole Nother Thang, but returned in 1977 for 1977's Live: P-Funk Earth Tour. He decided to leave the group again after the tour concluded, this time for good.
Along with other members of Parliament-Funkadelic, Haskins was inducted into the R&RHoF by Prince in 1997 and received a lifetime achievement award from the Recording Academy in 2019.
Former P-Funk member, Bootsy Collins paid tribute to his friend on Twitter writing, "Prayer's going out to Clarence 'Fuzzys' Haskins family & friends. We lost his frequency today 3-17-23. He was an original Parliament/Funkadelic inducted in the RHOF. We will miss u my friend, bandmate & Soul brother! Thx u for ur guidance in my pup year's. Bootsy baby!!"
RIP.