PARIS (CelebrityAccess) All you kids with your pea-soup beats and oontz-oontz music: Daddy's coming home.
Jean-Michel Jarre is touring the United States (and Vancouver) for only the second time in his career, the first time being in 1986. Sure, the electronic music pioneer has been in the country a few times – including last year when he performed at Radio City Music Hall and The Greek Theatre – but the globetrotting Jarre has somehow never traveled this great country of ours from sea to shining sea for 32 years.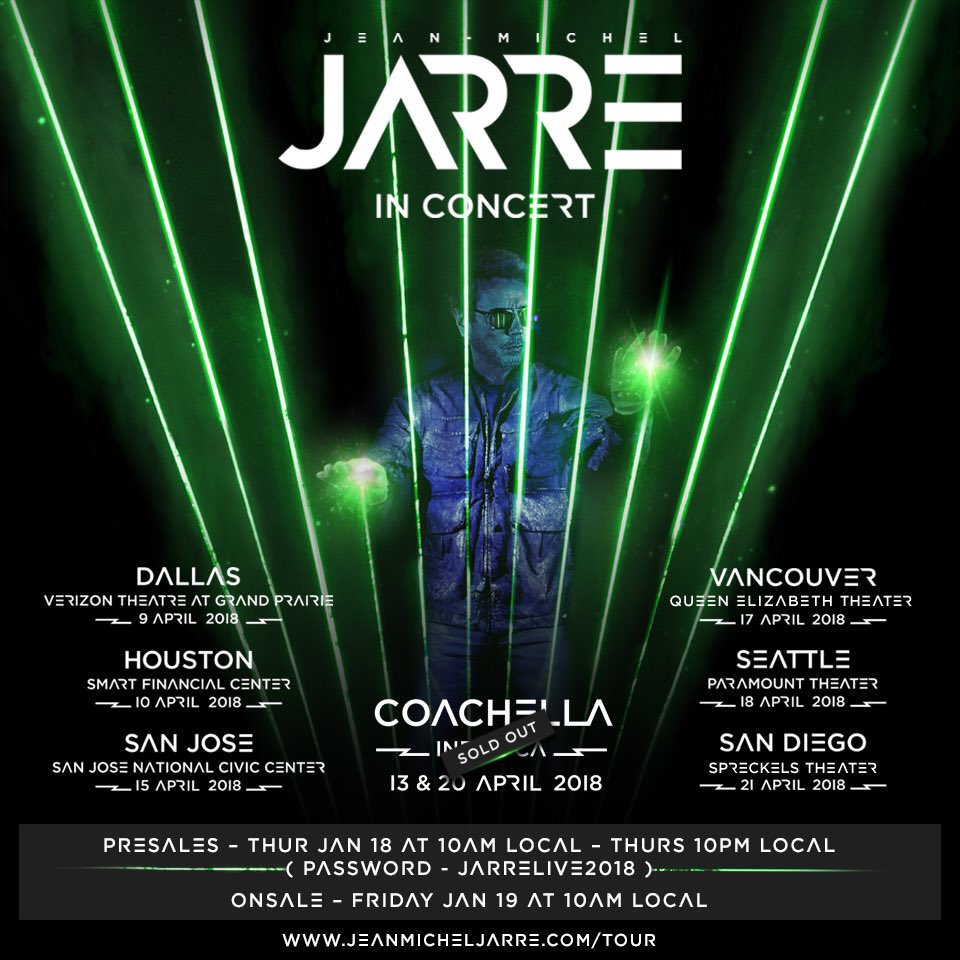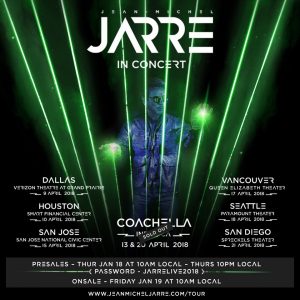 That ends in 2018, with dates in Dallas, Houston, San Jose, Vancouver, Seattle and San Diego, plus performances at the Coachella Music & Arts Festival in Indio, Calif., April 13 and 20.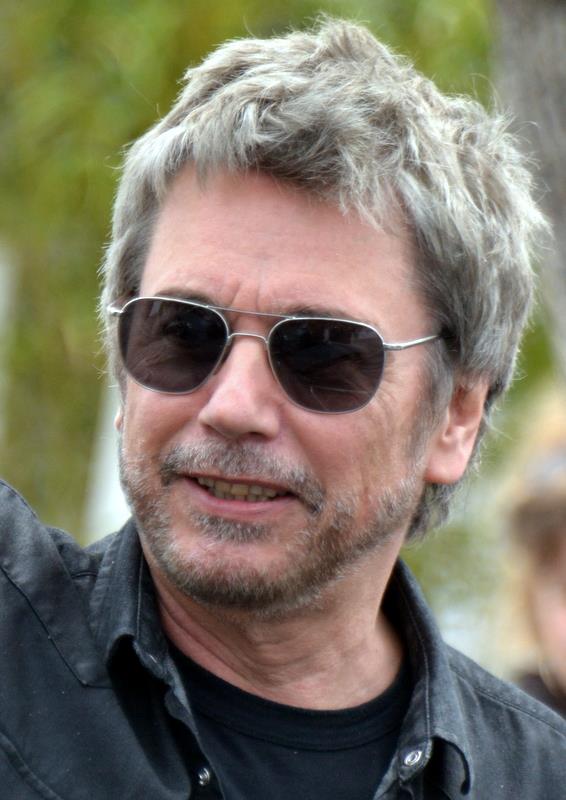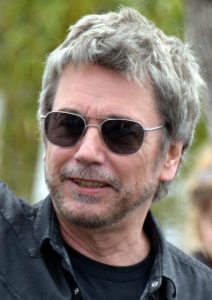 And Coachella will suit Jarre just fine. The performer is synonymous with massive shows, in both scope and audience. His shows have lit up entire cities, mapping images onto skyscrapers, and he has brought together millions for them – literally. He holds the record for the largest concert ever, not once but three times. It began in 1979 when he gathered a record-number 1 million people for Bastille Day at Paris' Place de la Concorde.
He broke his own record in 1986, bringing 1.5 million people to Houston to celebrate the 25th anniversary of NASA and the 150th anniversary of Texas (itself a fascinating and sad story involving the Space Shuttle Challenger disaster that year and how the crew's Ronald McNair was to collaborate with Jarre on his saxophone). Jarre broke his own record yet again in 1990 in Paris, gathering 2.5 million people in one place.
His recorded music began with 1972's Deserted Palace but he transformed the musical landscape with 1976's Oxygène, a landmark in what is now defined as electronica that is still the bestselling French record of all time with 12 million copies sold. It propelled him to international stardom and made him the first Western musician officially invited to perform in the People's Republic of China.
He has sold 80 million albums worldwide – as of 14 years ago. The latest installment of Oxygène – Oxygène 3 – was released in 2016 sounding as innovative as the original, with Radiophonie vol. 9 released last year.
CelebrityAccess spoke with Jarre from Paris as he was returning from Shanghai and moving equipment from his studio to his home.
So exactly how excited are you about doing a tour in the U.S. after so many decades?
It's very strange because I did recent big outdoor concerts in the U.S. in 1986, probably the biggest concert in America in terms of audience, with 1.5 million people. In my life, for quite a while, I was involved with one-off shows. One I did in China, and in Egypt, and Moscow, and Paris, and Africa, and London. And I did not tour as much. Then, there was a time I was going to tour in America but for different reasons and because of my projects, it didn't happen. So I always decided, OK, next time I'll do it.
And then I did this project in New York City and also I did a stage design – something very special – and I'm quite happy with and this time I would like to share it with the American audience. On the sound and digital point of view, it's quite new. As you may know, I'm one of the first to deal with visuals, putting mapping on big buildings, and then, when I see EDM festivals it reminds me of what I was doing some while ago and, of course, if I'm going to America, it should be something different.
I had this idea for quite some time, devising a stage design, giving it a sense of 3D without glasses. I didn't know it would work, and to have kind of different layers of movie screens like sliding doors, doing something quite different. But it worked very well, and we were all blown away.
We did the first concept last year. I did some concerts in the U.S. at Radio City and the Greek Theatre, and I've been so moved by the feedback I've gotten from the audience and some of your colleagues. So I said, of course, I would like to continue this. So we set this up for Coachella and, around Coachella, we could have a few dates.
I'm very, very excited to play Coachella. It's such an honor. Then to go to Dallas, to go back to Houston, to other cities I didn't do last time. I've changed a lot of things since last time so I hope it will be quite special, quite spectacular and I hope the American audience will enjoy it as much as I do.
Is there a different produc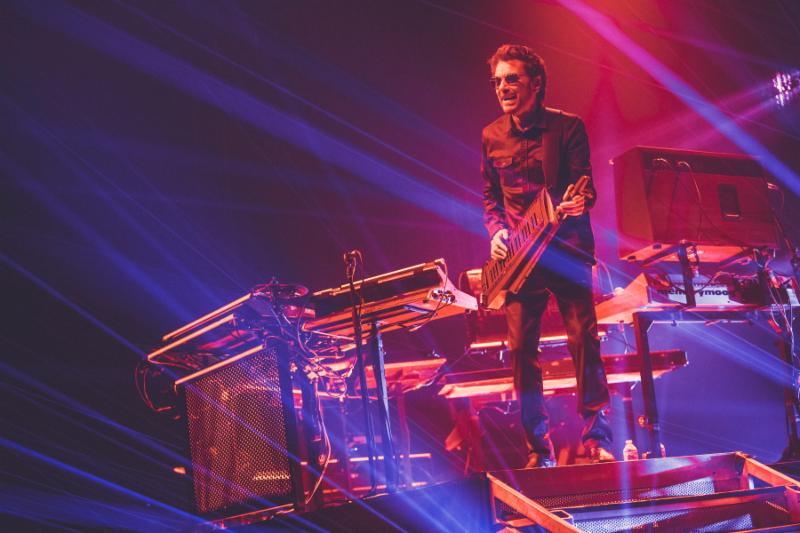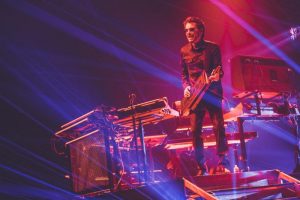 tion for Coachella than for the indoor venues of the tour?
Yes, slightly. Of course it's different for Coachella; I'm working on some surprises for it. It needs to be different, otherwise it wouldn't be fun! And for lighting engineers and other engineers, it wouldn't be fun and exciting. I like to create something surprising even for my crew, my team.
What I don't like is that everybody goes into a routine. A lot of people can do a very good date and you can be sure the following day won't be active because everybody is satisfied and the pressure is down. Everybody asks you about the night before and you know nothing will be as precise. I like to change things to keep the pressure going on during the tour so that every date, every night, is special and unique.
And, for something as special as Coachella, especially, it has to be different.
Will we have to wait another 30 years for the next tour?
When I came to Houston in 1986, it was the 25th anniversary of NASA and the 150th anniversary of Texas as well. I've learned that 30 years can go by quickly but, of course, I'm enjoying this so much and would love to come here more often now.
Somehow my father, Maurice Jarre, the great music composer in Hollywood (ed: who has a star on the Hollywood Walk of Fame), I always thought that I took a piece of the country from my father and, he may not be here now but he's with me in spirit and i'm quite happy to continue the Jarre presence in the country, and am quite happy to do that.
Who is your North American agent for this tour?
WME. Marc Geiger. He is a great friend and someone I have great admiration for. I'm really pleased to work with such a great talent in the music industry. He's spent a lot of energy and used his great talent to make this happen. I'm happy to work with such a great talented guy.
Jean Michael Jarre performs at Dallas' Verizon Theatre at Grand Prarie April 9, Houston's Smart Financial Center April 10, the San Jose National Civic Center April 15, Vancouver's Queen Elizabeth Theater April 17, Seattle's Paramount Theater April 18, and San Diego's Spreckels Theater April 21.
From Wikipedia:
| Date | Audience | Place | Event | Note |
| --- | --- | --- | --- | --- |
| 14 July 1979 | 1 million |  Place de la Concorde | celebrating Bastille Day | 1st entry in the Guinness Book of Records for largest outdoor concert crowd.[29][109] |
| 5 April 1986 | 1.5 million |  Houston | celebration of the 150th anniversary of Texas, and 25th anniversary of NASA | 2nd entry in the Guinness Book of Records.[2][28][110] |
| 5 October 1986 | 0.8 million |  Lyon | To celebrate Pope John Paul II's visit to Jarre's hometown of Lyon. | |
| 8, 9 October 1988 | 0.2 million |  London | Large outdoor concert titled "Destination Docklands" performed in London's docklands. | Noted for its planning difficulties and poor weather |
| 14 July 1990 | 2.5 million |  Paris la Defense | celebration of the 200th anniversary of the French Revolution 1789–1989 | 3rd entry in the Guinness Book of Records.[2][48][111] |
| 14 July 1995 | 1.25 million |  Eiffel Tower | UNESCO's 50th birthday and UNESCO'S proclaimed year of tolerance | Originally intended to take place at Les Invalides, but changed at short notice. Was originally announced as the first of a series of Concerts For Tolerance. Only the Paris concert took place. |
| 6 September 1997 | 3.5 million |  Moscow | Jarre was invited for a concert celebrating the 850th birthday of Moscow | 4th entry in the Guinness Book of Records (equalled with Rod Stewart's 1994 Copacabana concert). |
| 14 July 1998 | 0.8 million |  Eiffel Tower | Bastille Day | "Electronic Night", featuring Jarre performing with numerous dance artists, playing heavily remixed versions of Jarre's music |
| 31 December 1999 | 0.1 million |  Giza Plateau | New Millennium | "The Twelve Dreams of the Sun", celebrating the 7th millennium of Egypt, and part of the worldwide celebrations for the year 2000. |