FT. LAUDERDALE, FLA. (CelebrityAccess) The Flower Power Cruise, which recently disembarked in Ft. Lauderdale, Fla., isn't about the '60s bands. It isn't about the lectures on Deconstructing the Beatles or the Fab Four cover bands, nor the plentiful food, nor the parties or costumes or destinations.
It's about the napkins.
The cruise, one of six (soon to be seven) cruises produced by Star Vista Live, is unique although it isn't the only musical event out on the water, of course. Music cruises have been around for nearly two decades, with a couple taking credit for its origins. One of the granddaddies is Cloud 9's Jam Cruise, now on its 16th voyage. Sixthman is another longtime veteran cruise producer with events like the Kiss Kruise, the Impractical Jokers Cruise, and the Kid Rock's Chillin' The Most Cruise hosted by their namesakes. Entertainment Cruise Productions has the Monsters of Rock Cruise with acts like Tesla, Steve Vai, Extreme, Sebastian Bach and Queensryche. There's also the 80s Cruise hosted by Rick Springfield with acts like Loverboy, Mike + The Mechanics, Bill Ocean, Lou Gramm, Berlin, The Tubes. And, of course there's Gary Richards' electronic music event Friend Ship, a descendant of his Holy Ship! creation.
The Flower Power Cruise is different from all of those in one regard: it's the only music cruise this reporter has been on.
But it may be different in another regard: Star Vista and the Flower Power cruise, including its road crew, Cruise Productions, get high marks from bands and its crew.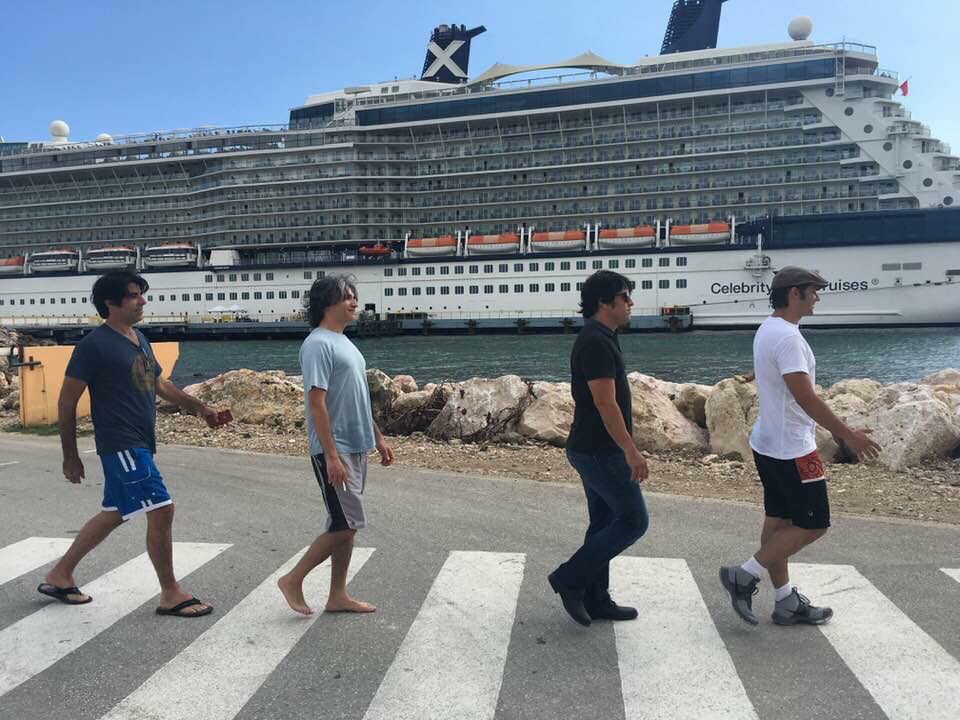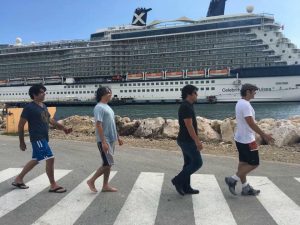 "I advance all the stuff ahead of time," Blaze, the tour manager for Family Stone, told CelebrityAccess. "They're fantastic. Top of the line. These guys are on point. They have stuff from two years ago still on file and they check with me to make sure it's still accurate. This year, I had to change a few things around but it's all done on email, man. It's all done by a click of the button. They always follow through, always follow up and it's all first class."
"This is a well-oiled machine," added Bob Cowsill from The Cowsills. "This is our first visit to it but when you walk into it, you know when something is going on. From the pickup at the airport to everything else, it's an 'A' act. It's just amazing how they've got it down pat."
"It was a great time," said Charlie Davis from Paradise Artists, who had approximately eight acts on the cruise. "Star Vista, Alan and Mike throw a great party. They know what they're doing."
Full disclosure before returning to the butt-kissing: this reporter wrote about Star Vista approximately a year ago and was invited, at the company's expense, to visit the operation, and the invite was accepted. There was no agreement to report on it; just to check it out. Still, it was just pretty cool and worth sharing.
"I try to invite the press to check out these cruises because you don't really get a sense of what it's about until you see it," executive producer Alan Rubens said. He had stressed in the original article that Star Vista tries to overwhelm its guests with events, to provide them almost more than they could possibly see. Bands play at least twice, sometimes three times so that everybody on the ship has a chance to see them, and programs (printed by the ship) are distributed daily, placed onto the cabin beds. There are performances from the morning 'til midnight, activities from costume parties and a Gong Show event to intimate AA meetings for "Friends of Bill W.," as well as the touring lecture series "Deconstructing The Beatles," a fascinating look at the group's albums, one-by-one, by musicologist  Scott Freiman.
Star Vista is a part of Time-Life and is an extension of the commercials that would appear on Sunday afternoons, advertising 10-CD sets for music of various genres and eras –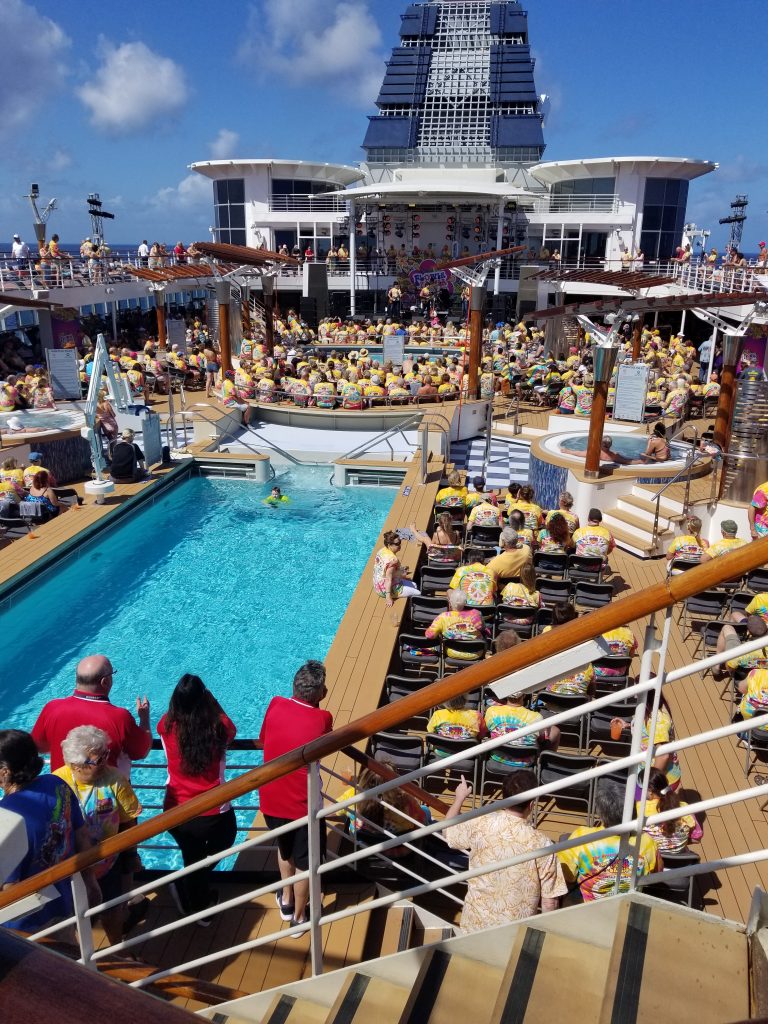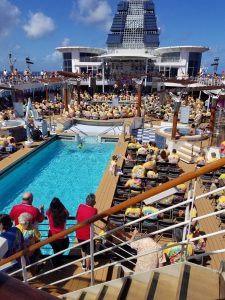 for instance, Malt Shop Memories. As record sales waned, the advertisements turned into themed cruises, with the acts from those packages appearing in real life. Star Vista launched nine years ago with the Malt Shop Memories Cruise. It soon added cruises like the Flower Power Cruise, Country Music Cruise, Rock & Romance Cruise, the Soul Train Cruise and the recent and quickly sold-out Southern Rock Cruise. Next year comes the Disco Cruise with KC & The Sunshine Band, Kool & The Gang, The Village People and others already signed up.
Musical tours have musical hosts (such as Rick Springfield), and this one was hosted by Peter Asher, not only known as one-half of Peter & Gordon but as manager for acts like James Taylor and Linda Ronstadt as well as an early exec of Apple Records. Asher not only performed three times (with special guests, once acoustically) but introduced as many acts as he could, including a gushing intro for Crosby, Stills & Nash tribute band CSNsongs, Cara Lee – whom Asher had worked with and was performing as Cher – and Grand Funk Railroad ("If we were the British Invasion, they were the American Resistance and, in many ways, they won").
(Please pardon the unprofessional video snippets throughout this article)
As for the napkins:
Star Vista decorated the ship with lava lamps and beaded curtains ("Yeah, and the wall decorations in the elevators," Susan Cowsill said. "They're solid. They go up once a year. They redecorate the entire boat"). One pool party, featuring Beatles cover band The Jukebox from Puerto Rico (yes, they spoke Spanish between performances) included free rum punch drinks for an hour – a gesture appreciated by all those who paid for the cruise but something that could be knocked off by a corporate bean counter staring at the bottom line. Star Vista also places in the rooms each night a different gift, from a backpack to a picture frame to a first-aid kit, all embossed with the Flower Power remembrance.
And all napkins on the ship were replaced with ones that included the Flower Power Cruise logo.
It became a point of discussion: as corporations continue to look at the bottom line, counting the mints on the pillows as it were, it would seem that a corporate partner would eliminate the napkins first to maximize the profit margin.
"I think it's well known that we don't want to do [corporate partners]"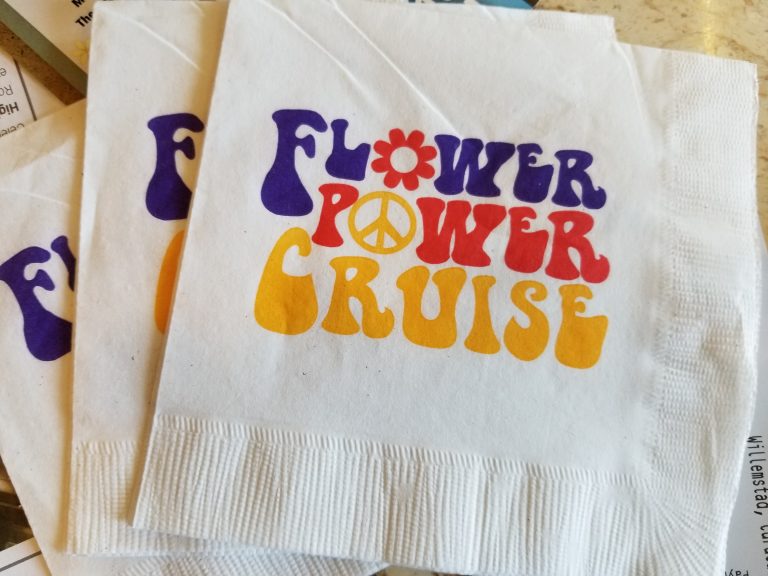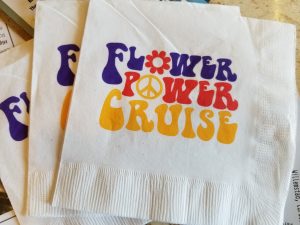 "I think it's well known that we don't want to do that," Rubens said. "We originally had a partner that we bought out years ago. This is us, this is who we are. We have a vision for it, a concept to it. … I think we can do it because we don't have the corporate influences of outside forces saying, 'Well, can you save five dollars here? Why do you need the napkins?'
"We're owned by Dick Clark Productions and we have a wonderful relationship with them and they say we're doing great. .. Years ago they bought Direct Holdings, which is our company but, again, we operate independently. We don't use their name to throw around, except for certain acts if it opens a door."
A member of Iron Butterfly noted that cruises like this one were nearly essential to the bottom line as demand for their music genre wanes, but members of the Family Stone and the Cowsills said their careers are seeing upswings, if for different reasons. Together though, as AEG's Rick Mueller said on Bob Lefsetz's recent podcast, heritage acts are having a resurgence.
The Cowsills, (repped by Paradise Artists) were more than happy to address the question in unison, saying these have been great years for them.
"We've been benefiting for the last four years," Bob Cowsill said. "Things have started to happen for us – "
"We've been busy," Paul Cowsill added. "The Happy Together Tour – "
"We are definitely riding some kind of wave," Susan finished.
"We are definitely riding some kind of wave," Susan Cowsill said.
The Cowsills, for those who may not be familiar, were the family act of '60s and the inspiration for The Partridge Family, with hits like "The Rain, The Park & Other Things" and their rendition of "Hair." (and many years later) A comprehensive documentary (that includes one of the most tragic days any family could ever endure) is available on Amazon Prime, narrated by Bob. Word among some was that the Cowsills wanted to work hard at getting invited back to the ship, and they definitely were the talk of the boat. One Vietnam vet was heard over dinner, when asked what act impressed him the most, growling out, "Well, back when I was in Vietnam, this wasn't my type of music but I would say The Cowsills."
The Family Stone has become a tradition on the cruise, having been invited to play on all three of them, and got word after the last performance that they would be back next year because of demand. Founding members Jerry Martini and Greg Errico (touring with Sly And Cynthia Robinson's daughter, Phunn, among other talented musicians) credited much of the band's recent success to APA's Guy Richards, a recent addition to the team now that Martini has publishing rights to the band and after decades of frustration with other professional relationships. Martini also credited recently added frontman Swang Stewart, who can be compared favorably with Prince without lightning striking.
"I'd like to do every one of them," Martini said. "We've got a ballad thing. We've got about 25 ballads. Throw a couple of uptempo things in there. We have 300 songs in our songbook."
"I'd like to do every one of [the cruises]," Family Stone's Jerry Martini said. "We've got about 25 ballads. Throw a couple of uptempo things in there. We have 300 songs in our songbook."
"We could do jazz, jam, the blues," Errico added. "We could play any of those. Our songbook fits anywhere."
Cruises have their Julie McCoys, their cruise directors, who will appear daily on the less-than-diverse television channels, informing customers of the events of the day and responsibilities like adjusting their watches to the new time zone. Only some of the musical cruises bring along their own cruise directors, such as Jason Venner who, along with radio personality Joe Johnson, helps introduce acts and provide artist interviews that are broadcast throughout the ship. Venner, a former ballroom dance instructor, cruise director and a host of the traveling version of "Dancing With The Stars," does all of the above and more, and is seen around the boat all day and night.
"We pride ourselves on having a host that is involved with the music, that is involved with programming, the planning," Venner told CelebrityAccess. "I'm involved with these cruises 16 months out. As we build toward next year, I'm helping with the lineups, I'm helping with how it looks around the ship, with everything. I have a big investment in this in my time and in my effort. When we get to the cruise itself, I care – a lot. If you use the host that's already on board, I'm sure he or she is very professional but they don't care. It's not their product; their product is the other 51 weeks out of the year.
"We have meetings at 8 a.m., talking about the day. Every time I'm on stage, it's great, but there's a counterpart that no one sees where I'm in a meeting, where we are talking about production. We actually take over the ship for all intents and purposes. The ship actually answers to us. We work with them, obviously; we're not taking over their duties but we know entertainment, we know housekeeping, we know all aspects of a cruise ship."
A few of the acts (with accolades) included The Guess Who, Herman's Hermits, The Hollies, Felix Cavliere's Rascals (including new buddy David Martin), and Micky Dolenz & Mark Lindsay accompanied by The Fab Four (video) (Dolenz is apparently touring next year with Mike Nesmith). Acts that launched from Ft. Lauderdale (Iron Butterfly, Herman's Hermits, etc.) flew off at the first destination, Aruba, replaced by the return acts (Family Stone, The Guess Who, Grand Funk Railroad (video), etc.). The Celebrity Summit has one main theatre that can seat half the ship (Star Vista divides the cruisers into two groups – Gold and Silver – with each getting a separate show). It also has two smaller showrooms, one that was dedicated to Beatles covers bands (Star Vista partners with the festival Abbey Road on the River).
Next year's cruise has plenty of acts lined up, including The Beach Boys. The cruise has sold out every year and more than a third of the cabins were sold during this year's cruise.
Star Vista Live is currently wrapping up the Rock & Romance cruise and readying for the Abbey Road On The River fest.