CINCINATTI (CelebrityAccess) The possibility of PromoWest Productions building a venue along the banks of the Ohio River is becoming more of a reality with yesterday's endorsement by Cincinnati Mayor John Cranley.
"I believe that the PromoWest indoor/outdoor proposal is the best option for The Banks and will provide the greatest benefit to our community," Cranley said prior to a public meeting of the Joint Banks Steering Committee, according to the Cincinnati Enquirer.
The Banks is is a riverfront area / mixed-use project between Paul Brown Stadium and Great American Ball Park. PromoWest is competing with Live Nation and the Cincinnati Symphony Orchestra to build a live entertainment venue at the project. It had been working on building a venue in the area for years but thought it was dead in the water last year. The promotion company, which produces the city's Bunbury Music Festival, pitched a venue similar to its Stage AE concert hall in Pittsburgh.
"We were told The Banks Steering Committee had given the PromoWest project the thumbs down," PromoWest's Scott Stienecker told WCPO-News in January. "Now, Tom Gabelman (of The Banks steering committee) just called me and he said they are considering us for an arena within The Banks riverfront area."
The Banks is apparently in need of the project, having reportedly lost more than seven restaurants over the last two years and is without a developer to lead new projects.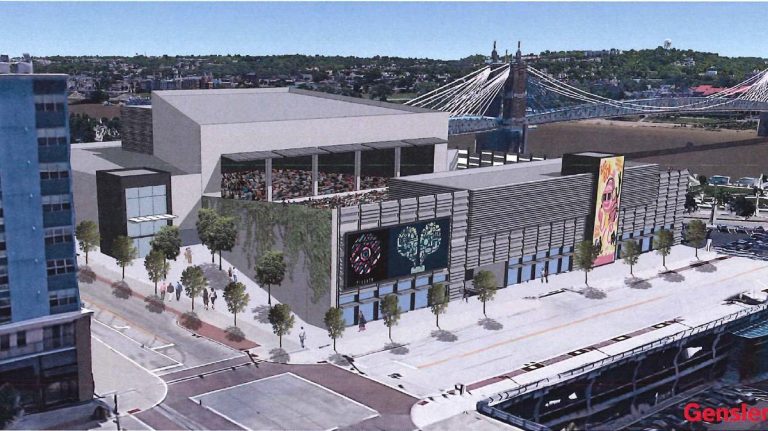 Live Nation has also proposed a concert venue at The Banks, a $66 million indoor/outdoor facility dubbed "Banks Event Center." The venue would be situated on "Lot 24," east of Paul Brown Stadium between Race and Rosa Parks streets. It would have a giant retractable wall separating the covered stage and seating area with outdoor seating overlooking the Ohio River and a 50-foot-long bar, according to the paper.
The Cincinnati Symphony Orchestra has also submitted a proposal for a $19 million, three-story, 4,000-capacity venue near Smale Riverfront Park.
PromoWest's venue would use an oversized airport hangar door to divide indoor and outdoor seating at the venue, which would have a 2,500-plus capacity and feature walkways to connect the facility to Smale park, according to the Enquirer.
Both city and county officials need to sing off on a final recommendation for a preferred developer, which could be decided at today's meeting, according to the Enquirer.