(CelebrityAccess) Peter Tork, bassist for the Monkees, died Feb. 27. He was 77.
Tork's death was confirmed by his sister Anne Thorkelson, who did not say where he died. Tork was diagnosed with adenoid cystic carcinoma, a rare cancer affecting his tongue, in 2009.
It is with beyond-heavy and broken hearts that we share the devastating news that our friend, mentor, teacher, and amazing soul, Peter Tork, has passed from this world. As we have mentioned in the past, the PTFB team is… https://t.co/ORi2nFpvT7

— Peter Tork (@TorkTweet) February 21, 2019
Tork joined the Monkees, the made-for-television answer to the Beatles, when he was 24 years old. He was the oldest member of the group when "The Monkees" premiered on NBC in 1966.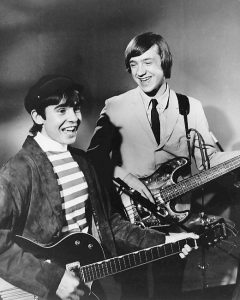 He told the New York Times that year that the emotional age for all the members of the group was 13. Tork played the self-described "dummy" of the group, a persona he had already perfected as a folk performer in Greenwich Village because he would play dumb when his stage banter went flat, according to the NYT.
Tork won his role over candidate Stephen Stills. Stills had auditioned for Monkees but was turned down because the show's producers felt his hair and teeth would not photograph well on camera. They asked Stills if he knew of someone with a similar "open, Nordic look," and Stills suggested Tork.
Tork was a well-known musician and, unlike the rest of the Monkees, played on the band's first two albums, on some tracks. He subsequently played keyboards, bass guitar, banjo, harpsichord, and other instruments on their recordings. He also co-wrote the closing theme song of the second season of The Monkees, "For Pete's Sake." He was responsible for the piano introduction to "Daydream Believer" and the banjo part on "You Told Me."
Striking out on his own, he formed a group called Peter Tork And/Or Release with girlfriend Reine Stewart on drums.
In 1986, after a 1985 tour with Jones in Australia, Tork rejoined fellow Monkees Davy Jones and Micky Dolenz for a highly successful 20th anniversary reunion tour. He toured intermittently with his former bandmates since then.
In early 2008 Tork added "advice columnist" to his resume by authoring an online advice and info column called "Ask Peter Tork" at the webzine The Daily Panic. In 2011, he joined Dolenz and Jones for the 2011 tour, An Evening with The Monkees: The 45th Anniversary Tour.
Tork joined Dolenz and Michael Nesmith with a Monkees tour in 2012 in honor of the album Headquarters 45th anniversary, as well as in tribute to the late Davy Jones. The trio would tour again in 2013 and 2014.