BLACK ROCK DESERT, Nevada (CelebrityAccess) The annual rush for Burning Man tickets took place yesterday, which is traditionally a battle of the fittest, but April 10's affair appeared to be a near disaster.
Burners are used to waiting in a queue, hoping to get tickets to the event in Nevada's Black Rock Desert but apparently, this ticket Main Sale was particularly frustrating, filled with unexplained technical issues.
Approximately 23,000 tickets and 10,000 vehicle passes were offered but this time luck of the draw wasn't in play. Burners were in the digital queue for nearly an hour and a half before the following statement from Burning Man was issued:
"We are experiencing unexpected technical issues with today's ticket sale. We're sorry for the difficulty and are looking into what happened. We will share more info when it's available. #burningman #ticketing #blackrockcity #brc2019 #bmantickets."
The backlash was unsurprising and swift.
#burningman #burningman2019 #tryingtostaycalm & #young pic.twitter.com/r58PL2P8GG

— HRHwasHere (@CLachuer) April 10, 2019
The issues ranged from potential buyers getting kicked out of the queue to getting a notice that they were cheating. Others were told tickets were sold out while their Burning brethren were still buying up ducats, according to Mashable.
Also, there was talk of "hidden buttons" and requests for nonexistent access codes that made for conspiracy theories that some Burners had a special inside line.
Oof, there's a hidden button you need to click to get burning man tickets pic.twitter.com/8DnOCNDqvD

— Chase Lambert (@chaselambda) April 10, 2019
Somebody has any idea what to do from here?!#burningman the site is stuck! pic.twitter.com/Y5cAxsajAV

— Ishai Ankri (@Ishaiankri) April 10, 2019
burning man tickets… site crashed on me and my wife… re-up and at it again… pic.twitter.com/UFcrHUDGsQ

— Jay Ross (@DJay_Ross) April 10, 2019
Clicked Pay, got an error and crashed out- so so cruel! #burningman #burningman2019 pic.twitter.com/0bmcZBAYUi

— Adriana Cristea (@AdriACristiA) April 10, 2019
About three hours into the sale, without further updates from Burning Man, many refreshed their browsers to learn they were now too "early" for the sale.
hey @burningman what's going on? hit the sale at 12:01pm PDT and waited in que 4hrs before this happened pic.twitter.com/ZApnmUrtyD

— brunch ghoul 🔥)°( (@chazzzles) April 10, 2019
Finally, refreshing a browser would bring up the notice that the sale was over.
Been in the que since 12:01, refreshed the page 10 mins ago….. then got this message!!!! Absolutely livid pic.twitter.com/zD6jkE8Qu0

— Jon-Paul Schofield (@jps_14_) April 10, 2019
About 15 hours ago, Burning Man posted that the sale had ended, without further explanation but added that "there are many more ways to get to Black Rock City. Learn more here about the Secure Ticket Exchange Program and the OMG sale."
That didn't seem to work, either: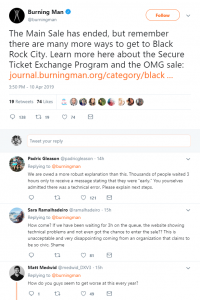 So far, there appears to be no explanation as to what happened.
h/t Mashable