NASHVILLE, TN (CelebrityAccess) — On Thursday (March 2), Tennessee's Republican Gov. Bill Lee signed a new bill into law that places new restrictions on public drag performances in the state.
The bill defines drag shows as adult cabaret performances and categorizes performances by male or female impersonators as adult cabaret performances, a category that also includes go-go dancers, topless dancers, and strippers which appeal to "prurient interests."
In a twist of irony, a photo purportedly from Lee's high school yearbook resurfaced, days before the Governor signed the measure … of Gov. Bill Lee dressed in … you guessed it – DRAG.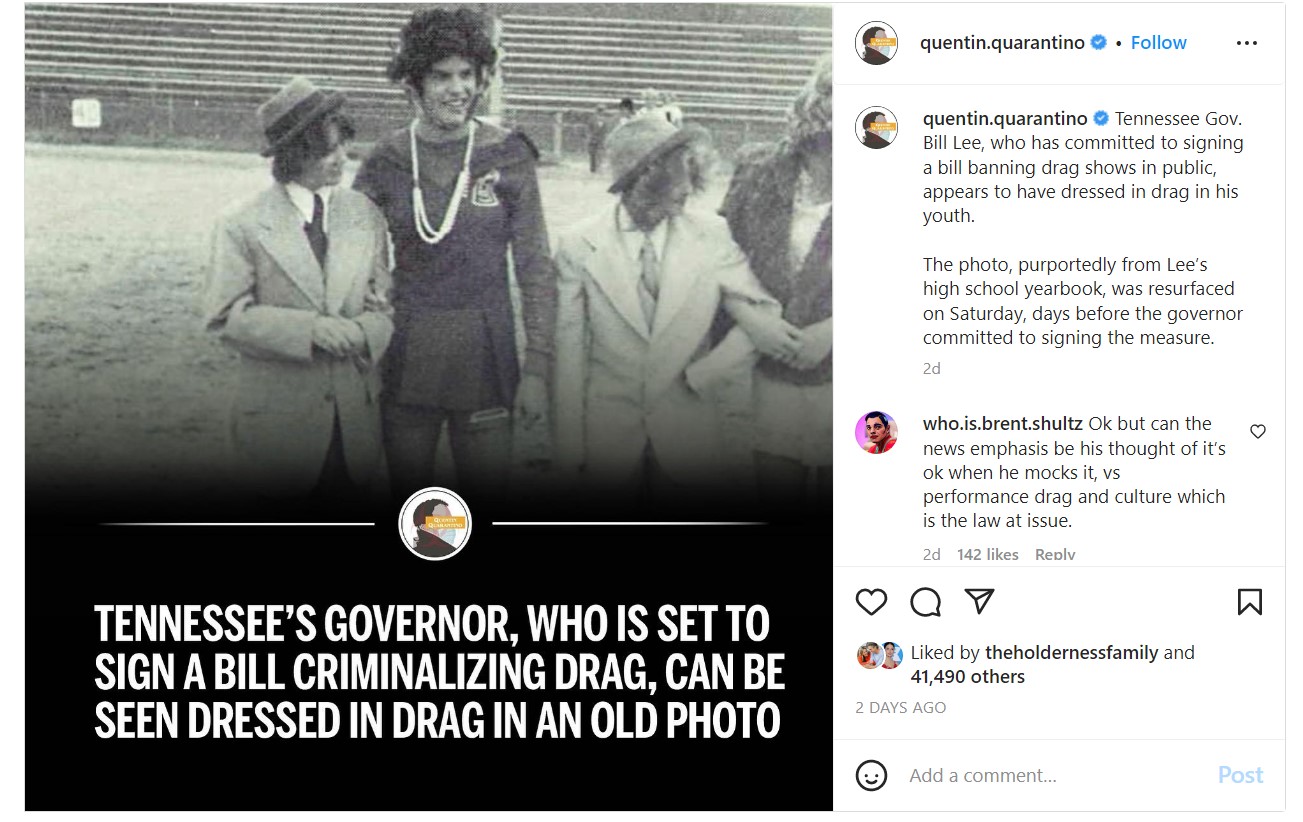 In an interview with CNN, Republican state Sen. Jack Johnson, who sponsored the bill, said that the bill was not meant to target drag performers or transgendered citizens but was intended to ensure that children are not present during sexually explicit performances.
"For clarification, this bill is not targeting any group of people. It does not ban drag shows in public. It simply puts age restrictions in place to ensure that children are not present at sexually explicit performances," Johnson told CNN.
The bill will likely face a challenge from civil rights groups on free speech grounds, including the Tennessee American Civil Liberties Union (ACLU). After the passage of the bill, Stella Yarbrough, legal director of the Tennessee ACLU said:
"We are disappointed that Governor Lee chose to sign a bill that politicians intended to censor drag performances. However, I want to be abundantly clear: the law that was just signed does not make it illegal to perform in drag in Tennessee. The law bans obscene performances, and drag performances are not inherently obscene.
"However, we are concerned that government officials could easily abuse this law to censor people based on their own subjective viewpoints of what they deem appropriate, chilling protected free speech and sending a message to LGBTQ Tennesseans that they are not welcome in our state.
"We will challenge enforcement of this law if it is used to punish a drag performer or shut down a family-friendly LGBTQ event."