(Hypebot) — D.I.Y. music distributor DistroKid has added a mobile app. Initially only available for iPhone, it makes DistroKid's suite of tools available to artists on the go.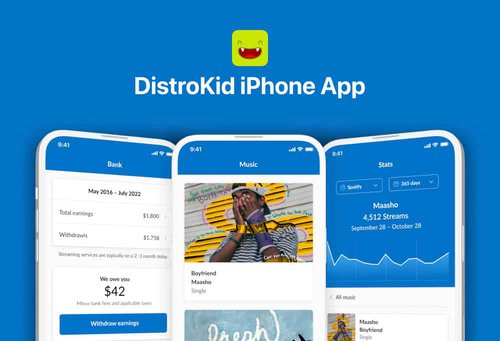 Users can upload new releases, receive instant payment alerts, access stats from Apple and Spotify, edit metadata, and other features.
A search of Apple's App Store found no mobile app from competitors CD Baby or TuneCore. United Master does offer an app.
"The number one request we've gotten from DistroKid members is a dedicated mobile app," said Matthew Ogle, Vice President of Product at DistroKid. "With music consumption, promotion, and increasingly even music creation happening predominately on mobile, we are meeting artists where they're at, on their phones. "
The DistroKid iPhone app is available for download here.
Bruce Houghton is Founder and Editor of Hypebot, a Senior Advisor at Bandsintown, President of the Skyline Artists Agency, and a Berklee College Of Music professor.