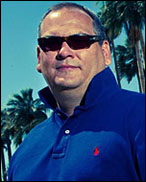 LOS ANGELES (CelebrityAccess) — Skip Paige, chief operating officer for the AEG-affiliated concert and festival promoter Goldenvoice, announced that he's retiring from his position at the company.
According to Billboard, Paige informed his colleagues of his decision on Friday and said that his last day would be this Wednesday and that he plans to spend more time with his family.
Since joining the Goldenvoice team in 1998 and has played a part in the launch of Goldenvoice's iconic brands such as the Desert Trip and the Stagecoach Festivals, as well as their flagship event the Coachella Music & Arts Festival, which last year, grossed a record $114 million across two weekends.
Paige got his start in the industry in the 1980s when he started promoting concerts while attending California State Polytechnic University in Pomona, Billboard said.