EDMOND, Okla. (CelebrityAccess) "America's Got Talent" has had plenty of wonderful surprises over the years and one is certainly the winner of two seasons ago, Darci Lynne, basically a girl who walked onstage with a ventriloquist puppet and low expectations and thoroughly blew away the judges, the audience, and the nation.
Since then, not only did she win the $1 million prize for the best of the season but also the praise of her idol, Terry Fator, winner of season two of "America's Got Talent" and now a very successful star of Las Vegas, who said "she is, at 12 years old, one of the most unbelievable, perfect ventriloquists I've ever seen, and she'll only get better" and also said  she is "one of the most talented human beings on the planet."
Darci Lynne-Farmer is returning to "America's Got Talent: The Champions" tonight as a wildcard, after having been voted off of the show. She is then heading out on her second tour after playing 52 dates last year (worked around the requirements of her middle school) on which she moved more than 100,000 tickets. The year included a Christmas special with guests Toby Keith, Lindsey Stirling, Kristin Chenoweth, Pentatonix and Hunter Hayes and a debut at the Grand Ole Opry.
Lynne talked to us after she came home from school at Deer Creek Middle School in Edmond, Okla., where she is an 8th grader. She missed the first day of her seventh grade year because she had to appear on "America's Got Talent."
The tour kicks off Feb. 15 and the last date on the books so far is May 19 at Cincinnati's Aronoff Center for the Arts.
So you'll be a wildcard tonight. Anything you can tell us?
Yeah, I got the wildcard because I got voted off the first round, which is kind of upsetting, but I'm just super happy to have a second chance and maybe win the Ultimate Champion title. It's super exciting to me and I'm really glad and thankful I was chosen. I can't wait to come back.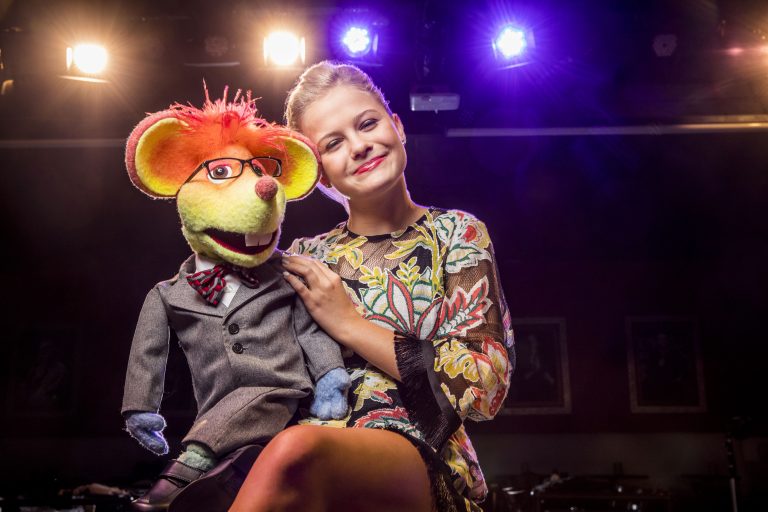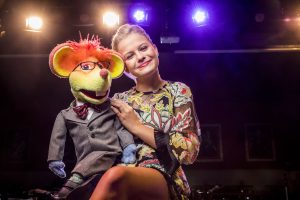 Can you tell us about what character will be performing, or what song?
I'm bringing Petunia but I really don't want to give away the song.
So you'll be heading out on tour
I go to public school during the weekdays and we set my tour coming up so that I only have shows on the weekends so I can go to school during the weekdays and then I can go out and go to my shows on the weekends. It starts Feb. 15 in Bethlehem, Pa. It's called "Fresh Out Of The Box." It's an 18-city tour. Super exciting. Last year we sold over 100,000 tickets. Hopefully it will be even more successful this year. But it's really fun traveling around the United States.
I have a feeling you'll be doing more dates.
That would be awesome.
You did 50 dates last year?
52! All year. It went from January to January. It worked around school; it was on the weekends as well.
Did you ever have singing lessons?
I learned how to sing when I was six. My mom's a singer so I kind of get it from her. But then I started working with different vocal coaches and now I have one based in L.A., Eric Vetro and he's really great. (Note: Eric Vetro has worked with everybody from Lorde to Bebe Rexha to Reese Witherspoon ericvetro.com/)
You've done a lot of stuff over the past 18 months. Anything in particular that you are personally proud of?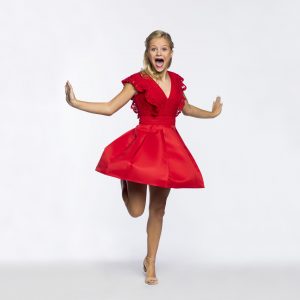 Definitely after winning "America's Got Talent," I went on my 2018 tour which was Darci Lynne and Friends Live, and it was so much fun. Then I got to do my very own Christmas Special on NBC, just this last Christmas. It was called "Darci Lynne: My Hometown Christmas" and that was an incredible experience. I got to perform on the tree lighting in New York in Rockefeller Center. I got to do AGT: The Champions this year, which is a new show on NBC. It's winners and finalists from all over the world from past seasons, all coming back and competing with each other.
Now I'm starting a new tour and it's just been a great year for me.
Well, gosh, thought you'd mention the Grand Ole Opry.
Oh yes! The Grand Ole Opry! I got to have my debut there which is incredible too. Stepping on that stage is so cool.
Because I try to ham-fistedly try to work Puddles Pity Party into every interview, have you ever interacted?
(laughs) Puddles the clown? I haven't seen him since I won. It's been a really long time, but he's so great, and really nice, and I love his act. So unique. He's really awesome.
One last thing: any long-term concepts, anything regarding your career beyond this summer? Have you talked to people about residencies in Vegas? Anything like that?
Probably not a residency in Vegas. I don't see myself in Vegas as a 14-year-old. That doesn't seem really appealing to me. I don't really know what's coming for me but I'd be really excited to record some music or maybe look into an acting career, something like that.