RHODE ISLAND (CelebrityAccess) Taylor Swift, whose Rhode Island estate was recently the final destination of a car chase, apparently had a little fun with the situation.
A police chase Tuesday ended with a stolen car crashing into the gates of her beachfront home. Swift wasn't home at the time.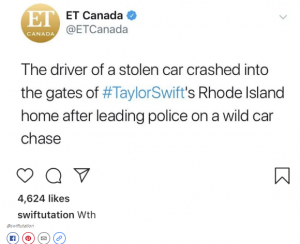 A fan of the singer shared a post from Entertainment Tonight Canada about the crash on Instagram and Swift responded it to it with "Nothing good starts in a getaway car," which happens to be the first lyric to the song "Getaway Car."


Police say the 19-year-old driver, who is facing several charges, failed to negotiate a 90-degree curve near Swift's home, hit the wall outside her property and ricocheted into the main entrance gate.