ATLANTA, GA (CelebrityAccess) – Sixthman, the leader in festivals and music cruises for more than two decades, has joined forces with Kevin Smith and his visionary View Askewniverse for the Jay & Silent Bob Present Cruise Askew, sailing February 23-26, 2024, from Miami, FL to Nassau, Bahamas aboard the Norwegian Pearl.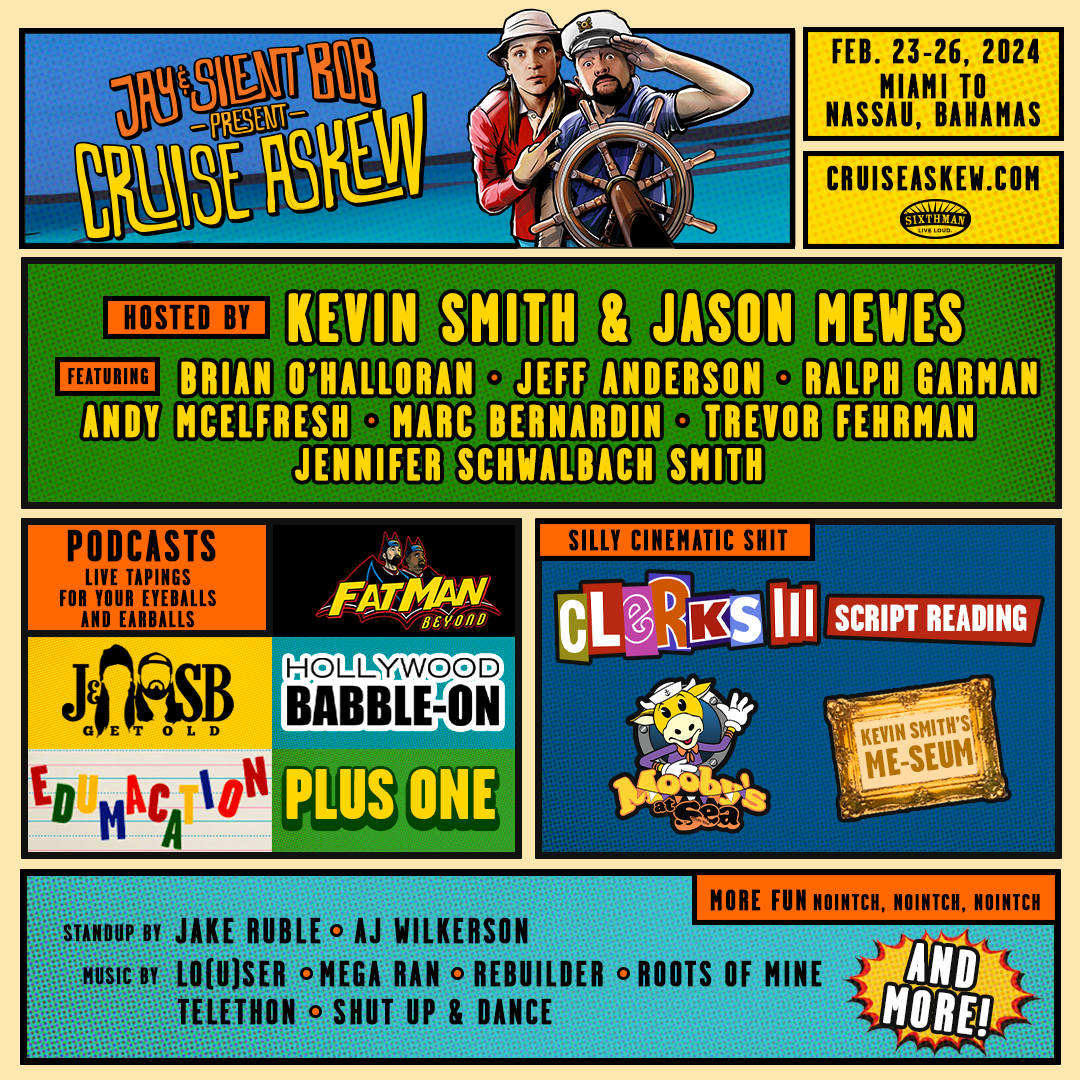 Hosted by Smith and featuring Jason Mewes, Jay & Silent Bob Present Cruise Askew will offer an immersive voyage into the Cruise Askewniverse via a one-of-a-kind slate of activities, with live podcast recordings, stand-up comedy, autograph and photo sessions, and a plethora of enhanced experiences.
"As a man who's been afraid of sharks since he first saw Jaws in 1975, I'm gonna do my best to make sure none of us get eaten on the Cruise Askew! I'm also gonna go out of my way to make sure we all have a great time while on the high seas by loading the three days with any and all activities a fan of my flicks could want!" says Smith, "I'll make it an experience folks will treasure – and all you have to do is bring your own booty!"
Boasting an all-star lineup of View Askewniverse favorites (including Brian O'Halloran, Marc Bernardin, Ralph Garman, Andy McElfresh, Jeff Anderson, Trevor Fehrman, and Jennifer Schwalbach Smith), the cruise will see live tapings of such beloved Smodcast Network podcasts as Jay and Silent Bob Get Old, Fatman Beyond, Hollywood Babble On, Edumacation, and Plus One.
Cruisers can dive even deeper into Smith's world with a spectacular schedule of "Silly Cinematic Shit," including the Kevin Smith Me-seum, a "Mooby's at Sea" pop-up restaurant (complete with late-night Hater Tots), and what will surely be an unforgettable script reading of an unreleased version of the Clerks III.
The cruise will feature hilarious stand-up sets from comedians Jake Ruble and AJ Wilkerson and live musical performances by Lo(u)ser, Mega Ran, Rebuilder, Roots of Mine, Telethon, and Shut Up & Dance.
Lastly, the cruise will feature special theme nights – including a '90s Prom hosted by Schwalbach Smith – along with Bird Bingo, exclusive behind-the-scenes panels, Q&As, activities with favorite actors and podcast hosts, movie screenings, and more.
First Round Pre-sale Signups are available now through Sunday (March 26) at 11:59 pm EST. Pre-sale Signups conclude Wednesday (March 29) at 11:59 pm (EST). All Pre-Sales will secure a once-in-a-lifetime cabin photo opportunity with host Kevin Smith and Jason Mewes in character as the one and only Jay & Silent Bob.
Public On-Sales follow on Friday (March 31) at 2:00 pm EST, exclusively at jayandsilentbobcruiseaskew.com. Three different payment options will be available, with Automated Monthly Billing allowing for a deposit as low as $100 per person.
_______________________________________________________
Sixthman has also teamed up with Stevie Van Zandt's Renegade Circus to announce the Outlaw Country Cruise 8, sailing February 4-10, 2024, from Miami, FL, to Puerto Plata, Dominican Republic and San Juan, Puerto Rico, aboard the Norwegian Pearl for six nights of music and adventure on the Caribbean Sea.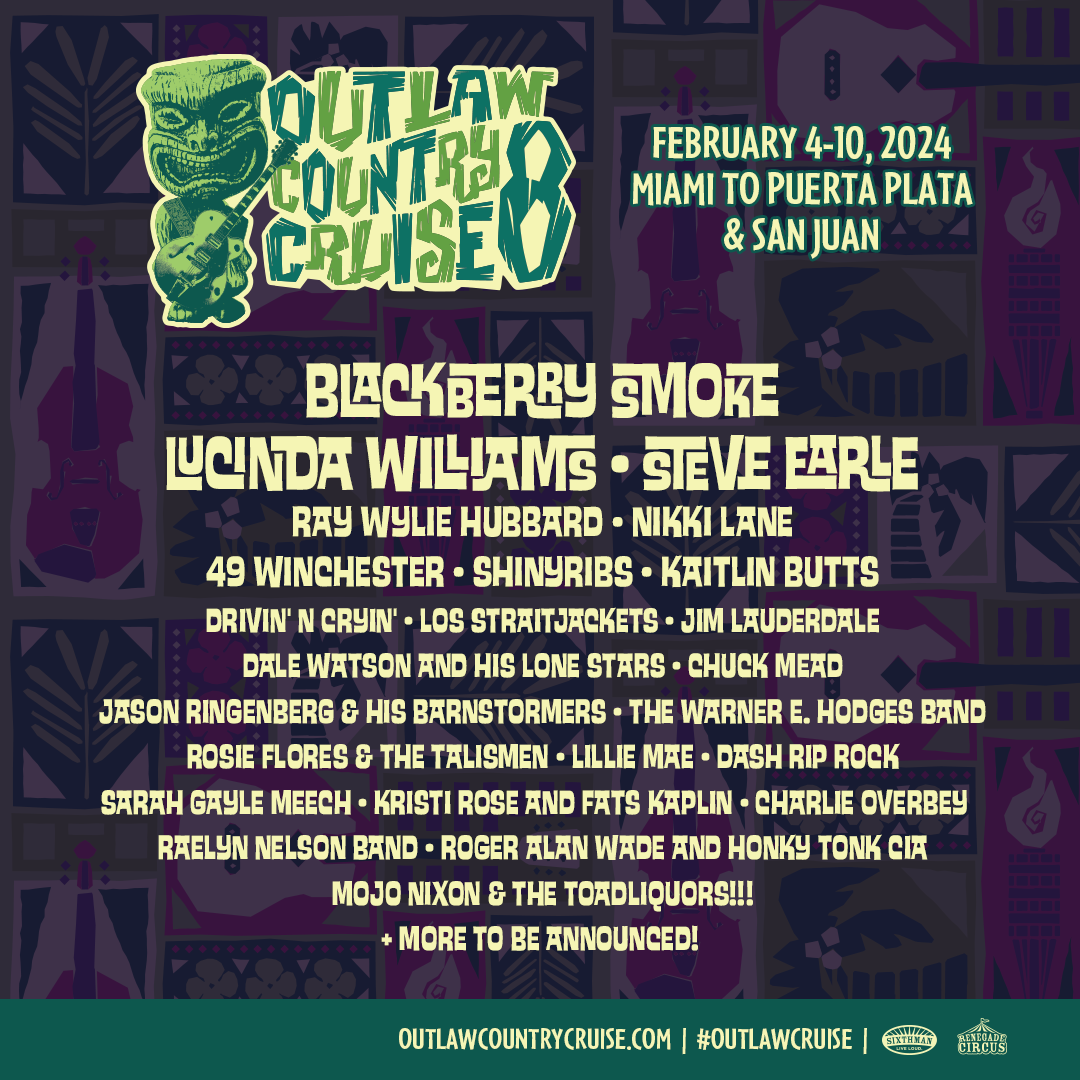 The eighth voyage of the critically acclaimed Outlaw Country Cruise will feature a star-studded lineup of legendary icons and rising new artists, including Blackberry Smoke, Lucinda Williams, Steve Earle, Ray Wylie Hubbard, Nikki Lane, 49 Winchester, Shinyribs, Kaitlin Butts, Drivin' N Cryin,' Los Straitjackets, Jim Lauderdale, Dale Watson and His Lone Stars, Chuck Mead, Jason Ringenberg & His Barnstormers, The Warner E. Hodges Band, Rosie Flores & The Talismen, Dash Rip Rock, Sarah Gayle Meech, Lillie Mae, Kristi Rose and Fats Kaplan, Charlie Overbey, Raelyn Nelson Band, Roger Alan Wade and Honky Tonk CIA, Mojo Nixon & The Toadliquors, and more to be announced soon.
The outlaw music and activities never stop, with five unique venues stacked with memorable performances, once-in-a-lifetime collaborations, specially curated tribute shows, and SiriusXM Sessions at Sea radio tapings hosted by SiriusXM Outlaw Country DJ Steve Earle and the one and only Mojo Nixon.
Sign-ups for pre-sales are available now through Wednesday (March 29) at 11:59 pm EST, with public on-sales following on Friday (March 31) at 2:00 pm EST, exclusively at www.outlawcountrycruise.com.