This week In the Hot Seat with Larry LeBlanc: Chris Macmeikan, Music Director, Continental Drifts.
Anyone seeking Chris Macmeikan in coming weeks is advised to start checking music festival listings throughout the UK, and Europe.
Macmeikan will either be rampaging full-throttle with kid-like enthusiasm through a four hour set as renowned DJ Chris Tofu with an audience in front being a sea of churning, flailing bodies.
Or, as the festival producer or organizer, he will be ensconced near backstage in his revered Bongo Van hammering out intricate festival production issues.
For nearly three decades, Macmeikan has overseen thousands of club and festival events throughout the world.
With a fierce dedication to Vintage Remix sounds and utilizing film, and dance elements, he has been billed as Chief Vibes Master at the likes of Glastonbury (where he runs Shangri-La), Camp Bestival, Edinburgh Fest, Sydney Festival, Revolution Festival, Boomtown, Latitude, Lowlands, Wilderness, Shambala, and the Secret Garden Party.
To name just a handful of his DJing triumphs.
A full production event company launched in 1996 and based on a boat docked at Hale Wharf, Ferry Lane in London, Continental Drifts offers production services for everything from corporate parties to large scale festivals to community events.
Its services include event management, licensing, health and safety planning, overseeing brand activation, artist bookings, and programming as well as even offering a pre-event consultancy service which can involve feasibility studies and license applications.
Continental Drifts' client portfolio includes some of the biggest community events in the UK such as Lewisham's People's Day; The Great British Carnival; Elephant & The Nun; Southwark Firework celebrations; and Haringey at 50.
Among its top-caliber festival clients have been Glastonbury, Wilderness, Lovebox, Boomtown, Shambala, LolliBop, We Are FSTVL, OnBlackheath, Alice in Winterland, and Grinagog!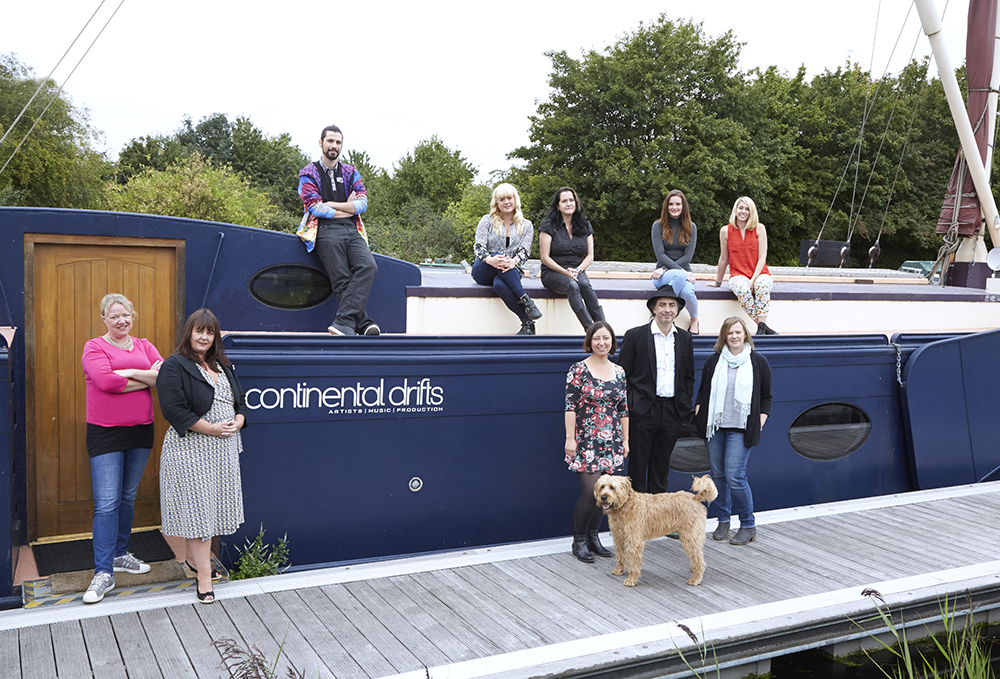 CAUTION: IF YOU ARE OFFENDED BY STRONG LANGUAGE YOU, PERHAPS, SHOULDN'T READ THIS. 
You wear multiple hats at Continental Drifts, as a festival producer and organizer, and being the colorful DJ Chris Tofu.
We organize gigs for about two million people a year. There's 10 people working in the office. My two other business partners, Mel Wilds and Mandy Janes are producers. So they produce events. They just produced the OnBlackheath Festival and just loads of events. We are dedicated to doing free community events as well as commercials events. So there are a lot of gigs that you have probably never heard of that probably a thousand people go to. So we have that going on, and then DJ things just come along. It's like an obsession.
The Continental Drifts' office is on a boat docked at Hale Wharf, Ferry Lane in London?
Yes. Our office is on a boat on a little river in London. There are 30,000 people living on this river when there was practically none 10 years ago. We've been here 6 or 7 years now. It's much nicer to work down here. You feel like you are in the countryside.
Continental Drifts organizes events from top to bottom including the planning of crowd sites, traffic, health and safety issues, and emergency and evacuation roll-outs.  Also hiring the talent. Anything else?
Of course, there's production. I'm on the programming side. So we (my team) are all about programming.
Essentially, you are sometimes the artistic director for festival clients?
Yeah, we are the artistic directors. Then there's something like Glastonbury where we've got Shangri-La (which In its 10th incarnation has a deep history in outsider art and underground culture). That's different.
How has your summer been for festival work?
At one point, I did 5 festivals in 48 hours. Everything is coming in at once. I am absolutely exhausted.
You travel around to festivals in your recognizable and beloved Bongo Van.
Yes, sir which is patching it all together. The Bongo Van is basically a Japanese camper van. It's much more efficient than a VW bus. It goes about three times faster, and it's four-wheel drive.
You run production at festivals from the Bongo Van?
Oh yes. When I turn up in a field, all I need is the line-up, artist contacts, and some posters. I just need a backstage after that. So yes, I just need to be there to do that.
And you become the DJ Chris Tofu.
I do. As someone who has organized hundreds of gigs, and worked as a DJ, I kind of do get (attract) an audience, and (know) what a moving audience is going to look like.
At age 56, how do you pull off a 4 to 8 hour DJing set at a festival?
I don't look at the watch. I just look at the music. I don't mind doing 4 hours. I love that. If someone gets me a gig on a boat, I will be there.
Tell me about being onstage feeling the wave of excitement from a crowd while DJing.
It is something that you don't want to come to an end. It's a real buzz. It's a real feeling. You stand onstage, and you get to the point that you think, "This can't get any better. What the fuck am I going to do next year?" I get one of those (moments) every year.
Turntables are obsolete at live events now, and CDs are disappearing from the marketplace. Most DJs use laptops to play music.
I'm doing a lot of (Apple MAC) laptops now. I have a program which is like a set of decks. It has a lot more gears on it than a set of decks. You can loop, filter, add effects, and do all sorts of stuff. Even CDs are gone which pisses me right off. There won't be CD players in another two years. There will be plenty of vinyl. I know the guys at Vinyl Factory (the only major pressing plant in the UK which also encompasses a record label, gallery spaces, and record shop), and they are multi-millionaires. They just bought a tower block in West London in the posh part of town.
As you know Apple is phasing out iTunes.
We are all having to make a decision because Apple has decided to get rid of iTunes which is how people sort out their music. Plus they have made these new computers that don't hold any music. They have this strange idea that we are going to keep everything on a cloud and that we are going to have Wi-Fi in the middle of a field. They are basically doing everything that they can to stop people from DJing. Everything. It is just a tragedy what they are doing. Why do they hate DJs so much?
(Apple is phasing out the iTunes app which will now be divided in separate apps on its upcoming operating system: Music, TV and podcasts.)
English summers can be hellish hot or rainy, but you Brits are seemingly mad for music festivals with outdoor camping
That's true.
Music festivals and concerts have been the fastest growing area of leisure spending in the UK in recent years. A multitude of grassroots scaled-down festivals across Britain now draw crowds while the annual large-scale, UK music festivals remain quite popular with punters.
The commercials ones, really.
Live Nation has somewhat co-opted the UK festival marketplace with a portfolio that now includes the Reading, Leeds, Isle of Wight, Download, Camp Bestival, Latitude, and Wireless festivals,
I think that co-opted is a strange word because in a lot of cases they saved their arses. They (festivals) went bankrupt. Bestival and Isle of Wight are owned by Live Nation now. So you've ended up with this kind of conglomerate mass but Live Nation usually has a light touch with those gigs. I think that they get involved with the publicity to try to make them bigger. They came along about 15 years ago when people started calling festivals property rather than social action.
Live Nation now has a considerable festival footprint in Britain.
They have heaps and heaps of festivals. I was working on three recently. Continent Drifts produced one for 50,000 people called OnBlackheath which they just bought this year (the July 13 & 14th event had such headliners as Jamiroquai, Grace Jones, Rags 'n' Bone Man, the Brand New Heavies, and the Roots) Then we worked onstage at Lovebox. They were both Live Nation gigs. They have so many now that it'd be unfortunate if they pulled out. They are now all organizations under the same umbrella.
Meanwhile, some festivals are on hiatus or have disappeared. The basic business model for many UK festivals, facing both rising artist and infrastructure fees, are living with tightened margins, low levels of sponsorship, and greater dependence on ancillary income which is difficult to develop. That's a tough business model.  In the UK, there are an estimated 1,000 festivals. So is Britain oversaturated with festivals?
I don't think so. There's been loads of bankruptcies and things like that, but to be honest, to be fair, there's no accounting for youth. The youth will always come up with new inventions, and create great new tribes, and then go and check out those new inventions, and go and be part of all that stuff. It'd be very naive to say that festivals are over. They just are not.
My friend just started a festival, Swing & Bass, around Swinging Bass music. He sold out the first year. Bang. For example, there's no Shambhala Music Festival in the UK (an annual Canadian electronic music festival near Nelson, British Columbia). Probably somebody here will have a Shambhala. They come back in 10 years time. and there a whole new audience for a Shambhala for trance music. It (the market) is always changing. It is constantly changing. The festivals that don't change—and I will be honest with you; I've been to a lot of festivals, and Isle of Wright would be one—and they are old people. It is more people like our ages are going to festivals more than ever, and that was not predicted.
Obviously, older people go to Glastonbury but many UK festivals have evolved into being multi-faceted events that attract older audiences by blending music with circus events or having science, and technology attractions.
They (older people) also go to all of the ones that put on the old-school bands, even if they are anarchists or punks or whatever. Go to the Anarchist Festival (a decentralized anarchist festival), and the old people see that as something that they can do. People over 60 want to do that. They don't want to sit on a towel with a flask of tea looking at the sea anymore.
What's interesting about the UK road system is that with the M1, M4, M6 M11 roadways South to North it is fairly easy to drive long distances to get to festivals. Still driving East to West or vice versa is crazy with the circular junction roundabouts with multiple exits, lanes, and traffic lights. There are over 10,000 roundabouts in the UK. Just crazy to navigate them.

East to West is a nightmare (to travel). Then to come all the way down to London (from Northern England), and then go all the way back up.
The UK live music market itself seems distressed with, as I said some festivals on hiatus, but also with many venues closing. UK Music has called an end to "discrimination" over business rates that could force grassroots music venues to shut. Clubs are facing restrictive noise laws, and are even in some cases being forced to do drug testing.
Awful. And asking for passports to get in. Awful. There are a number of things behind it, but it is disgusting. I think the days when you had CBGB in (Manhattan's East Village) with someone (Hilly Kristal), a named person who ran a venue are gone. You can't run a venue anymore. You have to be a company. Nobody is rich enough anymore to own a venue in London.
Venue operators usually have to rent the premises and can be turfed as rents climb.
You have to keep pace with regeneration as well because London now doesn't have any areas of poor people left, and it is quite a sad thing to see what happens. You get all of these beautiful venues that have closed. Then two years later the places are full of yuppies and rich people again. and it (the area) would have been booming previously. It's just crazy down here like that.
Unless you own the building…
You are fucked. And, if you own the building, then you are under extreme pressure to sell because you are going to become a multi-millionaire and never have to work again.
Due to real estate and rental costs, it is very difficult to live in London. Certainly owning a flat or a house is out of reach for most people.
The young people are absolutely fucked. They don't have a chance.
Meanwhile, millennials view music festivals as a rite of passage. It's a rite of passage for them to go to Glastonbury or Leeds. Taking part in a festival is a youth tradition.
Of course. It's a rite of passage. The thing is that I was over in southwestern Sicily—this is an important point—and there was a 2,000-year-old arena there. It is one of the most beautiful places possible. There was nobody else there, and I was looking at the sunset. I was wandering around the stage area, and there were all of these signs. "Stage," obviously, and then it was literally "Dressing Rooms," and "Production Office." Can you believe it? And they had all that 2,000 years ago. They (the guides) were like, "This is where the people who ran the gigs were. This venue was built for a festival." Then I was in Ireland at the Lisdoonvarna Music Festival (a match-making festival). You've never heard of Lisdoonvarna. but it was one of the biggest festivals in Ireland (originally running from 1978 to1983). It certainly kicked off a whole lot of stuff in the UK in the '70s. People go there just to meet matchmakers to find partners for their farming children.
As Tevye proclaimed in "Fiddler on the Roof"….tradition. 
You know there is so much wrapped up in this stuff. I truly believe that in the UK that the first and second World Wars destroyed these things. People weren't in the mood for these types of things afterward. The Victorians fucked it over as well, but I truly believe that these festivals are just not a trendy thing that came out in the last few years. These things have been going on for thousands of years, and they serve a very strong purpose which is that they provide the freedom for young people to be themselves for the first time. They are to do with sex and partners, and people getting off with each other. And they are to do with that growing up thing, like you said,  a rite of passage. They have been going on for thousands of years. Someone should write a book about that.

One theory about Stonehenge is that it was part of a much more complex landscape with processional and ritual activities around it. People may have traveled considerable distances to come to Stonehenge
Again it was a celebration. They all got together. We had equality. We had parity. We all had something to look up to. Everybody following the same thing. Giving people not all one thing to get into. They were all attendants there. A main stage without Jimi Hendrix.
You have been the artistic director of the three-day Grinagog! festival for the past four years.
That is a really new thing. It is in Torquay, the (seaside) town (in southwest England) that I come from. The thing about these seaside towns, here and in America and Europe, is that the seaside towns were built by the Victorians as festivals basically. They only worked on the weekends, and they had loads of visitors. Now a lot of them are forgotten and falling to bits. That's what you get in Torquay with this glorious Victorian festival site with unused piers. Closed down this and that.
Torquay's economy was once based upon fishing and agriculture, but in the early 19th century it developed into a fashionable seaside resort, and then was popular with Victorian society.
Yeah, exactly. So we went down there. We are trying really hard to keep that festival going. It is a very poor area in England. There's hardly any cash down there. It's not like doing something in London where it's pretty easy to sell out a gig. Down there you have to work quite hard, but Grinagog! is coming together. It's been really hard work by the way.
Yes, but a stripped-down Grinagog! did take place this year.
Yes, it happened this year in a small way, and again it was really, really lovely. It's just like tweaking and tweaking it. But, for me, it's kind of life's work to make that work.
The first festival you attended was local, and you worked there. You were 17?
Yeah. I was on the dole. They sent me from the dole (office) down to work at Elephant Fayre. That was like the fill-in for Glastonbury when it wasn't on.
(Elephant Fayre ran from 1981 to 1986 and was held in the stately home of Port Eliot, St Germans. The festival began with some 1,500 visitors over 4 days and featured music, theatre, and visual arts. Over the years the festival grew, attracting crowds up to 30,000, and bands such as The Cure, The Fall, Prefab Sprout, the Modern Lovers, and Siouxsie and the Banshees. Organizers closed down the festival after 1986 because of hard drug use, and vandalism. Elephant Fayre planted the seed that turned into the Port Eliot Festival which share a site and a spirit until closing this year, 16 years after it  started.)
You first went to Glastonbury with your school teacher?
Yeah, that was the weirdest thing. The religious education teacher She was a Quaker.
You went on to attend university?
Yes, in London. Middlesex University taking anthropology.

What music were you listening to?
Reggae, Roy Harper, Led Zeppelin. All of the normal sort of stuff, but then loads of dance music. Disco was in the air. Punk too. Punk was massive. (Singer/songwriter) Rory McLeod and John Martyn was very big. We loved all of those guys. Big influences on everyone. But Tofu a folk-punk band came out from all of that.
You, of course, are talking about being in the Tofu Love Frogs.
I was in a band. I was in a hardcore Celtic punk band, the Tofu Love Frogs.
You told the other members you would only be part of the band if it was called the Tofu Love Frogs?
Yeah. That was the worst move from the word go.
(In 1989, a group of squatters from the London borough of Hackney started a folk club which soon morphed into a band. Hours before their first performance, still with no name and no percussionist, they met Chris Macmeikan who said he would play percussion only if the band was called the Tofu Love Frogs. The band's first gigs were in local squat parties. Purchasing a dilapidated old bus, the Tofu Love Frogs then went on the road performing mostly at free festivals, and squats.
Were you any good as a percussionist?
Nah.
The group recorded?
Oh yeah. Go on YouTube, and you'll find us.
Bands are a democracy which I can't see you taking part in.
It's like being thrown into a prison cell together. You have no choice. You are in a prison cell. The band went on for 10 years. We only did three gigs. Three festivals. We did all of the squats and all of the anarchists and radical places in all of Europe. We were much more hardcore than any of those Celtic bands out of Boston.
Why did the band break up?
I don't know. We were doing pretty well. What happened was we got banned from every single venue in England by the government of Margaret Thatcher and the Tories because we started doing all of these activist gigs. All of these eco-activist squats. We used to reclaim streets. We would just turn up in the middle of the street, and start playing holding cars up, and we were doing a slew of free festivals. In the end, I was leaving my house with a police escort because they thought we were going to go and start all of these free festivals which we were. I would get followed down the road, and followed by (police) helicopters.
You are kidding.
I am not kidding. It was awful for us. We were in the public (eye), and everybody else wasn't. We were hanging up fliers saying, "Come to this field; there's a massive eco protest." In those days one flier would get 100 people if you did the right thing.
For at least two decades you've been closely associated with Glastonbury. But that certainly wasn't always the case.
No. I've have come in from the left-field at Glastonbury. We weren't exactly the most welcomed visitors 25 years ago.
The Tofu Frogs used to sneak under Glastonbury's fence to perform there?
Well, we were like the first backing bands there actually. There were hardly any. So if you turned up, and anybody dropped out, we were the only spare band. Back in the day, (booked) bands used to pull in, and pull out. The press used to give it (Glastonbury) the worst press. It was literally the devil. We were the first plug-in band in there, yeah, for real. Then it was being more attracted to this thing you didn't have over in North America called New Age Travellers where there was a tribe of people doing illegal free festivals in fields, in towns, and at Stonehenge. People traveling around like that. Thousands of people because they didn't have any festivals to go to, any musical or leisure outlets that suited their needs, and then it became thousands of people putting on their own gigs. So you could literally just pull into a field and the next thing you had 25,000 people there.
(The Stonehenge Free Festival ran from 1974 to 1984; held at Stonehenge during the month of June, and culminating with the summer solstice on or near June 21st. It emerged as the major free festival in the UK music calendar after the violent suppression of the Windsor Free Festival in August 1974. The Windsor site was invaded on the 6th day of a planned 10 day run by hundreds of officers from the Thames Valley police force with truncheons drawn, who gave the remaining participants 10 minutes to leave.)
By 1986, the Conservative government's tolerance of the New Age Travellers, and the free festival culture was over. The government was determined to contain and control these activities. In 1994, the government brought in the Criminal Justice and Public Order Act which specifically outlawed outdoor parties, literally legislating against festival culture, with its infamous definition of music which "includes sounds wholly or predominantly characterized by the emission of a succession of repetitive beats"
That did come along.
Two years earlier, there had been a huge gathering of traveling sound systems at Castlemorton Common Festival with an estimated 40,000 attendees dancing to 10 sound systems. It was the rave that changed the law.
Yes at Castlemorton. I was part of that as well. We did a live stage.
The Criminal Justice and Public Order Act was introduced by Michael Howard, home secretary to Prime Minister John Major's Conservative government. The sections which specifically refer to parties or raves are seen as badly defined and drafted in an atmosphere of "clear moral panic" following the Castlemorton Common Festival. The main targets of the bill were squatting, football fan culture, and free parties. The bill attracted widespread opposition at the time
We were part of an organization that organized some very big 100,000 people marches, and the subject became politicized. The socialists jumped on the bandwagon as they do everywhere. Crazy stuff started happening like that. It became a very big issue, in fact. Whatever it was, 100 people in a field with repetitive beats kind of never went off, really. I've never known anyone busted under that (law). They (the government) just threw it out there. It was just so ridiculous… No "repetitive beats" was like your granddad saying, "No rock 'n' roll."
(The law's attempt to define music in terms of "repetitive beats" has been described as "bizarre" by legal experts. British author Jon Savage said, "It's about politicians making laws on the basis of judging people's lifestyles, and that's no way to make laws.")
The government was specifically trying to suppress the activities of certain strands of alternative culture. After Woodstock having 25,000 or 30,000 people turn up in a field outside any town wasn't welcome.
Oh no. Not anywhere. No, but the irony was that I was listening to Rob da Bank (on the radio) and talking to some of the people who were at the Isle of Wight in 1968, 1969 and 1970 at Afton Down on the western side of the Isle of Wight).
The 1970 five-day version of Isle of Wight, following Woodstock the previous year, set out to move one step forward.
It was very much a reaction to Woodstock. Bob Dylan, who lived in Woodstock, came to the Isle of Wight in 1969 to escape playing at the Woodstock Festival.
Have you seen the new film "Beats" from director Brian Welsh, which tells the story of two Scottish teenagers attending their first rave in 1994, just as the Conservative government was cracking down on the free party scene? It's set on the brink of the passing the Criminal Justice & Public Order Act.
No. I want to see that.

You started two legendary club events, White Mink; and the Electro Swing Club. One inspired by the Moulin Rouge cabaret in Paris, the other a collection of musical experiences from the 1920s to the 1950s remixed. Is  White Mink still going at the Clapton Grand?

It's ticking over but it's not really going. It sold a shitload of records. White Mink was sort of a very posh speakeasy thing. When you do those kinds of decadent parties you can charge a decadent ticket. People really love getting dressed up, the ladies. It'll come back. It never goes away.
And the Electro Swing Club?
Swing Club will be starting again this winter. We take it on the road in the summer, and then we take it into the clubs in the winter. We have just been so busy this summer. The more elaborate they are, the less money we make. The more it's just one band on a stage, boom.
Tell me about pioneering the Vintage Remix.
Oh yes. What happened was that we invented loads of stuff over here. One of the things that we started to do was do all of these speakeasies and festivals and putting up casinos. Many were, maybe, because everyone was calling us filthy day hippies, and things like that. We wanted some sort of juxtaposition to that. So what we did was that we put up these beautiful events.
Like White Mink?
No, before then. It was called Lost Vagueness at Glastonbury. We put up these crazy big tents where you had to have a suit or dress to get in, and you could hire suits and dresses. Through that, and even before that, I personally was like, "Where the freak is the remix from the 1920s to the 1960s? Where is the remix? Why do we have so much shit techno?" Bland trance. Stuff that doesn't have any real instruments in it. "Where, in fact, is the remix. Where is the remix of people like Muddy Waters and James Brown?" All of that stuff. And also why can't you educate the youth in what is some of the greatest music ever made? Initially, we were the worldwide inventors of Electro Swing which is 1920s to '40s remixes.
So you gather music from all those eras, and then do a remix?
What happened was me and this guy Nick Hollywood (musician, designer, DJ, radio presenter and head of Freshly Squeezed Music) we really boomed this thing off it. It went really went world-wide. We got 100,000 followers in two weeks, on one space just for the sounds of the 1920s to '40s and '50s remix. Those acts like (French electronic music band) Caravan Palace and (Austrian musician, composer) Parov Stelar took it forward over the years. So the idea was further developed by people like (Canadian DJ and producer) Stickybuds. The Canadians have got this Ghetto Funk version which is great. We are in a parallel universe with that country. We really are.
There's been the considerable impact of Montreal-based dance music in the UK over the years.
It's amazing really. It really is amazing. I think it's because of the open-mindedness of the stuff there as well. Anyway, we always feel like we are in a parallel universe with Canada. Anyway, we did that and we realized that it's not just about the Swing Remix. It's about everything old remixed. If you look around at music everywhere at any particular time, like with Amy Winehouse, and Adele, you will find that all music is, in fact, built on top of old music. In fact, its all Vintage Remixes in so many ways. There's hardly anything that has been invented out of nowhere.
At one time, musical traditions mingled freely in the Caribbean but following the Cuban revolution in 1959, Cuba's music became more isolated. You worked with the British band Ska Cubano which created music that might have been if the Cuban revolution had never happened.
In fact, the situation with reggae and Latin music is kind of interesting because yes we were part of this Ska Cubano thing. We were like their agents and the worldwide guys. The thing with Ska Cubano is that they went to Cuba, and got the Cubans to do ska. What we were sharing in Cuba and Jamaica was that in pre-revolutionary Cuba all they listened to in Jamaica was Cuban music. (Son) Cubano. salsas, stuff like that. Then when the revolution happened the (government radio) jammers came up from the British to stop the revolution spreading to the Caribbean islands, and they cut off all of that music. So pre-1930s radio in those places was actually Latin Cuban music. Lots, and lots of it. That was really kicking off for the Jamaicans and then it stopped in the 1930s and '40s. Then 20 years later it started coming out again, and it started Jamaican music. When Ska Cubano went to Cuba there was this familiarity in the music that was unmistakably good, vibey, and knowledgeable; and where all that was going almost was like inherited knowledge of what ska and rock steady mentalism, and what the relationship is to Cuban music. So there was already a Vintage Remix.
(London-based investment manager Peter A. Scott traveled to Santiago de Cuba with Top Cats' singer Natty Bo in 2001 to record the debut Ska Cubano album mainly with local musicians, including singer Beny Billy. After two further albums, performances at major festivals worldwide including Glastonbury, Big Day Out, and WOMAD, and after touring 30 countries, the Ska Cubano project ended in 2014.)
When you began as a DJ, it was a pivotal period for dance music. New York DJs Larry Levan and François Kevorkian had introduced the dub aesthetic into dance music by experimenting with drum machines and synthesizers in productions and live sets, ushering in a ground-breaking electronic, post-disco sound that led to the glory days of British techno and house.
Yeah, they love it here.
For several decades, boosted by the development of a culture of black British music that was unique, and that remained far less segregated from the mainstream music scene, it came about that Birmingham, Manchester, Liverpool, and London became major centers of dance along with Detroit, Montreal, New York, and Berlin. Meanwhile, a spirit of DIY, perhaps a reaction to the inner city decline, evolved in those UK cities.
I think so definitely. DIY was pretty big in that original early stuff because you could legally just pick out a squat building, and put together an enormous great rave. It is actually something you could end up in prison by doing. It's a really weird crack in English law, but previously that was much easier. People just did that. Those early techno raves were fucking boring because the music was so boring, but they were very well attended, and it was almost a political action to go and dance at that point. Of course, when the Tories tried to wipe it out, that was like a green flag for all of the young people to get going.
To a large degree, UK dance took its cue from what was happening in Detroit and Chicago. There's that groundbreaking 1988 Network compilation "Techno! The New Dance Sound of Detroit" that led to the global emergence of Juan Atkins, Derrick May, Kevin Saunderson, Eddie Flashin' Fowlkes, Blake Baxter, Anthony Shakir, and others.
Oh, those sounds. Those original sounds. Of course. They were all playing in London in the posh clubs anyway. So they kind of copied off that, and there was a bit of that on the radio. Things like (DJ) Carlos was definitely amplified by Radio I and the youth people at the BBC going, "Oh my gawd, there's an enormous party going on over here."
BBC Radio 1 has long supported dance with shows hosted by Jeff Young, Peter Tong, Rob da Bank, Diplo, Annie Mac, Scott Mills, and Mista Jam.
Well, BBC Radio I also had John Peel who was everybody's touchstone as it were. "If John Peel could do it then everybody else could do it." He was the first one play that stuff. Seriously.
(John Peel was the longest-serving of the original BBC Radio 1 DJs, broadcasting regularly from 1967 until his death in 2004).
John Peel played dance music? You winding me up?
Oh, yeah. He used to do really appalling two-minute-long techno tracks. He isn't someone that you would immediately think of, but he was someone that a lot of us got our leads from because one minute he would play that, and the next minute he'd play an African song, and then a punk song. That kind of mash-up.
Some of the biggest players in the global entertainment world now are EDM artists including 1788-L, Ritchie Hawtin, Diplo, David Guetta, Tiësto, Calvin Harris, Armin van Buuren, Lost Frequencies, Loud Luxury, Skillirex, and Deadmau5.
I hate all of that. I hate the word EDM. Basically dance music, roots of dance music, they didn't call it EDM in the UK until four years ago. They called it dance music. It was the Americans who called it EDM. You know how Americans like to think that they invented stuff? Their version of EDM is hated virulently in the UK. Most people don't like American EDM which is ironic because it's all the washed-up UK DJs like Sasha, and Carl Cox and all of that. They went to Vegas. It is because of these whole Golden Circle champagne money-money-money. Most English people see that as crap.
DJs like Dillon Francis, David Guetta, Steve Aoki, Diplo, Skrillex, Prince Royce, A-Trak, DJ Romeo, W&W, and Major Lazar now play Las Vegas.
It is just so horrible and commercial and disgusting. If you call almost any DJ in the UK EDM they would be insulted. Even if they are EDM they still would be insulted.
Still, the UK has its own dance stars like Phats & Small, Above & Beyond, DJ EZ, and Fat Boy Slim.
Oh, yeah but we don't call them EDM. If they are trying to do something different it's all cool in the head.
Is dance in a better state when bubbling under the radar?
I just have a personal view that I don't care what it is. I like all musics as long as it's got some kind of heart and soul. The sort of duf/duf/duf is only appreciable when you are on drugs. Doesn't have that effect for me. Heart and soul for me is like where's the brass? Where's the voice? Where is the play? When I work something onstage, I want to see a play (a reaction). I don't want to see a guy sending emails to his mum. If you impart heart and soul in music, whether it's dance or whatever, it is more important to me than dig/duf/duf, and this bloody beat matching.
The vibe.
The vibe is what it's all about, yes. That's why I am a vibe engineer.
You and I met in Ramallah earlier this year.
I was on this brilliant project with the Arts Council of England called Global Local. With people from all around the world in the UK, we obviously have a very diverse population. It is when they (immigrants) bring their culture to the UK, and it mixes with UK culture, then you are left with something that maybe a mainstream audience really understands. Like Global Dub, and African Remix is massive right now. We started putting all that into little categories, and then flogged it to the festivals to build up alternative lineups from white shoe gazing guitar bands. In time the Arts Council recognized that, and they gave us some good money to put 17 stages a year at festivals with that Global Local stuff. We have had Arabic music there. We are really interested in how Arabic music remixes with 21st Century sound. In this day and age, it is essential because most people think that Arabic people hate music. Like it's a religious thing.
If only due to Spotify, Apple and Facebook streams music fans are more sophisticated about different musics and cultures than they were five years ago.
Absolutely. Sophisticated might not be the right word. Diversified.
Educated?

Yes educated. And also the thing is it has allowed us to create micro-genres. With everybody saying how well it's all gone into this mainstream stuff, actually what has happened is that is the music has diversified. So when we showed up with Electro Swing, it came exactly at the same time that Facebook became popular. It was possible to find a community across the world, not just in your local record shop. In two weeks, we had 100,000 followers. Some of those Facebook and YouTube mixes have got millions of YouTube followers. All that is going on while the originators (of the music) are skint. It has opened up the world.
You'd never know that in the UK with all of the racial backchat around Brexit.
I'm one of the saddest people on the planet. One of the reasons I'm sad is that our generation has shat on the generation beneath it. Baby boomers, the musicians, the music business, practically everybody involved didn't do anything or say anything or try to stop the shit from happening. All those kids from the '60s who fucked us over by being completely blank, and not making any action. I have never seen anything like it. In the U.S. it's the same not doing anything had led to Trump. You can blame the right-wing for all the shit that is going on but then you blame two lots of people. One, the youth that didn't bother to vote because they are so disillusioned; and two the baby boomers who are the biggest bunch of selfish fucks who ever existed in this country. It's baby boomers who voted for Brexit, the same fuckers in the '60s who were punk rockers. The same ones that had free education, and free healthcare. All of this and they managed to swallow this right-wing bullshit called Brexit.
Boris Johnson has become Prime Minister.
A Nazi. A fucking Nazi.
Now what for the UK?
We are at Junction 10 on the road to fascism. We aren't at Junction Zero. We are totally pinned down by people who are over 55, and over 60. They are bigoted racists twats who had the '60s going on. Maybe, they felt left out in the '60s. That it was them over there, and not them, so "I'm going to get back at those people."
Were you surprised being named two years ago a Member of the Most Excellent Order of the British Empire (M.B.E) for services to the Music Festival and Live Events Industry?
It was very, very surprising.
Ageism in the dance music industry is a subject being discussed more and more, particularly its impact on employment. How long will you keep doing what you are doing?

I don't want to do anything else. I'm never going to stop doing my shit. I'm always going to DJ. At the moment, I can't do the world touring thing that I'd like to do. I have too many balls to juggle. I want to be doing that more. Yeah, it's never going to stop. People like me don't stop.
Larry LeBlanc is widely recognized as one of the leading music industry journalists in the world. Before joining CelebrityAccess in 2008 as senior editor, he was the Canadian bureau chief of Billboard from 1991-2007 and Canadian editor of Record World from 1970-80. He was also a co-founder of the late Canadian music trade, The Record.
He has been quoted on music industry issues in hundreds of publications including Time, Forbes, and the London Times. He is a co-author of the book "Music From Far And Wide," and a Lifetime Member of the Songwriters Hall of Fame.
He is the recipient of the 2013 Walt Grealis Special Achievement Award, recognizing individuals who have made an impact on the Canadian music industry.