NEWPORT, RI (CelebrityAccess) — Grammy Award-winning singer-songwriter Brandi Carlile lead an all-female performance during the headlining set at the Newport Folk Festival on Saturday night.
The performance, which had been mysteriously billed on the lineup as "The Collaboration," saw Carlile joined by a host of top female artists, including Dolly Parton, Sheryl Crow & Maren Morris, Judy Collins, Linda Perry, Maggie Rogers, Amy Ray, Jade Bird, Molly Tuttle, Yola, and Courtney Marie Andrew, as well as Carlile's own female supergroup, the Highwomen.
"We all know these things, this is why we're here, but today on its 60th anniversary, the Newport Folk Festival is going to have its first all-female headlining show. Thank you for being on the right side of history again," Carlile told the audience.
The performance started with Carlile who did some covers before she was joined by Sheryl Crow to reprise their duet of "If It Makes You Happy," from Friday night.
She then introduced Courtney Marie Andrews, Rachael Price and Bridget Kearney of Lake Street Dive, Candy Carpenter and Molly Tuttle for a rendition of "Big Yellow Taxi," followed by a revisit of her own hit "Go" with some help from Indigo Girls' Amy Ray.
Carlile then welcomed Linda Perry to the stage, who led the audience as well as Carlile and Jade Bird in a group sing-along of the 4 Non Blondes hit "What's Going on."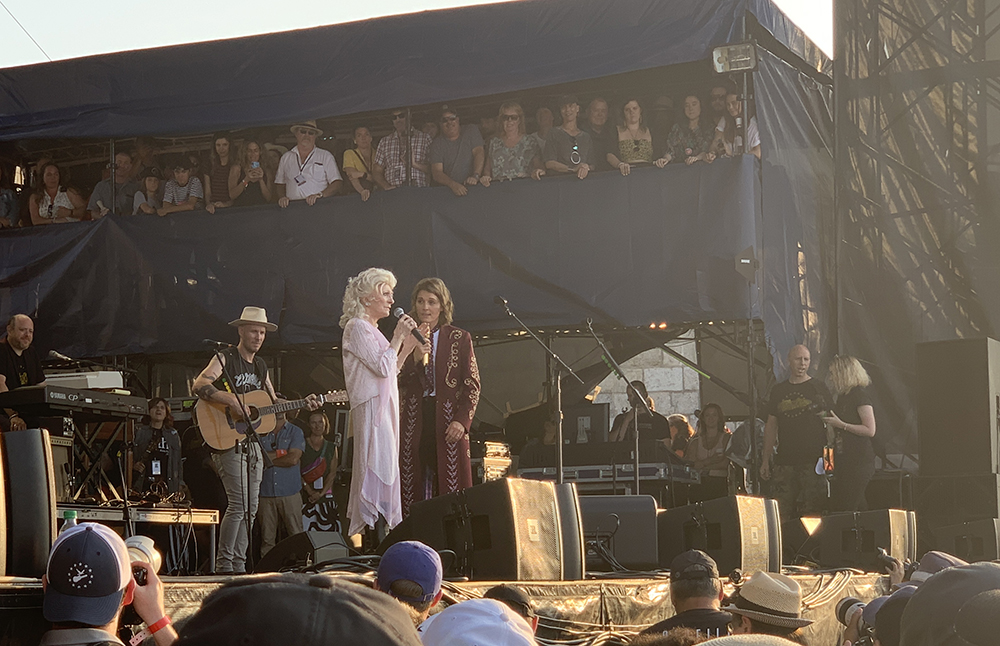 Judy Collins then took the stage, who regaled the audience with some tales before joining Carlile for a duet of Joni Mitchell's "Both Sides."
The performance was capped off by county music legend Dolly Parton, who showed off just why she is regarded as a consummate performer, seeming to immediately connect with the audience as well as her fellow performers.
"This is kind of all about the girls, and I love being one of the girls," Parton told the audience. "Of course I love my men too. Don't get me wrong I've always had one of my own. I've had the same one for 53 years, as a matter of fact. But I love to be up here with all this girl power. I love to see us do good."
She then helped to close out the night, performing a selection of fan favorites that included "Just Because I'm a Woman," "Eagle When She Flies," "I Will Always Love You," "Jolene," and "9 to 5."